✓
This Villain was Headlined on July, 2018.

✓
This Villain was proposed and approved by Villains Wiki's Pure Evil Proposals Thread. Any act of removing this villain from the category without a Removal Proposal shall be considered vandalism (or a futile "heroic" attempt of redemption) and the user will have high chances of being terminated blocked. You cannot make said Removal Proposal without permission from an admin first.
Additional Notice: This template is meant for admin maintenance only. Users who misuse the template will be blocked for a week minimum.

This article's content is marked as Mature
The page Mature contains mature content that may include coarse language, sexual references, and/or graphic violent images which may be disturbing to some. Mature pages are recommended for those who are 18 years of age and older.


If you are 18 years or older or are comfortable with graphic material, you are free to view this page. Otherwise, you should close this page and view another page.
| | | |
| --- | --- | --- |
| " | I wish to speak to you now. Where is the Eye of the Serpent? Rexor says that you gave to a girl, probably for a mere night's pleasure, hmm? What a loss. People have no grasp of what they do. You broke into my house, stole my property, murdered my servants, and my PETS! And that is what grieves me the most! You killed my snake. Thorgrim is beside himself with grief! He raised that snake from the time it was born. | " |
| | ~ Thulsa Doom | |
Thulsa Doom is a powerful ruthless and undead sorcerer from the Kull the Conqueror short stories and Conan the Barbarian fiction stories. He is Kull's arch-nemesis, in which he made his first appearance in the Kull short story "Delcardes' Cat" by the late Robert E. Howard. 
Since then, he has appeared in comic books and starred in the 1982 film adaptation as the main antagonist and nemesis of Kull. Later on, he started to appear in one of Howard's other creations, Conan the Barbarian. Thulsa Doom is the prototype for many of the future evil wizards, such as Thoth Amon, Thugra Khotan, and Xaltotun in later Conan stories.
In the 1982 film adaptation, he was portrayed by James Earl Jones, who also played Darth Vader in the Star Wars films, Ommadon in The Flight of Dragons, Lavan in My Little Pony'n Friends, The Emperor of the Night in Pinocchio and the Emperor of the Night, and the Levram Wizard in the 2003 Teenage Mutant Ninja Turtles TV series.
Biography
Backstory
A powerful necromancer, Thulsa Doom is Kull's primary foe. He was often a featured foe in the Marvel Kull comics (for instance, Kull the Conqueror #3 and #7).
Thulsa Doom returns in Kull the Conqueror #11, "By This Axe, I Rule," based on an original story by Robert E. Howard.
Posing as the nobleman Ardyon, he forms an alliance with four rebels within Valusia: the dwarfish Ducalon, the soldier Enaros, Baron Kanuub, and the minstrel Ridondo, who actually dethroned the hero. He set him on a quest to regain his lost kingdom, in the pages of his own comic, until it gets canceled.
Kull resumes his quest in the pages of Kull and the Barbarians, a black-and-white Marvel magazine format (published under the Curtis Magazines imprint). Thulsa Doom sent members of the Black Legion to ambush Kull and Brule, though they won the fight.
Thulsa observed the battle through a magic crystal. Kull and Brule's ship was later attacked by a sea serpent, with which Thulsa may or may not have had anything to do. Kull and the Barbarians lasted three issues until it was canceled. In the return of Kull the Destroyer, Thulsa Doom/Ardyon learned of the curse of Torranna (essentially, if a scarred man wore the crown and sat the throne, he'd be unable to ever leave the throne), which he determined to bestow upon Kull.
To this end, he took on the aspect of the god of Torranna and advised its inhabitants how best to bring this about. Thulsa Doom manipulated Garn-Nak, Karr-Lo-Zann, and Norra of Torranna. They drew Kull into Torranna and had him undergo a series of trials to gain the crown of Torranna.
Kull sought the crown because he believed he could use the army of Torranna to help him retake the crown of Valusia from Thulsa Doom. In Kull the Destroyer #28, Kull successfully completed the last of the trials, but before he could don the crown, Norra warned him of the curse of Torranna. Thulsa Doom allowed Norra's age to catch up with her, turning her into a shriveled corpse, and then revealed himself to Kull, challenging him to one final battle. In the next issue (also the final issue of the Kull the destroyer title), Thulsa Doom pulled Kull into a pocket dimension for their final battle.
Kull managed to slash Thulsa Doom's face with his sword but ultimately was overpowered by the necromancer. Thulsa Doom returned them both to Torranna, but Kull rallied long enough to push Thulsa Doom onto the throne and place the crown on his head. His face scarred by Kull, Thulsa fulfilled the prophecy and fell victim to the curse himself. Thulsa's power drained by the curse, the city of Torranna collapsed, seemingly crushing him. Kull, luckily, escaped, and then returned to Valusia to retake his own throne.
He would face Thulsa Doom at least one more time, in the pages of Marvel Preview #19 (summer 1979 issue). The script for that issue was an adaptation of the prose tale "Riders beyond the sunrise", itself the completion by writer Lin Carter of an untitled fragment written by R. E. Howard. Thulsa Doom appears to finally perish at the climax of this story, but he would eventually return as a Conan villain in the pages of Conan and a few issues of Conan's black-and-white magazine, Savage Sword of Conan (issues #190-193).
Thulsa Doom later becomes an enemy of the Celtic hero Cormac mac Art, another Howard character further expanded by Andrew J. Offutt. He is apparently immortal and is visualized as a skull-headed sorcerer, or as an albino when taking on the illusory appearance of a living man. A similar concept of an undead sorcerer can also be found in the lich from Dungeons and Dragons and other works of fantasy fiction, such as The Sword and the Sorcerer and Skeletor from He-Man.
Pulp Magazines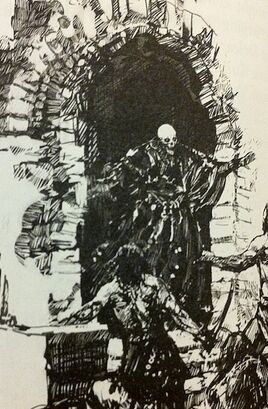 Thulsa Doom first appeared (as Thulses Doom) at the end of the short story "Delcardes' Cat" by Robert E. Howard, which featured the character Kull as the protagonist. Howard later edited the text to include foreshadowing and references to Thulsa Doom (as he had been rechristened) throughout the story and changed the title to The Cat and the Skull to reflect this.
Editor Patrice Louinet speculates that this was because Howard had originally intended Kuthulos (whom Doom impersonates in the story) to be the actual villain before coming up with Thulsa Doom near the story's completion. This version was submitted to Weird Tales in 1928 but it was not accepted. The story did not see print until 1967 in the paperback King Kull published by Lancer Books.
Thulsa Doom is described by Howard in "The Cat and the Skull" as having a face "like a bare white skull, in whose eye sockets flamed livid fire." He is seemingly invulnerable, boasting after being run through by one of Kull's comrades that he feels "only a slight coldness" when being injured and will only "pass to some other sphere when [his] time comes. As Thulsa Doom's original story was not published in Howard's lifetime he reused the character, as "Kathulos of Atlantis", in his 1929 story Skull-Face.
1982 film adaptation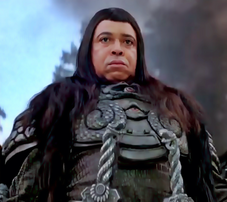 Thulsa Doom serves as the primary antagonist in the 1982 movie Conan the Barbarian, where he is played by James Earl Jones, who is famous for voicing Darth Vader in the Star Wars franchise.
This Thulsa Doom is considerably different from the literary one, who is described as having a skull-like face. Pre-production drawings showed this version of Thulsa Doom with the skull-like face, but as film, he is essentially the classic Conan villain Thoth-Amon, servant of the serpent-god Set. As such, he appears as an ordinary human in the film, though one said to have lived for a thousand years and with the power to transform into an enormous snake.
This Thulsa Doom/Thoth-Amon hybrid appears to have been re-imagined as a cult leader in the manner of the real-life demagogues that had popped up in the decade previous to the film's release like Charles Manson or Reverend Jim Jones. In the movie, he is shown to have an extraordinary command of his followers. For example, in one scene, after Thulsa Doom commands one of his female followers on a high ledge to come to him, she jumps off the ledge to her death. In this, he resembled Hassan-i Sabbah, the Nizari leader, who according to Arab sources had one of his followers leap to his death to demonstrate his power to visiting dignitaries. Additionally, Sabbah's hashassans would leave daggers on the pillows of dignitaries to intimidate them as did the cult in the Conan film.
He appeared when he and his legions invade the lands of Cimmerians for the first time, leading to a massacre of the people there including the young Conan's parents (the father was killed by Doom's dogs while the mother was decapitated by Doom with the father's sword). As the young Conan became a gladiator after years of slavery, Conan swore to avenge his people's tragedy by killing Doom.
Upon getting a mission from the old king Osric (whose daughter was kidnapped by Doom), Conan disguises himself as a priest to infiltrate into Doom's Temple of Set atop the Mountain of Power attended by the massive "Children of Doom", the very cult whose soldiers slaughtered the Cimmerians, but he was caught, tortured, and later crucified on the Tree of Woe by the cult members. Fortunately for Conan, he was rescued by a female brigand named Valeria and an archer named Subotai, who all agree to help Conan rescue the princess.
Upon infiltrating the temple again, Conan and his trio manage to rescue the princess and deliver her out from the temple, but Doom kills Valeria by using a stiffened snake as an arrow to fatally strike her in the waist. The next day, Doom sends his men to go after Conan, but Conan, along with the help from the thief Subotai and the good wizard Akiro, manages to defeat Doom's forces, forcing Doom to flee back to his temple.
At the night following his men's death, Doom starts to address his cult disciples at the Mountain of Power, but he was interrupted by the arrival of Conan himself. Rather than killing him, Doom instead tries to mesmerize him, but Conan resists and instead uses his father's lost sword to finally behead Doom, thus avenging the deaths of Valeria, Conan's parents, and the Cimmerians. Following Doom's death, all of the followers are free from Doom's control and they return to their homes, right before Conan burns the temple. Then, he returns the princess back to King Osric afterward before heading to his next adventure with his new friends.
Powers and Abilities
Thulsa Doom is the most authoritative and powerful sorcerer. One of his most notable abilities is shapeshifting, allowing him to claim various identities. Often impersonating someone else. He was able to hold his own in a sword fight against Conan or Kull.
Gallery
Trivia
Dynamite Entertainment has announced a Thulsa Doom series written by Arvid Nelson, with art by Lui Antonio.
His cult's name was the "Children of Doom", but they were given 3 aliases by the Conan fans over the years "Snake Cult", "Serpent Cult", and the "Cult of Set".

Villains
Animated Features
Warren T. Rat | Mott Street Maulers (Digit) | Moe | Sharptooth | Cat R. Waul | Cactus Cat Gang (T.R. Chula, One-Eye, & Sweet William) | Professor Screweyes | Ozzy & Strut | Hyp | Mutt and Nod | Steele | Ichy and Dil | Mr. Grasping | Toplofty and O'Bloat | Chief McBrusque | Scuttlebutt | Madame Mousey | Twitch | Rinkus and Sierra | Niju | Nuk, Yak, and Sumac | Farley the Fox | Br'er Fox | Br'er Wolf | Robert the Terrible | Serpent | Botticelli Remorso | 1 | 8 | Fabrication Machine | Machines (Cat Beast, Winged Beast, Seamstress, Steel Behemoths, Seeker Drones, & Spiderbots) | The Chancellor's Party (Chancellor Fredinand) | Danno Wolfe | Felonious Gru | Minions | Dr. Nefario | Victor Perkins | Mr. Perkins | Nightmare Train | Aloysius O'Hare | The Once-Ler | Morty and McGurk | The Once-ler's Mother | Brett and Chet | Aunt Grizelda | Agatha Prenderghast | Judge Hopkins | El Macho | El Pollito | Evil Minions | Norvirus Raccoon | Percy "King" Dimplewade | Knuckles | Archibald Snatcher | Mr. Gristle | Mr. Trout | Mr. Pickles | Scarlet Overkill | Herb Overkill | Villain Con Villains | Snowball | Flushed Pets | Ozone | Raiden the Moon King | Karasu and Washi | Giant Skeleton | Garden of Eyes | Mike | Bears | The Gorillas (Johnny's Father) | Zhong | Dru Gru | Balthazar Bratt | Clive | Mayor Muldoon | Heather Muldoon | Gunther | The Grinch | Grimmel the Grisly | Deathgrippers | Warlords | Lou | Lydia, Kitty, and Tuesday | Sergei | Little Sergei | Circus Wolves | Queen Barb | Rock Trolls | The K-Pop Gang | Reggaeton Trolls | Spiny Mandrilla
Live-Action Films
Count Dracula (1931) | Dr. Henry Frankenstein | Frankenstein's Monster | Imhotep (1932) | Griffin | Wolfman (1941) | The Thing (1951) | Max Cady (1962) | The Birds | Great White Sharks | The Car | Dean Vernon Wormer | Thulsa Doom (1982) | The Thing (1982) | Tony Montana | Alejandro Sosa | Frank Lopez | Hector | Alberto | The Skull | Nacho Contreras | Biff Tannen | BiffCo (Match, Skinhead, & 3-D) | The Libyans | Griff Tannen | Data, Spike, and Whitey | Buford Tannen | Jacques LaFleur | Chucky | Christopher Sullivan | Damballa | Graboids | Louis Strack Jr. | Robert G. Durant | Cullen Crisp | Eleanor Crisp | Brett C. Shelton | Sergeant Botnick | Max Cady (1991) | Dr. Herman Varnick | Harvey and Vernon | Dennis Nedry | Donald Gennaro | Lewis Dodgson | Cliff Vandercave | Miss Sharon Stone | Waldo Aloysius Johnston III | Aaron McComb | Carrigan Crittenden | Paul "Dibs" Plutzker | King Einon | Buddy Love | Peter Ludlow | Dieter Stark | Chip Hazard | Commando Elite (Butch Meathook, Nick Nitro, Brick Bazooka, Link Static, Kip Killigan, & Gwendy Dolls) | Gil Mars | Tiffany Valentine | Warren Kincaid | Officer "Needlenose" Norton | Imhotep (1999) | Beni Gabor | Anck-Su-Namun | Chip Rockefeller | Commodus | Boris Badenov (2000) | Natasha Fatale (2000) | Fearless Leader (2000) | Giant Hamster | The Grinch | Mayor Augustus Maywho | Hannibal Lecter | Rinaldo Pazzi | Paul Krendler | Fiona | Wyatt Frame | Johnny Tran | Lance Nguyen | Kenny Linder | Mathayus the Scorpion King | Cult of Imhotep (Baltus Hafez, Meela Nais, Lock-Nah, & Shafek) | Army of Anubis | Pygmies | "Red" Willits | Jacob Spivey | Jacques Clemons | Anubis | Marty Wolf | Memnon | Takmet | Thorak | Alexander Conklin | Ward Abbott | Professor | Castel | Manheim | Nykwana Wombosi | Carter Verone | Pascal Sauvage | David Banner | Glenn Talbot | Thunderbolt Ross (2003) | Smokey, Sammy, and Lily | Larry Quinn | Captain James Hook | Mr. Smee (2003) | Count Dracula (2004) | Vampires (Aleera, Marishka, & Verona) | Igor | Dwergi | Velkan Valerious | Mr. Hyde (2004) | Grey Werewolf | Zhylaw | Kirill | Yuri Gretkov | Jarda | David Fastidious | Pete | Zombies | Hilary Briss | Geoff Tipps | Herr Lipp | Dr. Erasmus Pea | Edward and Tubbs Tattsyrup | Papa Lazarou | Bernice Woodall | Pauline Campbell-Jones | Sir Nicholas, Lemuel, and Father Halfhearte | Selma Quickly | Sarge | The Infected | Carl Denham | DK Takashi | Uncle Kamata | Clay | Frank Butterman | Neighbourhood Watch Alliance (Simon Skinner & Reverend Philip Shooter) | Chuck Long | Noah Vosen | Albert Hirsch | Paz | Desh Bouksani | Ezra Kramer | Abomination | Strategic Operations Command Center (Thunderbolt Ross (2008) & Kathleen Sparr) | Samuel Sterns | Tough Guy Leader | Prince Nuada | Mr. Wink | Golden Army | Forest God | Tooth Fairies | Wesley Gibson | Sloan | Fox | Emperor Han | General Yang | Colonel Choi | Roger Wilson | Terracotta Warriors | Sargon | Phears | Arturo Braga | Fenix Calderon | Gisele Yashar | Enik | Sleestak (2009) | Grumpy (2009) | The Zarn (2009) | Big Alice | Library of Skulls | Hans Landa | Fredrick Zoller | Joseph Goebbels | Dieter Hellstrom | Adolf Hitler | Werner Rachtman | Wolfman (2010) | Sir John Talbot | Frank D'Amico | Chris D'Amico | Big Joe | Vic Gigante | Rasul | Leroy | Stu | Maya | Tony Romita | Sir Godfrey | Uncle Phil | Gideon Gordon Graves | League of Evil Exes ( Matthew Patel, Lucas Lee, Todd Ingram, Roxanne Richter, & Kyle and Ken Katayanagi) | Envy Adams | Nega Scott | Lynette Guycott | The Big Guy | Agent Haggard | Carlos | Easter Chicks | Hernan Reyes | Zizi | Simon Ambrose | Killer Janitor | Sylvester Smirch | Queen Ravenna | Finn | Donny | Robert | Eric Byer | Grace Ferrin | Polite Leader | Owen Shaw | Vegh | Riley Hicks | Klaus | Adolfson | Toxic-Mega Cunts (Mother Russia, Black Death, Genghis Carnage, Javier, The Tumor, & Goggles) | Brooke | Ralph D'Amico | The Network | Blanks (Oliver Chamberlin, Peter Page & Guy Shepherd) | Barb Pierce | Santana | Clinch Leatherwood | Foy | Mehmed II | Master Vampire | Cootie Kids (Shelley Linker, Patriot, Dink, Angela, Tricycle Girl, & Racer Dopkins) | Big Daddy | Old Elegant Woman | The Bikers | Lorraine | Deckard Shaw | Mose Jakande | Louis Kiet | Kara | Indominus rex | Vic Hoskins | Henry Wu | Krampus | Krampus' Elves | Krampus' Toys | Krampus' Gingerbread Men | Rose Winters | Freya | Gul'dan (2016) | The Horde (Blackhand the Destroyer & Orgrim Doomhammer) | Edwidge Owens | Caleb Warrens | Earl Danzinger | Harmon James | Eric Busmalis | Chief Couper | Kimmy | New Founding Fathers of America | Robert Dewey | The Asset | Craig Jeffers | Christian Dassault | Tom Watson | Tao Tei (Tao Tei Queen) | Order of the Coagula | Armitage Family (Rose Armitage, Roman Armitage, Marianne Armitage, Dean Armitage, Missy Armitage, & Jeremy Armitage) | Jim Hudson | Logan King | Cipher | Connor Rhodes | Ahmanet | Set | Mr. Hyde (2017) | Dr. Foley | Mathias Lund-Helgesen | Bayfield Babyface Killer | Lori Spengler | John Tombs | Lipstick-Face Demon | KeyFace | Gerald Rainier | Rallah | Precursors | Kaiju (Obsidian Fury & Raijin, Hakuja, and Shrikethorn) | Newton Geiszler | Eli Mills | Indoraptor | Ken Wheatley | Gunnar Eversol | Kores Botha | Arlo Sabian | Dr. May Updale | Skeletor | Michael Myers | Dr. Ranbir Sartain | Jason Volta | Dr. Gregory Butler | Stephanie Butler | Red | Tethered (Adelaide, Tethered Tylers, & Tethered Wilsons) | Eteon (Brixton Lore & Eteon Director) | Shane | Demon Overlord | Lord Thomas Badgley | Dr. Blair Mudfly | Barry the Tiger | Adrian Griffin
See Also
Alfred Hitchcock Villains | Back to the Future Villains | Barbie Villains | Child's Play Villains | Cooties Villains | Cornetto Trilogy Villains | Despicable Me Villains | Doom Villains | DreamWorks Villains | Dr. Seuss Villains | Fast and the Furious Villains | Get Out Villains | Hannibal Villains | House MD Villains Hulk Villains | Illumination Villains | Jason Bourne Villains | Johnny English Villains | Jurassic Park Villains | Kick-Ass Villains | Laika Villains | League of Gentlemen Villains | 9 Villains | Scarface Villains | Scott Pilgrim Villains | Tarantinoverse Villains | The Mummy Villains | The Purge Villains | Us Villains | Warcraft Villains
Community content is available under
CC-BY-SA
unless otherwise noted.