Jafar says: Read my lips and come to grips with the reality!


This article is a stub and is in need of expansion. You can help Villains Wiki by expanding it.                       



Click To Help DIO!

DIO has declared that this article has stopped in time, and any and all information on it may be outdated.
Help improve this article by checking and updating it's info wherever necessary
And now time resumes!

✓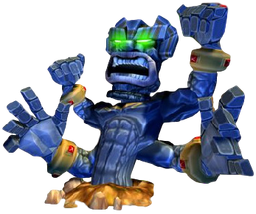 Tikimon is a giant Totem-God, who appeared in the video game Crash Twinsanity as the second boss of the game. This is a battle in which Crash fights with Cortex against Tikimon. Crash must throw Cortex to his mouth, which makes him choke. You must repeat this another three times to defeat him. Strangely, after Crash defeats him, he still gets hurt when touching Tikimon. He has a face on each side of his head: a scowling face on one side, and one with his mouth open like he's yelling on the other side. In the demo of Twinsanity you can only get to the place where you fight him with a levitation code (the normal place is the entrance to Totem Hokum in the demo) and he is not there replaced by a big clump of grass.
Community content is available under
CC-BY-SA
unless otherwise noted.