Obi-Wan Finale - The Loop
Play Sound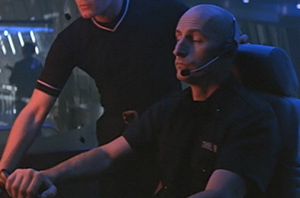 Timblin is a minor antagonist of the 1997 James Bond film Tomorrow Never Dies. He is a Carver Media Group Network employee who serves as a crewmember of Elliot Carver's Stealth Ship Crew.
History
Timblin was a crew member of Carver's stealth boat (commandeered by Captain Scott) involved in Carver's plot to instigate a war between England and China. Under the orders of Carver's right-hand man Richard Stamper, Timblin manages to pilot the Sea-Vac Drill into attacking a British frigate called the Devonshire, killing many British sailors while only seventeen escaped. Captain Scott then ordered a missile at one of the Chinese MIGs, framing the Chinese Air Force for the ship's attack. Following the Devonshire's sinking, Stamper happily patted Timblin on the shoulder for a job well done, and Timblin gratefully nods in return. Stamper would later murder the seventeen survivors for Carver to cover in his newspaper.
A couple of days later, Timblin was reported to help Carver oversee the imminent attacks between the British fleet and Chinese air force, just as Carver intends to fire a missile (which he stole from the sunken Devonshire) into Beijing to escalate the situation. Fortunately, James Bond and Wai Lin arrive to the rescue and took down Carver and many of his men before setting the missile to explode, destroying the stealth ship in the process.
It is unknown what happened to Timblin afterwards, but he either died along with most of the other crew members or jumped into the sea to escape from the stealth ship's destruction.