Doctor Strange in The Multiverse o Madness - The Loop
Play Sound
Titan was an alien Zoner who had been imprisoned in the Phantom Zone in the WB/CW TV series Smallville.
He served as the secondary antagonist in the Season Six episode "Combat".
He was portrayed by wrestler Kane, who also played Jacob Goodnight in the See No Evil franchise.
Biography
Past
Titan was a giant humanoid fighter who was dedicated to combat. He had a tattoo of a Kryptonian symbol on his right arm that showed he embraced the warrior ways, even though he clearly wasn't from Krypton.
On the same arm, Titan had a retractable bone spike that he would use to finish off opponents.
He had committed heinous crimes throughout the galaxy and when he was captured, he was sentenced to the Phantom Zone by Jor-El. Unlike most other prisoners of the Zone, he was not a phantom wraith as he still had his original body.
Combat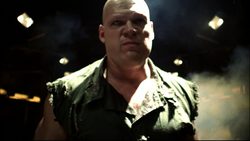 Titan was one of several Phantom Zone inmates who escaped the extra-dimensional prison after Clark Kent freed himself when he was sent there by Zod. Freed from his prison, Titan landed in Omaha, Nebraska, where he started fighting locals.
Bored of not having a real challenge, he sought out individuals to fight, his only concern was finding someone capable of matching him.
After killing multiple humans, he encountered Richter Maddox, a man who operated an underground fight club, "Live Or Die", for metahumans. Titan became the star of a secret underground fight club whose bloody battles to the death were broadcasted on the Internet from a secret location.
Maddox gave him a steady supply of opponents, but none of them managed to stand against Titan who dominated the cage, easily defeating and killing every fighter.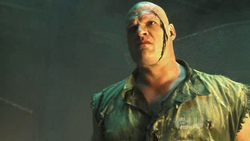 Oliver Queen found out about the illegal fighting club and asked Clark Kent to check it out. He and Chloe watch on the computer as Titan battles a man who can project energy from his hand; Titan was unfazed by the blast and killed the man with a spike that extends from his hand.
Chloe couldn't track the signal or get past the security. They do freeze the frame on Titan and see he has a Kryptonian prison tattoo. Clark eventually discovered the Fort Ryan location, but was forced to enter the ring against Lois Lane, who was also investigating the club for the Metropolis Inquisitor.
However, Titan sensed the presence of a Kryptonian and battled Clark inside the cage. Clark cut off power to the cameras and tells Lois to run right before Titan punches him with all his strength. Lois tries to run interference, without much luck and in the midst of this, Lois gets unconscious after been thrown by Titan.
Clark engaged in a brutish battle with Titan. In the brawl, Titan at first seemed to be stronger than Clark, literally beating Clark to a bloody pulp.
Clark soon gained the upper hand and gave back what Titan had done to him. The hangar is torn apart in the ensuing battle. Titan knocks Clark down and prepares to stab him with his hand-spike, but Clark regroups and inadvertently knocks him back onto his own spike.
Mortally wounded, Titan smiled and congratulated Clark on his fighting prowess before succumbing to his wounds and dies.
Due to Titan's death, Clark felt particularly uncomfortable with having to kill Titan in order to accomplish his goal of to clean up the Zoners he let free. He wasn't sure if Titan's death was an accident and Martha tries to comfort him and reassure him his feelings mean he's human.
After his demise, Titan's DNA was used by Lex Luthor in his 33.1 experiments, to anchor a multitude of powers unto a single host and to grant super-strength to super-soldiers, such as Wes Keenan.
Trivia
In the comics, Titan was a New God from the planet Apokolips and part of Darkseid's Elite.

Villains
Protagonists