She-Hulk Trailer Dropped - The Loop
Play Sound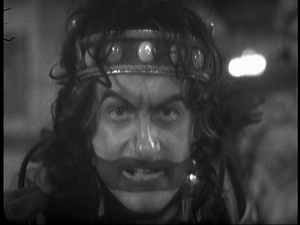 Tlotoxl is the main antagonist of the Doctor Who story "The Aztecs".
He was portrayed by the late John Ringham.
Biography
Tlotoxl was the Aztec High Priest of Sacrifice some time in the 15th century. When the TARDIS arrived in the region and a set of circumstances saw Barbara hailed as the reincarnation of the Aztec priest Yetaxa, Tlotoxl was initially cautiously accepting of her. He had a slightly cynical attitude towards his position, despite enjoying the power it held: He knew the sacrifices had to continue for him to keep his position and accused his rival Autloc, the High Priest of Knowledge, of lacking faith.
When Barbara attempted to halt a sacrifice, Tlotoxl convinced the intended victim to jump to his death. Now convinced Barbara was an imposter, he set out to expose her, testing her knowledge and also stirring up trouble for her and her friends. He had her "servants" banned from seeing her but failed to tell the Doctor, resulting in him being arrested. He then arranged for Ian to fight the Aztec's chosen warrior Ixta, who he had been manipulating, to the death. He taunted Barbara, challenging her to save Ian when Ixta had the upper hand...which she did by holding a knife to Tlotoxl's throat until Ixta stood down.
Tlotoxl next conspired with another priest Tonila, attempting to poison Barbara to prove she was not divine. Barbara was alerted by Ian and told Tlotoxl to drink first, before privately admitting she was not Yetaxa but he would never prove it. On learning that Susan had spoke out against arranged marriage, Tlotoxl had the Perfect Victim, the next slated to be sacrificed whose wishes could not be denied, choose her as his bride. When she refused, Tlotoxl was able to order that her eyes and tongue would be put out. He then framed Ian for an attack on Autloc, having him be sentenced to be thrown from the top of the temple.
Realising that most of the Aztecs were siding with Tlotoxl, Barbara abandoned her plans to stop sacrifices and Autloc helped Susan and Ian escape custody and rejoin their friends. The Doctor was able to reopen the tomb where the TARDIS had landed and, with the sacrifice about to take place, Tlotoxl was unable to stop the travellers escaping, settling instead for the fact his position was secure.