Wiki Targeted (Entertainment)
Play Sound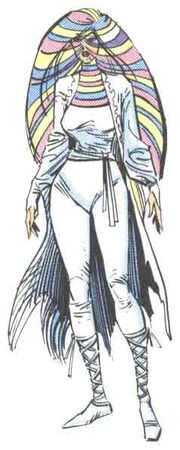 Tommy was a young Morlock. She ran away from New York after the Marauders killed some of her Morlock friends under as yet unspecified circumstances. She was rescued by the Hellfire Club mercenary Richard Salmons and brought to Los Angeles, where the Marauders tracked her down. Stunned by one of Harpoon's spears, Richard begged Tommy to give him his gun, but Tommy panicked and fled, abandoning Richard, who was soon afterwards shot by Scalphunter.
Tommy hitchhiked a train ride back to New York, where she was trailed by some of the Marauders to 'The Alley', the Morlock home in the New York sewer tunnels. Just when Tommy was about to flee into the tunnels, she was incapacitated by Harpoon and then shot by Scalphunter. She was therefore the first person to die in the Mutant Massacre.
Television History
Tommy is a mutant and member of the Morlocks. She has the ability to become two-dimensional and also blend in with the surrounding environment.
She was among the Morlocks when they kidnapped Jean Grey and Scott Summers. Later, she was among the mutants who joined Magneto on Asteroid M.

Villains