We're Getting Mutants in the MCU - The Loop
Play Sound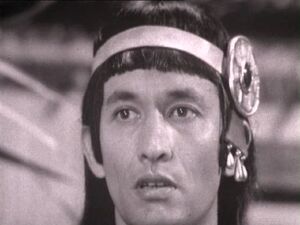 Tonila is a supporting antagonist in the Doctor Who story "The Aztecs".
He was portrayed by the late Walter Randall, who also played El Akir in "The Crusade" and Harry Slocum in "Inferno".
Biography
Tonila was one of the Aztec Priests of Knowledge. Although his immediate superior was Autloc, he was an ally of Tlotoxl, the High Priest of Sacrifice. He encountered Susan when he visited her in the seminary where she was being tutored by Autloc and observed her opposition to Aztec customs of arranged marriage. He was enlisted by Tlotoxl to test Barbara, who was claiming to be the reincarnation of the priest Yetaxa, by offering her a cup of poison. Barbara was forewarned by Ian and demanded Tlotoxl and Tonila to drink first, causing Tonila to flee in a panic.
Tonila mentioned Susan's attitudes to Tlotoxl and together they came up with a plan to discredit her. Tonila introduced Susan to the Perfect Victim, who was due to be sacrificed on the day of an eclipse and whose wishes could not be refused. The Perfect Victim requested Susan as his bride but she refused in front of Autloc. Tonila and Tlotoxl took the matter to Barbara, not telling her it was Susan, and said the punishment was to have the girl's eyes and tongue pierced with thorns. Barbara agreed since it would be done before the sacrifice, which she intended to stop.
After Tlotoxl and Ixta had framed Ian for an attack on Autloc, Tlotoxl told Tonila of his plan to have Barbara sealed alive in a tomb. With Autloc having gone into exile, Tlotoxl made Tonila the new High Priest of Knowledge. Their plans went awry as Ian and Susan managed to escape custody and the Doctor and his friends used a pulley to get back into the tomb where the TARDIS was. Tonila and Tlotoxl were forced to abandon their pursuit of them in order to carry out the sacrifice.