✓
This Villain was Headlined on September, 2020.
This article's content is marked as Mature
The page Mature contains mature content that may include coarse language, sexual references, and/or graphic violent images which may be disturbing to some. Mature pages are recommended for those who are 18 years of age and older.


If you are 18 years or older or are comfortable with graphic material, you are free to view this page. Otherwise, you should close this page and view another page.
| | | |
| --- | --- | --- |
| " | Say hello to my little friend! | " |
| | ~ Tony Montana's most famous quote as well as one of the most iconic quotes in movie history. | |
Antonio "Tony" Raimundo Montana is the titular protagonist villain of the 1983 epic crime drama film Scarface, which is a loose remake of the 1932 film of the same name. Once a humble refugee from Cuba, Tony Montana eventually climbed the ranks of the criminal underworld to become one of the most powerful drug kingpins in Miami, and he himself is arguably one of the most iconic villains in all of film history.
In the film, he was portrayed by Al Pacino, who also played Michael Corleone in The Godfather trilogy, Big Boy in Dick Tracy, John Milton in The Devil's Advocate, Willy Bank in Ocean's Thirteen, David Fisk in Righteous Kill, Roy Cohn in Angels in America, Walter Burke in The Recruit, and Wilhelm Zuchs in Hunters. In the upcoming remake of the film, he will be portrayed by Diego Luna, who also played Jonah Pincerna in Blood Father. In the video game adaptation, Scarface: The World is Yours and in Payday 2, he was voiced by André Sogliuzzo.
Biography
Scarface (film)
Tony Montana was a former Cuban soldier, who was imprisoned in Cuba along with his friends Angel and Manny. However, he later fled and departed to Miami as a Cuban refugee in the Mariel Boatlift in 1980. Wanting to build a criminal career, he initially worked for drug lord Frank Lopez and fell in love with the latter's girlfriend Elvira Hancock. He then forged a relationship with cocaine kingpin Alejandro Sosa in Bolivia. When Frank discovered that Tony was getting out of hand in the business, their business relationship ends. Frank later sent hitmen to murder him but failed, after which Tony killed him in retaliation.
Next, Tony got all of Frank's illegal powers and started his own drug empire, married Elvira and started getting into business with Sosa. While on a mission in New York, Tony was commissioned to kill a senator with a bomb under his car. Upon knowing that the senator was accompanied by his wife and children, Tony aborted the mission, thus double-crossing Sosa (much to the latter's fury). Back in Miami, Tony went to the house of his best friend Manny and found him with his sister Gina Montana, not knowing that the two were married. Tony then crossed the Moral Event Horizon after shooting and then killing his faithful friend Manny because of the love he had for his sister, though he quickly regretted this action.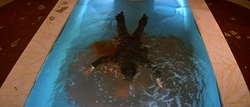 Later, Sosa sent a group of his own men to raid Tony's mansion and kill him. All of Tony's men were taken out, including his sister. After a furious gun battle with Sosa's men, despite being heavily injured and high on cocaine, he managed to kill many of Sosa's men, insulting and taunting them as he does so. He is ultimately shot in the back by Sosa's chief assassin, The Skull, with a double-barreled shotgun. Tony's corpse then fell into the fountain below, while the camera is in front of a statue reading "The World is Yours".
Scarface: The World Is Yours
The game begins in the film's final scene, with Tony's mansion being raided by Sosa's assassins. In a point of divergence from the film, Tony detects and kills the Skull. With the assistance of some of his surviving employees, Tony manages to escape. Sosa is then informed that Tony's mansion has been seized and his massive drug empire has been reduced to nothing. Hiding in a safe house located outside of Miami, Tony regrets the decisions he has made, chastises himself for Manny and Gina's deaths and never listening to the advice of others, and makes a vow to stop using cocaine. He then swears revenge on Sosa and promises to kill anyone who's in league with his nemesis.
Three months after the mansion shootout, Tony returns to Miami. Since everyone assumes he is dead, all of his assets have been seized and the districts of Miami that he used to dominate have been divided between other drug cartels. Tony's first action is to ask George Sheffield to become his lawyer again. Sheffield reluctantly agrees to this, but at a higher cost than before. Tony's influence throughout the city is gone and he has no choice but to accept it. Starting off again by selling cocaine to personal dealers, Tony manages to pay off the police to get his mansion back and travels to confront Gaspar Gomez at his penthouse. Despite Gomez not being there, Tony kills his head of security Ricardo and many of his men, steals a satellite phone for his personal use and hijacks an armored van carrying $50,000, enabling him to open a new bank account.
He reconnects with his original banker Jerry, who has since been promoted and although he feels unsafe, he has faith in Tony and agrees to work with him again. Tony then proceeds to take over Little Havana, claiming all of its businesses and turfs, severely weakening the Diaz Cartel. While taking a break at the Babylon Club, Tony is attacked by assassins sent by the Diaz Brothers. One assassin informs Tony that his mother has been slain. Tony murders the Diaz Brothers in retaliation and takes their territory. One of Sheffield's associates, Pablo (Wilmer Valderrama), lures Tony to Freedom Town with the promise of information on his missing ex-wife Elvira.
However, this meeting turns out to be an ambush, but Tony survives. After killing Pablo during a speedboat chase, he adds Sheffield to his hit-list. Tony takes Downtown from the Contreras cartel. He allies with the Sandman, a coke producer in a set of Caribbean islands south of Miami. He finds Nacho Contreras there as well, controlling a floating casino. After a chase through said boat, a wounded Nacho is eaten by a shark. After this, Tony slaughters what is left of the Contreras Cartel, seizing control of another tanker belonging to Nacho, which he used to smuggle drugs into Miami. Tony uses the new ship and various ex-Nacho workers to establish a supply line.
Tony slowly takes North Beach and South Beach for his own, fulfilling the various business missions and conquering the storehouses. He now controls Miami, however his supply lines are weak. The Sandman says he is going to war with the Colombians. Tony assists and drives the enemy's influence from the Islands. However, before he can celebrate, the Colombians take over Tranqilandia, a small island that is owned by the Sandman, and a crucial drugs base for the Montana Cartel. Tony takes it back, killing the Colombians, rescuing the Sandman's workers, and preventing the Colombians from seizing the cocaine there. Finally, everything is clear on the Islands. The Montana Cartel's power rises and Tony Montana becomes even wealthier and more powerful than ever before. Finally, he has gathered the strength to destroy Sosa, and heads to Bolivia.
Meanwhile, Sosa is hosting a sit-down in his exotic mansion. Sheffield and Gomez are there, discussing the problem of Montana. The man himself crashes the meeting. Tony moves through the grounds, killing Sosa's security detail before going to proceed in executing both Sheffield and Gomez. Tony then confronts Sosa in his living room and they discuss the situation from the movie where Tony refused to kill children. Shortly afterwards, Tony kills Sosa, fulfilling his revenge. On his way out, Tony finds one of Sosa's men still alive. The survivor begs for his life on the basis of his family and Tony offers him a job.
The game ends with that surviving henchman now serving as Tony's butler (who Tony refers to him as "Manny", in honor of his late friend and right-hand man, Manny Ray), Venus as his new wife and Tony's empire restored to full power and wealth. Tony finally has the "world" that he felt was coming to him, and with all competition eliminated, the Montana Cartel is the most powerful drug cartel in 1980's Miami.
Scarface comics
Main article: Tony Montana (Comics)
Victims
Film
Emilio Rebenga - Stabbed in the stomach by Tony Montana, under Lopez's orders.
Marta - Shot in the chest by Manny with a machine gun.
Unnamed Goon - Shot in the chest by Tony.
Hector - Shot in the head by Tony.
Two Assassins - Shot by Tony, crushed underneath a studio light.
Frank Lopez - Shot in the chest by Manny on Tony's orders.
Mel Bernstein - Shot in the chest by Tony.
Alberto "The Shadow" - Shot in the head by Tony.
Manny Ribera - Shot twice in the chest by Tony.
16 of Sosa's Goons - Shot by Tony with an assault rifle.
Video Game
The Skull - Shot to death by Tony with an assault Rifle.
Ricardo - Thrown off of a building's rooftop by Tony.
Unnamed Diaz Brother's Assassin - Shot in the head by Tony.
Edgar Diaz - Shot to death by Tony.
Alfonso Diaz - Shot to death by Tony.
Pablo - Shot to death by Tony.
George Sheffield - Shot to death by Tony.
Alejandro Sosa - Shot to death by Tony.
Overall
Quotes
| | | |
| --- | --- | --- |
| " | I want what's coming to me: The world, Chico. And everything in it. | " |
| | ~ Tony Montana | |
| | | |
| --- | --- | --- |
| " | I'm Tony Montana. You f-ck with me, you're f-ckin' with the best! | " |
| | ~ Tony Montana | |
| | | |
| --- | --- | --- |
| " | Who put this thing together? Me, that's who! Who do I trust? Me! | " |
| | ~ Tony Montana | |
| | | |
| --- | --- | --- |
| " | All I have in this world is my word and my balls, and I don't break 'em for nobody. | " |
| | ~ Tony Montana | |
| | | |
| --- | --- | --- |
| " | Sure Mel. Maybe you can handle yourself one of them first class tickets to the ressurection. | " |
| | ~ Tony Montana before killing Mel. | |
| | | |
| --- | --- | --- |
| " | You think you kill me with bullets? I take your f-ckin' bullets! Go ahead! | " |
| | ~ Tony Montana's last words before getting shot by The Skull. | |
Gallery
Images
Videos
External Link

Pictures Villains
Animated Features
Warren T. Rat | Mott Street Maulers (Digit) | Moe | Sharptooth | Cat R. Waul | Cactus Cat Gang (T.R. Chula, One-Eye, & Sweet William) | Professor Screweyes | Ozzy & Strut | Hyp | Mutt and Nod | Steele | Ichy and Dil | Mr. Grasping | Toplofty and O'Bloat | Chief McBrusque | Scuttlebutt | Madame Mousey | Twitch | Rinkus and Sierra | Niju | Nuk, Yak, and Sumac | Farley the Fox | Br'er Fox | Br'er Wolf | Robert the Terrible | Serpent | Botticelli Remorso | 1 | 8 | Fabrication Machine | Machines (Cat Beast, Winged Beast, Seamstress, Steel Behemoths, Seeker Drones, & Spiderbots) | The Chancellor's Party (Chancellor Fredinand) | Danno Wolfe | Felonious Gru | Minions | Dr. Nefario | Victor Perkins | Mr. Perkins | Nightmare Train | Aloysius O'Hare | The Once-Ler | Morty and McGurk | The Once-ler's Mother | Brett and Chet | Aunt Grizelda | Agatha Prenderghast | Judge Hopkins | El Macho | El Pollito | Evil Minions | Norvirus Raccoon | Percy "King" Dimplewade | Knuckles | Archibald Snatcher | Mr. Gristle | Mr. Trout | Mr. Pickles | Scarlet Overkill | Herb Overkill | Villain Con Villains | Snowball | Flushed Pets | Ozone | Raiden the Moon King | Karasu and Washi | Giant Skeleton | Garden of Eyes | Mike | Bears | The Gorillas (Johnny's Father) | Zhong | Dru Gru | Balthazar Bratt | Clive | Mayor Muldoon | Heather Muldoon | Gunther | The Grinch | Grimmel the Grisly | Deathgrippers | Warlords | Lou | Lydia, Kitty, and Tuesday | Sergei | Little Sergei | Circus Wolves | Queen Barb | Rock Trolls | The K-Pop Gang | Reggaeton Trolls | Spiny Mandrilla
Live-Action Films
Count Dracula (1931) | Dr. Henry Frankenstein | Frankenstein's Monster | Imhotep (1932) | Griffin | Wolfman (1941) | The Thing (1951) | Max Cady (1962) | Bob Ewell | Mayella Ewell | The Birds | Great White Sharks | The Car | Dean Vernon Wormer | Thulsa Doom (1982) | The Thing (1982) | Biff Wilcox | Tony Montana | Alejandro Sosa | Frank Lopez | Hector | Alberto | The Skull | Queen Taramis | Bombaata | Nacho Contreras | Biff Tannen | BiffCo (Match, Skinhead, & 3-D) | The Libyans | Griff Tannen | Data, Spike, and Whitey | Buford Tannen | Jacques LaFleur | Chucky | Christopher Sullivan | Damballa | Graboids | Louis Strack Jr. | Robert G. Durant | Cullen Crisp | Eleanor Crisp | Brett C. Shelton | Sergeant Botnick | The Robesons | Max Cady (1991) | Dr. Herman Varnick | Harvey and Vernon | Dennis Nedry | Donald Gennaro | Lewis Dodgson | Cliff Vandercave | Amon Goeth | Miss Sharon Stone | Waldo Aloysius Johnston III | Aaron McComb | Carrigan Crittenden | Paul "Dibs" Plutzker | The Deacon | King Einon | Buddy Love | Peter Ludlow | Dieter Stark | Chip Hazard | Commando Elite (Butch Meathook, Nick Nitro, Brick Bazooka, Link Static, Kip Killigan, & Gwendy Dolls) | Gil Mars | Tiffany Valentine | Warren Kincaid | Officer "Needlenose" Norton | Imhotep (1999) | Beni Gabor | Anck-Su-Namun | Chip Rockefeller | Commodus | Boris Badenov (2000) | Natasha Fatale (2000) | Fearless Leader (2000) | Giant Hamster | The Grinch | Mayor Augustus Maywho | Hannibal Lecter | Rinaldo Pazzi | Paul Krendler | Fiona | Wyatt Frame | Johnny Tran | Lance Nguyen | Kenny Linder | Mathayus the Scorpion King | Cult of Imhotep (Baltus Hafez, Meela Nais, Lock-Nah, & Shafek) | Army of Anubis | Pygmies | "Red" Willits | Jacob Spivey | Jacques Clemons | Anubis | Marty Wolf | Memnon | Takmet | Thorak | Alexander Conklin | Ward Abbott | Professor | Castel | Manheim | Nykwana Wombosi | Carter Verone | Pascal Sauvage | David Banner | Glenn Talbot | Thunderbolt Ross (2003) | Smokey, Sammy, and Lily | Larry Quinn | Captain James Hook | Mr. Smee (2003) | Count Dracula (2004) | Vampires (Aleera, Marishka, & Verona) | Igor | Dwergi | Velkan Valerious | Mr. Hyde (2004) | Grey Werewolf | Zhylaw | Kirill | Yuri Gretkov | Jarda | David Fastidious | Pete | Zombies | Hilary Briss | Geoff Tipps | Herr Lipp | Dr. Erasmus Pea | Edward and Tubbs Tattsyrup | Papa Lazarou | Bernice Woodall | Pauline Campbell-Jones | Sir Nicholas, Lemuel, and Father Halfhearte | Selma Quickly | Sarge | The Infected | Carl Denham | DK Takashi | Uncle Kamata | Clay | Frank Butterman | Neighbourhood Watch Alliance (Simon Skinner & Reverend Philip Shooter) | Chuck Long | Noah Vosen | Albert Hirsch | Paz | Desh Bouksani | Ezra Kramer | Abomination | Strategic Operations Command Center (Thunderbolt Ross (2008) & Kathleen Sparr) | Samuel Sterns | Tough Guy Leader | Prince Nuada | Mr. Wink | Golden Army | Forest God | Tooth Fairies | Wesley Gibson | Sloan | Fox | Emperor Han | General Yang | Colonel Choi | Roger Wilson | Terracotta Warriors | Sargon | Phears | Arturo Braga | Fenix Calderon | Gisele Yashar | Enik | Sleestak (2009) | Grumpy (2009) | The Zarn (2009) | Big Alice | Library of Skulls | Hans Landa | Fredrick Zoller | Joseph Goebbels | Dieter Hellstrom | Adolf Hitler | Werner Rachtman | Wolfman (2010) | Sir John Talbot | Frank D'Amico | Chris D'Amico | Big Joe | Vic Gigante | Rasul | Leroy | Stu | Maya | Tony Romita | Sir Godfrey | Uncle Phil | Gideon Gordon Graves | League of Evil Exes ( Matthew Patel, Lucas Lee, Todd Ingram, Roxanne Richter, & Kyle and Ken Katayanagi) | Envy Adams | Nega Scott | Lynette Guycott | The Big Guy | Agent Haggard | Carlos | Easter Chicks | Hernan Reyes | Zizi | Simon Ambrose | Killer Janitor | Sylvester Smirch | Queen Ravenna | Finn | Donny | Robert | Eric Byer | Grace Ferrin | Polite Leader | Owen Shaw | Vegh | Riley Hicks | Klaus | Adolfson | Toxic-Mega Cunts (Mother Russia, Black Death, Genghis Carnage, Javier, The Tumor, & Goggles) | Brooke | Ralph D'Amico | The Network | Blanks (Oliver Chamberlin, Peter Page & Guy Shepherd) | Barb Pierce | Santana | Clinch Leatherwood | Foy | Mehmed II | Master Vampire | Cootie Kids (Shelley Linker, Patriot, Dink, Angela, Tricycle Girl, & Racer Dopkins) | Big Daddy | Old Elegant Woman | The Bikers | Lorraine | Deckard Shaw | Mose Jakande | Louis Kiet | Kara | Indominus rex | Vic Hoskins | Henry Wu | Krampus | Krampus' Elves | Krampus' Toys | Krampus' Gingerbread Men | Rose Winters | Freya | Gul'dan (2016) | The Horde (Blackhand the Destroyer & Orgrim Doomhammer) | Edwidge Owens | Caleb Warrens | Earl Danzinger | Harmon James | Eric Busmalis | Chief Couper | Kimmy | New Founding Fathers of America | Robert Dewey | The Asset | Craig Jeffers | Christian Dassault | Tom Watson | Tao Tei (Tao Tei Queen) | Order of the Coagula | Armitage Family (Rose Armitage, Roman Armitage, Marianne Armitage, Dean Armitage, Missy Armitage, & Jeremy Armitage) | Jim Hudson | Logan King | Cipher | Connor Rhodes | Ahmanet | Set | Mr. Hyde (2017) | Dr. Foley | Mathias Lund-Helgesen | Bayfield Babyface Killer | Lori Spengler | John Tombs | Lipstick-Face Demon | KeyFace | Gerald Rainier | Rallah | Precursors | Kaiju (Obsidian Fury & Raijin, Hakuja, and Shrikethorn) | Newton Geiszler | Eli Mills | Indoraptor | Ken Wheatley | Gunnar Eversol | Kores Botha | Arlo Sabian | Dr. May Updale | Skeletor | Michael Myers | Dr. Ranbir Sartain | Jason Volta | Dr. Gregory Butler | Stephanie Butler | Red | Tethered (Adelaide, Tethered Tylers, & Tethered Wilsons) | Eteon (Brixton Lore & Eteon Director) | Ma | Ben Hawkins | Shane | Demon Overlord | Lord Thomas Badgley | Dr. Blair Mudfly | Barry the Tiger | Adrian Griffin
See Also
Alfred Hitchcock Villains | Back to the Future Villains | Barbie Villains | Child's Play Villains | Cooties Villains | Cornetto Trilogy Villains | Despicable Me Villains | Doom Villains | DreamWorks Villains | Dr. Seuss Villains | Fast and the Furious Villains | Get Out Villains | Hannibal Villains | House MD Villains | Hulk Villains | Illumination Villains | Jason Bourne Villains | Johnny English Villains | Jurassic Park Villains | Kick-Ass Villains | Laika Villains | League of Gentlemen Villains | 9 Villains | Scarface Villains | Scott Pilgrim Villains | Tarantinoverse Villains | The Mummy Villains | The Purge Villains | Us Villains | Warcraft Villains
Community content is available under
CC-BY-SA
unless otherwise noted.