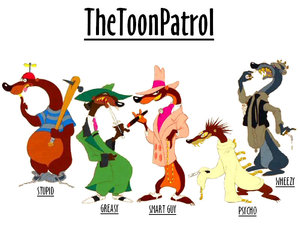 The Toon Patrol are the secondary antagonists of Who Framed Roger Rabbit. They are a gang of toon anthropomorphic weasels who serve as henchmen to Judge Doom. They are based on the weasel thugs in Disney's Wind in the Willows, except that those weasels were patterned on early 20th century British thugs, while the Toon Patrol are caricatures of '40s gangster movie types.
In the film, The Toon Patrol are the law enforcers of Toontown, although they behave more like vigilantes and mercenaries. Judge Doom has hired them to arrest Roger Rabbit for the murder of Marvin Acme. Their vehicle is a 'real' black 1937 Dodge Humpback panel truck which serves as a paddy wagon. The vehicle is fitted with official City of Los Angeles "Toon Patrol" decals on the front doors.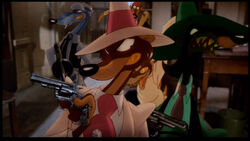 Like all the other Toons in the film, The Toon Patrol are invincible to physical body harm except from a chemical blend called "
The Dip
." A combination of powerful solvents, The Dip dissolves the ink and paint which comprise the toons.
In the case of the weasels, it is shown that prolonged laughter is lethal to them; while Eddie Valiant jokes around in front of them during the climax of the film, all of them, except for their leader Smarty the Weasel die from laughing at him; Smarty meets his demise after Valiant kicks him into a vat of The Dip.
Members Of The Toon Patrol
Trivia
The Weasels' names are parodies of the Seven Dwarfs.
In a scene that was deleted from the movie, the Weasels take a captured Eddie into 'downtown Toontown' on the Judge's orders. They use 'Toon' paint to create a giant pig's head to cover Eddie's real head before releasing him.

Villains