Jurassic World: Dominion Dominates Fandom Wikis - The Loop
Play Sound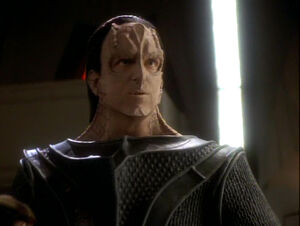 Gul Toran is the main antagonist of the Star Trek: Deep Space Nine episode "Profit and Loss".
He was portrayed by the late Edward Wiley, who also played DeSilva in Sniper.
Biography
Gul Toran was the commander of the Cardassian warship which came to Deep Space 9 searching for Professor Natima Lang and her students Hogue and Rekelen, a trio of dissidents. He was known to Garak, who noted things must be difficult back home if Toran had been promoted to gul. Garak convinced the Cardassian and Bajoran governments to agree to a prisoner exchange deal where the Bajorans would hand the three over in return for six Bajoran prisoners. However, Toran convinced Central Command to break the deal and instead have the dissidents killed, dismissing Garak's concerns that it would make martyrs of them. He told Garak to do the job, suggesting he might be rewarded for it.
Accordingly, when Quark attempted to smuggle Lang and her students off the station, Garak stopped them and held them at gunpoint. However, Toran then arrived and prepared to kill the three himself and take the credit. He mocked Garak for thinking that completing the task would be enough to restore his reputation with Central Command. Garak promptly killed him and let the three go.

Villains
Movies
Star Trek: The Motion Picture: V'Ger: Klingons ( Barak )
Star Trek II: The Wrath of Khan: Augments (Khan & Joachim)
Star Trek III: The Search for Spock: Klingons (Kruge, Torg, Maltz) | Valkris
Star Trek IV: The Voyage Home: Whale Probe | Kamarag
Star Trek V: The Final Frontier: The One | Klingons (Klaa & Vixis) | Sybok
Star Trek VI: The Undiscovered Country: Khitomer Conspiracy (General Chang, Nanclus, Valeris, Admiral Cartwright, Patrick West, Harlan Burke, Thomas Samno)
Star Trek Generations: Tolian Soran | Klingons (Lursa & B'Etor)
Star Trek: First Contact: The Borg (Borg Queen)
Star Trek: Insurrection: Son'a (Ahdar Ru'afo & Gallatin) | Matthew Dougherty
Star Trek: Nemesis: Remans (Shinzon, Viceroy, Tal'aura, Suran & Donatra)
Star Trek (2009): Romulans (Nero & Ayel)
Star Trek Into Darkness: Khan | Alexander Marcus
Star Trek Beyond: Krall | Manas | Kalara
Television
Adam Soong | Ah-Kel | Alixus | Anan 7 | Apollo | Arctus Baran | Ardra | Arik Soong | Armus | Arne Darvin | Arthur Coleman | Augris | Automated Unit 3947 | Khan | Ba'ul | Balok | Banean Doctor | Barjan T'Or | Basso Tromac | Ben Finney | Benjamin Maxwell | Beta XII-A entity | Bok | The Borg | Bothan | Bractor | Broca | Brunt | Cardassian Union (Dukat, Damar & Cardassians) | Charlie Evans | Chu'lak | Claudius Marcus | Clown | Colonel Grat | Colonel Phillip Green | Crell Moset | Crystalline Entity | Culluh | Cyrus Redblock | D'Ghor | D'Nesh | Damrus | Danby Connor (MU) | Devinoni Ral | Denevan parasites | Dereth | Dexter Remmick | Doctor Chaotica | Dolim | Dr. Janice Lester | Dular Garos | Duras | Ekosian SS (Melakon) | Elim Garak (Mirror Universe) | Ellen Landry | Equinox EMH | Erik Pressman | Evil Kirk | Fallit Kot | Gabriel Lorca (MU) | Garth of Izar | Gary Mitchell | Gorgan | Gorn | Female Changeling | Gowron | Grebnedlog | Hagath | Harry Mudd | Henoch | Hikaru Sulu (MU) | Hoshi Sato (Mirror Universe) | House of Duras | Ibudan | Ilon Tandro | Imperial Starfleet | Ira Graves | J'Dan | Jabin | James Leyton | James T. Kirk | Jaro Essa | Jem'Hadar | Jev | John Frederick Paxton | John Gill | Jonathan Archer (Mirror Universe) | Jor Brel | Joran Dax | Julian Bashir (Changeling) | J'Vini | Karnas | Kathryn Janeway (Kyrian Recreation) | Kar Kantar | Kazon | Kell | Kennelly | Keyla | Kieran MacDuff | Kila Marr | Kira Nerys (Mirror Universe) | Kivas Fajo | Kodos the Executioner | Kol | Kol-Sha | Koloth | Konmel | Kor | Korok | Korris | Kras | Krax | Kunivas | L'Rell | Landru | Lazarus | Leland | Lenore Karidian | Letek | Locutus | Locutus | Lon Suder | Lore | Lurin | Lutan | Luther Sloan | M-113 Creature | Maab | Madred | Malcolm Reed (MU) | Malon | Maras | Marla McGivers | Martok (Changeling) | Martus Mazur | Matthew Harris | Matthew Ryan | Maxwell Burke | Mazarites | Menos | Michael Eddington | Michael Jonas | Miles O'Brien (Changeling) | Morag (Klingon) | Na'kuhl | Nagilum | Navaar | Neela | Neral | Neural Parasites | Nomad | Norah Satie | Nyota Uhura | Oracle of the People | Patar | Paul Stamets (MU) | Pavel Chekov (Mirror) | Pe'Nar Makull | Philippa Georgiou (MU) | Professor Moriarty | Q | Rao Vantika | Razik | Redjac | Regent of Palamar | Dr. Roger Korby | Rojan | Romulan Commander (Balance of Terror) | Ron Tracey | Rota Sevrin | Rudolph Ransom | Ruon Tarka | Sabin Genestra | Sela | Seska | Seven of Nine (KR) | Sharat | Shran | Silaran Prin | Silik | Sobi | Spawnmother (2364) | Sphere-Builders | Spock (Mirror Universe) | Sulan | Surata IV Vine | Sylvia Tilly | Sylvia (Ornithoid) | T'Kuvma | T'Paal | Tahna Los | Talosian Keeper | Talosians | Tarah | Tarr | Tedran | Terra Prime | The Albino | The Doctor (Kyrian Recreation) | Thot Gor | Thot Pran | Tomalak | Toral | Toran | Trabe | Traeg | Travis Mayweather (MU) | Trekal Darhe'el | Trelane | Tret | Tristan Adams | Ulis | Ux-Mal Entity | V'Las | V'latak | Vaal | Vaatrik Pallra | Valdore | Verad Kalon | Ves Alkar | Voq | Wesley Crusher | Weyoun | William Ross | Winn Adami | Worf (Mirror Universe) | Yuta | Zorn
Comic Books
Alfred Bleikoff | Enab
Novels
B'orel | Darok | Dralath | Dovraku | Kazanak | Korak | Krit | Lokog | Mettus | Romulan Praetor (2280s) | Spawnmother (2376) | Tron | True Sons of Antar | Valak | Zakal