Jurassic World: Dominion Dominates Fandom Wikis - The Loop
Play Sound

✓
| | |
| --- | --- |
| | This Article Contains Spoilers - WARNING: This article contains major spoilers. If you do not wish to know vital information on plot / character elements in a story, you may not wish to read beyond this warning: We hold no responsibility for any negative effects these facts may have on your enjoyment of said media should you continue. That is all. |
This article's content is marked as Mature
The page Mature contains mature content that may include coarse language, sexual references, and/or graphic violent images which may be disturbing to some. Mature pages are recommended for those who are 18 years of age and older.


If you are 18 years or older or are comfortable with graphic material, you are free to view this page. Otherwise, you should close this page and view another page.
| | | |
| --- | --- | --- |
| " | The Nation of Zhao, all its citizens from the top to the very bottom...I could not care less about what happens to them afterwards. | " |
| | ~ Tou Jou expressing himself in front of Ri Boku and Zhao officials. | |
Tou Jou, also known as the King of Zhao, was an overreaching and later posthumous antagonist in the historical seinen anime and manga series, Kingdom. He was the 9th King of the Zhao Kingdom and state.
He is an overreaching antagonist in the Battle of Bayou Arc where he made his first appearance but not fully, a supporting character in the Alliance Arc and Coalition Invasion Arc, the overreaching antagonist of the Western Zhao Invasion Arc where he made his first full appearance and later the Zhao Crisis Arc where he would meet his end in an successful assassination after being poisoned.
Appearance
Tou Jou was a slander feminine looking pale skin man with no facial hair, in his first appearance he had a small goatee but is later shown with none, with shoulder length hair and decorated lipstick. He had heavily pierced ears, first seen in his first appearance and appeared to be in his 40s to 50s of age. He was always seen wearing regal court robes.
Personality
| | | |
| --- | --- | --- |
| " | What depraved darkness...Mind numbingly so... | " |
| | ~ Ri Boku's inner thoughts on his king. | |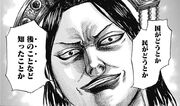 Tou Jou was an incredibly twisted man that strongly hated being admonished by those he considered beneath him and highly narcissistic. He detested Ren Pa of the previous Three Great Heavens from the bottom of his heart for constantly warning him during his days as a prince. He was also shown as being completely confident in the face of the news from Ri Boku of Qin's invasion, with more attention focused on his daily pleasures than on the state of his nation's borders being invaded. A complete tyrant, he publicly showed his contempt and even stated that he detested the entirety of his kingdom and would gladly see its citizens destroyed after his death. And as a sadist he delighted in threatening Ri Boku and his vassals, nonchalantly bite and ripped off his son, Ka's ear while giving him a hug, and took immense pleasure in thinking of different ways to viciously torture Ri Boku during his planned execution.
Powers and Abilities
Trivia
While a deviant and pedophilia, Tou Jou was one of the first openly bisexual characters to appear in the series.
Tou Jou was suffering from an unknown disease which could've been in the form of a STD.
Tou Jou was disliked by many of his subjects and allies which includes Ren Pa, Shi Ba Shou, Kaine, Fu Tei, Rozo, and Ko Chou.
Tou Jou has a counterpart in the superstate of Chu in the form of one of the princes who is infamous for his disgusting hobbies.
Links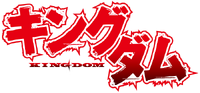 Villains
Ai Kingdom
Leaders: Rou Ai | Bi Ki
Officials: Ko Reki
Generals: Han O Ki | Han Roki | Wa Tegei
Assassins
Muta | Clan Shiyuu | Kyou Kai | Shiyuu Elders | Yuu Ren | Yuu Tribe | Clan Shukyou | En Tei | Jo Kan | Sa Ji

Chu Kingdom
Leaders: Shun Shin Kun
Ri En | Ka Rin | Chu Prince

Great Generals: Kan Mei | Kou En
Generals: Bei Man | Rin Bu Kun | Gou Ma Sho | Haku Rei | Kou Yoku
Strategists: Jin Ou | Ju Ko Ou
Officials: Chou Kou
Soldiers: Bam Yuu | Gou Toku | Ka En
Affiliates: Gen'U | Kai Shi Bou | Kyou En | Man'U | Ren Pa | Sen To Un

Qin Kingdom
Leaders: Ei Sei | Ryo Fui | Sei Kyou | Sho
Great Generals: Haku Ki | Kan Ki
Generals: Ryuu
Commanders: Koku'Ou | Ma Ron | Rai Do | Ogiko | Saki | Zen Ou | Ran Dou
Soldiers: Gan Jin | Gi Kou | Kan Ki Army
Officials: Shi Shi | Ri Shi | Ketsu Shi

Wei Kingdom
Prime Minister: Gek Ka Kou
Great Generals: Earl Shi | Gai Mou | Go Hou Mei | Go Kei | Haku Ki Sai | Rei Ou
Generals: Ga Gyuu | Gyo En | Jun Ei | Ran Bi Haku | Ryuu Han
Soldiers: Shuu Kou | Kou Ri Gen
Strategists: Jun Sou | Ha Ri
Affiliates: Four Heavenly Kings of Ren Pa

Yan Kingdom
Great Generals: Gaku Ki | Geki Shin | Ordo
Soldiers: Yuki | Otaji

Zhao Kingdom
Leaders: Tou Jou | Yuu Boku
Prime Minister: Kaku Kai
Great Generals: Three Great Heavens | Rin Shou Jo | Chou Katsu | Hou Ken | Ri Boku | Ko Chou | Shi Ba Shou | Gaku Jou
Generals: Ba Tei | Chou Sou | Chou Ga Ryuu | Gaku Haku Kou | Gyou'Un | Ji Aga | Jyou Ka Ryuu | Kan Saro | Kei Sha | Kou Son Ryuu | Ri Haku | Fuu Ki | Ryuu Tou | Ryuu Haku Kou | Earl Kou | Earl Rai | Ko Haku Kou | Kin Mou | Man Goku | Shun Sui Ju | Shin Sei Jou | Shou Mou | Ba Nan Ji | Mai Kou | Chou Haku | Gaku Ei | Gaku Shou | Gou Ki | Kou Ki Ou
Commanders: Ba Fuu Ji | Gi Ka | Kaine | Fuu On | Fu Tei | Jo Shou | Jo Rin | Un Gen | Un Kei
Soldiers: Ten Spears
Affiliates: Bunen | Goba | Geeli | Rozo | Tork | Quanrong