Doctor Strange in The Multiverse o Madness - The Loop
Play Sound
This article's content is marked as Mature
The page Mature contains mature content that may include coarse language, sexual references, and/or graphic violent images which may be disturbing to some. Mature pages are recommended for those who are 18 years of age and older.


If you are 18 years or older or are comfortable with graphic material, you are free to view this page. Otherwise, you should close this page and view another page.
A man only known as Toyohiro Kanedaichi is a minor antagonist in JoJo's Bizarre Adventure: Diamond is Unbreakable.
He was voiced by Koichi Tochika in Japanese and Sean Chiplock in English.
Biography
He is first seen living in a supposed run down transmission tower. Kanedaichi catches a fish and cooks it on his tower's oven. As he walked through the tower's beams, he almost loses his balance, but jumps using a loose bolt and rides it to another beam. Kanedaichi then spots Josuke who is alongside Okuyasu and Mikitaka Hazekura. He warns the party to stay back has using the toilet within his tower to fertilize herbs.
After explaining to the group how he's managed to survive living within his tower, Josuke almost gets a polaroid of Kira. With this, Kanedaichi and Yoshihiro smile wickedly as they trapped Josuke within the confines of the Superfly Stand tower. Angered by this, the Crazy Diamond Stand user almost pursues Yoshihiro, but finds his body becoming metal. Kanedaichi warns if anyone tries to escape, they will become part of the tower.
Toyohiro then tries to escape by grinding with his calluses. Okuyasu and Josuke try to damage to the tower, but it reflects the damage. However, Mikitaka takes the shape of a cable and forces Kanedaichi back into the tower. After the hermit is entangled, Josuke nearly escapes, but Kanedaichi cuts his way free using a knife. Having mentally practiced to escape, he catches a beam. Kanedaichi then pins Mikitaka down with bolts.
After revealing his name as an alias and the fact that he is wearing a mask, Kanedaichi almost leaves until Josuke gets near him. Josuke sends Crazy Diamond to punch the hermit, but Toyohiro dodges, spitting on the high-school boy for a distraction. Crazy Diamond continues to parry the Superfly attacks but Kanedaichi is at an advantage with his own damages reflecting towards Josuke. Hanging from a tower beam, Josuke gloats that he repaired the damages that were done and punches Kanedaichi square in the face. His blood causes Josuke to lose his balance and fall. With advice, Josuke punches the tower so he bounces back up.
Defeated, Kanedaichi admits the outside world is much scarier than he realized. He and Josuke then make peace. Before Josuke leaves, Toyohiro informs him that Koichi was taken out by another Stand user.
After the crisis with Yoshikage Kira is finished, Kanedaichi asks Mikitaka if the town is very interesting.
Powers and Abilities
| | | |
| --- | --- | --- |
| " | I see, so you were curious about my house? | " |
| | ~ Toyohiro Kanedaichi | |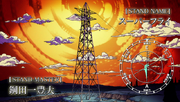 Toyohiro Kanedaichi lives within the boundaries of Superfly, which resembles a transmission tower. He can make the tower anything he wishes it to be. Any damage to the tower will be reflected so it is unharmed. With huge calluses, he can also use the tower like a weapon acrobatically.