Doctor Strange in The Multiverse o Madness - The Loop
Play Sound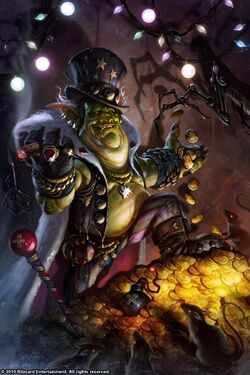 Trade Prince Jastor Gallywix, also known as Trade Jastor Gallywix, is an antagonist in World of Warcraft. He is the former leader of the Bilgewater Cartel goblins. Out of all of Azeroth's major leaders, he was the one most consumed by greed, never hesitating to commit a heroic or a villainous act so long as it would ensure his financial security. Although technically one of the extended Horde leaders, he was nevertheless an antagonistic and villainous individual, his extreme level of unlikable traits and tendency to scheme against his own people have made many theorize that he may have always been intended to be a temporary leader who may be disposed of in the future - a theory possibly backed up by Thrall stating Gallywix shall lead the goblins "for now".
While Gallywix did "place nice" as the leader of the Horde goblins for several years, particularly during Pandaria Campaign, he eventually showed his true villainous colors during the Battle for Azeroth expansion. Realizing the incredible power of the recently discovered azerite ore, he used it to power the Horde war machine under Sylvanas Windrunner, becoming an unrepentant war profiteer and not caring for the massive damage to both Azeroth's mortal races and to the planet itself so long as he could line his pockets. When Sylvanas was forced to flee her position, Gallywix cowardly followed suit, leaving the goblin tinkerer Gazlowe as the leader of the Horde goblins.
Gallywix currently cannot be encountered by non-goblin characters nor fought by Alliance characters, appearing only in the goblin starting areas which other characters can never go to.
Biography
Trade Prince Gallywix is introduced to players early on in their career as goblins and instantly views them as rivals in the race for the Trade Prince role. He takes the only ship out of Kezan and forces players to become his slaves after buying their place in the ship which sails to Azshara. However, during the voyage, the ship is sunk when the goblins are caught in a battle between the Alliance and Horde navies.
Unfortunately for the goblins Gallywix survived this event and was the first goblin to be freed by the player during the aftermath, after this the player rescues Thrall and prepares to use a rocket sling to get to a larger isle only for Gallywix to arrive and swears to crush the players before using the rocket sling himself. Gallywix proceeds to go on a rampage of sorts, enslaving his own people - going as far as turning Chip Endale (a former ally of the player) against the player, if the player is male Gallywix also shows his nasty side via dating Candy Cane, who was designed to be the player's girlfriend. Having had enough of Gallywix the players team up with Thrall to fight him and defeat the tiny tyrant, Gallywix shows himself to be a coward at heart and promises to repent if he's allowed to continue running the cartel. Thrall decides to grant Gallywix's request as long as they ally with the Horde, which Gallywix does - sadly Gallywix doesn't show signs of changing as his next action is to insult the players by saying he's not talking to them and they aren't getting a raise.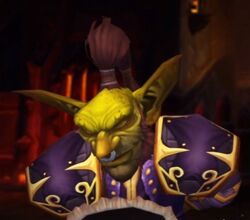 During Mists of Pandaria, Gallywix is portrayed in a more positive light. Though he sucks up to Garrosh Hellscream, Gallywix held a low opinion of him.  When Gallywix was tasked with finding valuables and powerful weapons for Garrosh, many of his followers assumed Gallywix was going to give the items to Garrosh.  Gallywix was in actuality, hiding the weapons and valuables from Garrosh.
In the short story, The Blank Scroll, two goblins, Druz and Ziya, along with Lorewalker Shuchun discover the Blank Scroll, a powerful weapon that made any story come true.  Before Ziya and Druz grab it, Shuchun shows them a horrifying vision.  Gallywix takes the scroll, but rather than use it, decides the Blank Scroll is far too dangerous to use and hides it in his vault  Garrosh learns of the Blank Scroll and deems Gallywix a traitor. Gallywix tried to protect the Blank Scroll but is accidentally killed by Druz. Garrosh then uses the Blank Scroll to make his loyal orcs immortal and lay waste to the Alliance and non-orcs.  Afterwards, the Burning Legion arrives and destroys Azeroth. After seeing the vision, Druz and Ziya give the Blank Scroll to the Lorewalkers and Druz gives Ziya some paid time off.
After Garrosh is defeated and arrested. Thrall names Vol'jin the new Warchief, an act supported by the other Horde leaders.  Gallywix even tips his hat and bows in respect to Vol'jin.
The Fourth War and true colors
Following Azeroth's victory over the Burning Legion, Gallywix was the first to seize upon the new and powerful ore that the Legion's assault had unearthed, being azerite. Able to be refined into powerful gunpowder, mighty weapons, devastating explosives, and numerous other technological marvels, Gallywix saw the blood of Azeroth itself as nothing more than something to make him rich, regardless of the consequences of its use. When he tempted his warchief Sylvanas Windrunner with the possibilities the azerite could bring the Horde, she gave him free reign to use it as he wished.
The power of Gallywix's azerite war machines was first used during the War of Thorns, when the Horde easily crushed all Alliance resistance in the elven region of Darkshore. From there, Gallywix could be seen numerous times during the Horde War Campaign, showing off new azerite inventions, including a giant gold-plated flying laser-shooting personal mech called the G.M.O.D. ("Gallywix's Mech of Death") At one point, Gallywix shared with the player that if he had never told Sylvanas about the azerite, then the entire Fourth War would have never happened, only to laugh and state that he doesn't actually care, as he has a robot shooting lasers made of the planet's blood. He also attempted to have something of a monopoly on the precious resource, putting a price on fellow azerite-weapon making goblin Mogul Razdunk.
As the Fourth War came to a close, the Horde became divided into those who wished to preserve their honor and end the war, and those loyal to Sylvanas that wanted war to continue. Naturally, Gallywix and his goblin followers were in the latter category. As Sylvanas abandoned the Horde rather than fight to control it, Gallywix also fled Orgrimmar, leaving the Horde goblins leaderless. It is likely he understood that the other Horde leaders would take him to task for serving Sylvanas, along with helping to start- and drag on he war. In addition, any debts he accured during his time would probably not be paid by the other Horde leaders, thus he saw no further profit in staying as the Bilgewater Cartel's Trade Prince, cutting his losses and running. His current whereabouts are unknown.
Villainous Actions
Below is a list of some evils the extremely unlikable Gallywix has committed, many of which are committed in a short space of one another:
Enslaves his own people and forces them to work in mines with Brutes overseeing the operation.
Employs a band of pirates to raid the player's party and kill many guests out of spite for not being invited.
Forces the player to come up with an absurd amount of money just to pay for an escape route from the doomed isle after Deathwing activates a volcanic eruption.
Even when the player pays up Gallywix intends to enslave them along with everyone else - ordering them below deck and labeling them "worthless slaves".
Takes on Thrall and the player in a battle royale where he insults them and tries to kill them, only to cowardly surrender when things get to hot for him to handle.
Even when humiliated and (somewhat) defeat Gallywix manages to insult the player one final time on the boat trip to Ogrimmar by telling them he's not going to give them a raise, presumably as punishment for standing up to him.
Profiteered from the Fourth War, not caring about the death and destruction reaped by his azerite weapons so long as he could continue making money.