Jurassic World: Dominion Dominates Fandom Wikis - The Loop
Play Sound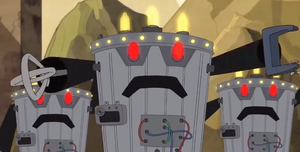 The Trashcandroids are one-shot villains in the Disney XD show Milo Murphy's Law. They served as major antagonists of a fictional show called Doctor Zone, being portrayed as sentient trash can-looking robots from a different planet.
Role
The Trashcandroids only appeared in the episode "The Doctor Zone Files", where Milo Murphy, along with his sister Sara and friends Melissa Chase and Zack Underwood, are watching a Doctor Zone episode on TV. In the episode, Doctor Zone and his sidekick Time Ape are trying to escape the Trashcandroids' planet by boarding their time vehicle, but Zone is having trouble turning on the defense system due to his right hand being a gift box. This allowed the Trashcandroids to surround the time vehicle and attack it, determined to break in and kill Zone and Time Ape.
Fortunately, Zone gets Time Ape to turn on the defense system, which instantly zaps the Trashcandroids into unconsciousness. This allowed both Zone and Time Ape to finally escape from the planet, but one of the Trashcandroids have gotten a ripped piece of a picture of a baby Time Ape (who was raised by Zone's mother before she died). The episode then ends on a cliffhanger, but the kids soon watched the sequel, and saw that Zone has retrieved the missing piece and learning the truth, implying that they defeated the Trashcandroids once again.
Trivia
The Trashcandroids are based on the Daleks, the recurring antagonists of the Doctor Who franchise, in which the Doctor Zone franchise is based on.
Their name sounds like a parody of candroid from Phineas and Ferb.

Villains