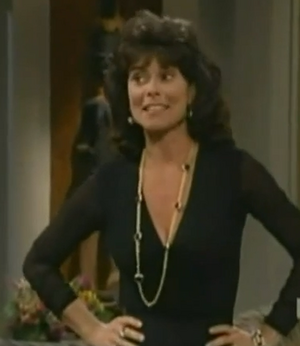 Trish Niedermeyer is an antagonist from The Wayans Bros., appearing in Season 2 episode "New Lease on Life".
She was portrayed by Adrienne Barbeau, who also played Miss Peters in The Twilight Zone, Catwoman in Batman: The Animated Series, Simone Lenoir in Scooby-Doo on Zombie Island, Helga Von Guggen in Totally Spies and Hera in the God of War video game franchise.
Biography
Trish Niedermeyer is the wife of Jay Niedermeyer, who owns the building where Shawn, Marlon, and Pops all work in. She is known to have a heavily flirtatious personality, and while the couple was at the diner, Trish set her wicked sights on Shawn, which continued on after Shawn and Marlon were at the Niedermeyers' penthouse as guests. With Jay's back turned (he was showing Marlon his collection of guns), Trish pounced on Shawn and made several physical advances towards him, with Shawn resisting at every turn. Trish later revealed to Shawn that Jay gave her full ownership rights to the entire building, including the newsstand run by Shawn and Marlon, meaning that she controls whether or not their lease to run the newsstand gets renewed. After her revelation, the evil Trish gives Shawn an ultimatum: either he gives in to her sexual advances, or the lease gets terminated.
The next evening, Shawn and Marlon snuck into the penthouse, where the former confronts Trish regarding their lease. Trish again made a seductive advance towards Shawn, but it was interrupted when Jay arrived home early from a weekend business trip and the boys had to hide from plain sight. At that moment, Shawn threatens to tell Jay about Trish's villainous motives, which forces Trish to renew their lease.
Community content is available under
CC-BY-SA
unless otherwise noted.