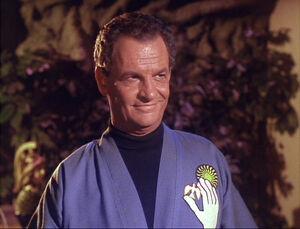 Tristan Adams is the main antagonist of the Star Trek episode "Daggers of the Mind".
He was portrayed by the late James Gregory, who also played General Ursus in Beneath the Planet of the Apes and Bryagh in The Flight of Dragons.
Biography
Doctor Tristan Adams was the director of the Tantalus V penal colony, a facility for the criminally insane. He claimed to believe in humane prisons but his alternative was to develop a neural neutraliser, which allowed him to control brains and plant suggestions in them. He used the device not only to control and pacify the prisoners, but also the staff. His assistant, Simon Van Gelder, attempted to resist control but was driven almost insane. Despite this, when the Enterprise visited Tantalus V to collect some records, Van Gelder managed to hide himself in the consignment and was beamed aboard the Enterprise.
Although Van Gelder's ravings were initially dismissed, the discovery that he was a staffmember and not a prisoner prompted Captain Kirk to investigate the matter, beaming down to Tantalus V with psychologist Helen Noel. Adams gave them a tour of the facility and introduced them to the neutraliser in a casual manner. Kirk wanted to investigate further however and sneaked in with Noel to test the device himself.
Adams then discovered them and took charge of the situation, implanting the idea that Kirk loved Noel in his mind. He decided to use the machine on Kirk further but Noel escaped and shut down the colony's power supply. This allowed Kirk to break free and overpower Adams, leaving him lying in the neutraliser chamber. Spock beamed down to take control, shutting off the colony's shield and restoring power...which has the unintended effect of reactivating the neutraliser while Adams was lying under it. With no-one else present to control the effect on his mind, Adams died from the process.

Villains
Movies
Star Trek: The Motion Picture: V'Ger
Star Trek II: The Wrath of Khan: Augments (Khan & Joachim)
Star Trek III: The Search for Spock: Klingons (Kruge, Torg, Maltz) | Valkris
Star Trek IV: The Voyage Home: Whale Probe | Kamarag | The Punk on the Bus
Star Trek V: The Final Frontier: The One | Klingons (Klaa & Vixis) | Sybok
Star Trek VI: The Undiscovered Country: Khitomer Conspiracy (General Chang, Nanclus, Valeris, Admiral Cartwright, Patrick West, Harlan Burke, Thomas Samno)
Star Trek Generations: Tolian Soran | Klingons (Lursa & B'Etor)
Star Trek: First Contact: The Borg (Borg Queen)
Star Trek: Insurrection: Son'a (Ahdar Ru'afo & Gallatin) | Matthew Dougherty
Star Trek: Nemesis: Remans (Shinzon, Tal'aura, Suran & Donatra)
Star Trek (2009): Romulans (Nero & Ayel)
Star Trek Into Darkness: Khan | Alexander Marcus
Star Trek Beyond: Krall | Manas | Kalara
Television
Apollo | Arctus Baran | Ardra | Arik Soong | Armus | Arthur Coleman | Khan | Ba'ul | Balok | Basso Tromac | Ben Finney | Benjamin Maxwell | Beta XII-A entity | Bok | The Borg | Broca | Brunt | Cardassian Union (Dukat, Damar & Cardassians) | Charlie Evans | Chu'lak | Clown | Colonel Phillip Green | Crell Moset | Culluh | Cyrus Redblock | D'Ghor | D'Nesh | Danby Connor (MU) | Dr. Janice Lester | Dular Garos | Duras | Ekosian SS (Melakon) | Ellen Landry | Equinox EMH | Erik Pressman | Evil Kirk | Gabriel Lorca (MU) | Garth of Izar | Gary Mitchell | Gorgan | Gorn | Female Changeling | Gowron | Hagath | Harry Mudd | Henoch | Hikaru Sulu (MU) | Hoshi Sato (Mirror Universe) | Ibudan | Imperial Starfleet | J'Dan | Jabin | James Leyton | James T. Kirk | Jaro Essa | Jem'Hadar | Jev | John Frederick Paxton | John Gill | Jonathan Archer (Mirror Universe) | Joran Dax | Julian Bashir (Changeling) | Kathryn Janeway (Kyrian Recreation) | Kazon | Kennelly | Kieran MacDuff | Kila Marr | Kira Nerys (Mirror Universe) | Kivas Fajo | Kodos the Executioner | Kol | Kol-Sha | Konmel | Kor | Korris | Kras | Kunivas | L'Rell | Leland | Lenore Karidian | Letek | Locutus | Locutus | Lon Suder | Lore | Lutan | Luther Sloan | M-113 Creature | Maab | Madred | Malcolm Reed (MU) | Malon | Maras | Marla McGivers | Martok (Changeling) | Matthew Harris | Maxwell Burke | Michael Eddington | Michael Jonas | Miles O'Brien (Changeling) | Morag (Klingon) | Na'kuhl | Nagilum | Navaar | Neela | Neural Parasites | Nomad | Norah Satie | Nyota Uhura | Oracle of the People | Patar | Paul Stamets (MU) | Pavel Chekov (Mirror) | Philippa Georgiou (MU) | Q | Rao Vantika | Redjac | Regent of Palamar | Dr. Roger Korby | Romulan Commander (Balance of Terror) | Ron Tracey | Rota Sevrin | Rudolph Ransom | Sabin Genestra | Sela | Seska | Seven of Nine (KR) | Shran | Silaran Prin | Silik | Spawnmother (2364) | Spawnmother (2376) | Sphere-Builders | Spock (Mirror Universe) | Surata IV Vine | Sylvia Tilly | T'Kuvma | T'Paal | Tahna Los | Talosian Keeper | Talosians | Tarah | Tedran | Terra Prime | The Albino | The Doctor (Kyrian Recreation) | Thot Gor | Thot Pran | Tomalak | Toral | Trabe | Travis Mayweather (MU) | Trekal Darhe'el | Trelane | Tret | Tristan Adams | Ux-Mal Entity | V'Las | V'latak | Valdore | Verad Kalon | Ves Alkar | Voq | Wesley Crusher | Weyoun | William Ross | Winn Adami | Worf (Mirror Universe) | Zorn
Community content is available under
CC-BY-SA
unless otherwise noted.