Doctor Strange in The Multiverse o Madness - The Loop
Play Sound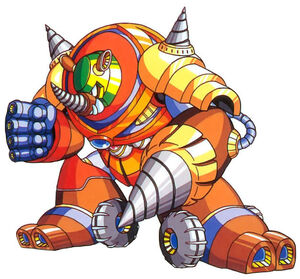 Tunnel Rhino (Screw Masaider in Japan) is one of the Eight Maverick bosses from Mega Man X3.
Tunnel rhino was a Reploid designed for mining purposes, who worked on an emergent crystal mine. After receiving an invitation, he goes to Doppler Town but ends infected by the Sigma Virus and becomes a Maverick, joining Dr. Doppler's army and occupying a rock quarry. He's eventually confronted and defeated by X.
Tunnel Rhino fights mainly by quickly charging at the player and hitting the wall on the opposite side of the arena. He will eventually stop and fire his Tornado Fang, launching three drills which fly forward then bury into the wall. He may also sometimes fire the drills on his shoulders, which move diagonally. When low on health Tunnel Rhino will start flashing when charging, becoming invincible while flashing. His weakness is the Acid Burst.
He also appears in the Gameboy Color game Mega Man Xtreme 2 as one of the bosses from Zero's game as well as Extreme Mode and Boss Attack. In this game, his weakness is Bomb Bee/Earth Gaizer.