Jurassic World: Dominion Dominates Fandom Wikis - The Loop
Play Sound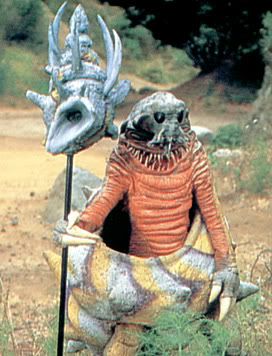 TurbanShell is a mollusk monster created by Lord Zedd from an unusual shell Kimberly found by the lake. He is the main antagonist in the Mighty Morphin Power Rangers two-part episode, Green No More.
He was voiced by Barbara Goodson, who also provided the voice for Rita Repulsa.
History
As Tommy's Green Ranger powers were dwindling down, Lord Zedd seized the opportunity to take those powers. To that means, he has created TurbanShell from a large unusual shell Kimberly found by the lake. Immediately, he's been sent to destroy Angel Grove. The Rangers called their thunder zords to form the Thunder Megazord while Tommy summons Dragonzord. TurbanShell proved to be more than a match for the zords as he blasts them with his shell staff, causing the Rangers to be ejected from the Thunder Megazord. However, he went back to the Otherworld, which angered Lord Zedd for letting the Rangers go even though he had the upper hand.
Lord Zedd teleports Tommy to the Otherworld to face TurbanShell. The fight finally drained away what's left of Tommy's powers to be absorbed in Zedd's green crystal. He uses those powers to cut off the Rangers' contact with Zordon, creating a force field that will eventually destroy the command center. Meanwhile, TurbanShell stalks a powerless Tommy in the Otherworld. Tommy desperately fights back without his powers. Soon Goldar intervenes and tells TurbanShell that he'll finish it with Tommy while TurbanShell continues his destruction on Angel Grove. TurbanShell wanted to be the one to finish off Tommy, but Goldar reminds him of his status as an underling, and tells him Lord Zedd has other plans for him. So TurbanShell continued his attack on Angel Grove while Goldar took his place.
After Tommy ruins Lord Zedd's plans, the Rangers get their morphers back and Tommy has power for one more fight. The Rangers form the Thunder Megazord and Tommy summons Dragonzord, but TurbanShell is still more than a match for them. Zordon contacts Tommy to tell him that TurbanShell can be weakened by heating him up from the inside and then freeze him from the outside. Tommy hides in a crate of watermelons, which TurbanShell eats. Now inside TurbanShell, Tommy shoots him up from the inside with a ray gun, bringing pain to the monster. Zack grabs a nearby water hose and shoots water at TurbanShell's shell, causing him to freeze. Now with TurbanShell weakened and Tommy teleported out, the Rangers brought back their thunder zords to form the Thunder Megazord and destroy TurbanShell with the power sword.
Powers And Abilities
Strength-Turbanshell is the strongest monster of the entire Zyu2 era. He easily defeated both the Thunder Megazord and the Red Dragon Thunderzord with no troubles.
Durability-Turbanshell has absurdly thick skin, probably helped by his shell, that allowed him to be hit by the Thunder Megazord's lightning cloud attack and barely stumble. This same attack later destroyed the Hatchasaurus for the first time several episodes later. The only way to destroy him is by heating him up and then cooling him rapidly so that his skin and shell become brittle enough to be destroyed.
Shell Strike-Turbanshell can retract his body into his shell and leap into the air before slamming into the enemy. One of these strikes knocked down the Thunder Megazord.
Energy Blast-Turbanshell can fire yellow lasers from his eyes that are strong enough to badly shake up the Thunder Megazord.
Self-Growth-Turbanshell could seemingly make himself grow multiple times without the help of Lord Seed's growth bombs.
Hand to Hand Combat-Turbanshell is an extremely capable fighter, being able to overwhelm the Zords as well as Tommy when sent to Goldar's dimension with no issues.
Arsenal 
Shell Staff-Turbanshell has a large staff with a top that resembles a spiral shell to use in combat.

Spiral Blast-Turbanshell can fire a spiral of blue energy from the tip of his staff. This was his strongest attack as a single blast was enough to defeat the Dragonzord and revert the Thunder Megazord back into the Tyrannosaurus Red Dragon Thunderzord.