Jurassic World: Dominion Dominates Fandom Wikis - The Loop
Play Sound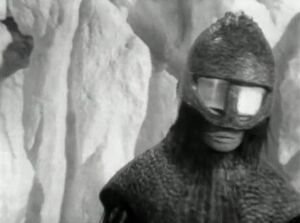 Turoc is a minor antagonist in the Doctor Who story "The Ice Warriors".
He was portrayed by the late Sonny Caldinez, who also portrayed Sskel in "The Monster of Peladon" and Kra in The Man With the Golden Gun.
Biography
Turoc was a crewmember of an Ice Warrior spaceship that crashlanded on Earth during the ice age and became buried in a glacier, leaving the crew frozen in a form of suspended animation. They remained that way for thousands of years until the ship's captain Varga was found and accidentally reanimated by the staff of the Britanicus Ice Base. Varga quickly excavated and revived Turoc and the rest of the crew. They remained determined to return to Mars, despite the devastation that their ship's launch would cause for the base.
The Ice Warriors held Victoria prisoner and fired on Jamie and the scientist Arden when they came looking for her, killing Arden. When Victoria slipped away in the confusion, first contacting the base and then fleeing into the ice, Varga sent Turoc after her. Turoc caught up with Victoria and grappled with her, trying to stop her calling for help. The tussle caused an avalanche and Turoc was crushed under the ice boulders and killed.