Jurassic World: Dominion Dominates Fandom Wikis - The Loop
Play Sound
| | | |
| --- | --- | --- |
| " | With my flame, I will burn him to the bone! | " |
| | ~ Koume | |
| | | |
| --- | --- | --- |
| " | With my frost, I will freeze him to his soul! | " |
| | ~ Kotake | |
Koume and Kotake, collectively referred to as Twinrova, are major antagonists in The Legend of Zelda videogame franchise. They serve as the secondary antagonists of Ocarina of Time and the main antagonists of the linked versions of Oracle of Seasons and Oracle of Ages.
The Twinrova are a pair of 400-year-old witches and the surrogate mothers of Ganondorf. Kotake is a master of ice, while Koume is a master of fire. Their fused form is a master of both.
Biography
This biography of Twinrova is organized into the latest "official Zelda timeline". This may change completely in the future as the timeline given is merely meant as an example, and there have been official timelines before it.
Unified Timeline
The Unified Timeline refers to events before the split in Ocarina of Time and thus occurs in every timeline, the split happens in the final battle with Ganon.
Ocarina of Time
They first appear in the 1998 Nintendo 64 game Ocarina of Time, as the boss of the Spirit Temple. They discover Nabooru, a Gerudo warrior, trying to overthrow Ganondorf, and they brainwash her, turning her into a Iron Knuckle. When Link invades the Spirit Temple as an adult, the Twinrova sisters order Nabooru to kill him, but he defeats her and frees her from their grasp. They then make Nabooru disappear once, planning to brainwash her again after dealing with Link.
After wandering onto their sacrificial altar, Link is forced to fight them with his mirror shield. Koume launches beams of fire, which have to be reflected at Kotake, while Kotake shoots beams of ice that must be reflected at Koume. After damaging them enough, they transform into a giant, younger-looking witch called Twinrova, which they call Kotake and Koume's double dynamite attack. To defeat the Witch, Link must absorb three beams of fire or ice into his shield and reflect the attack. After they are defeated, the witches separate and insisted on trying to defeat Link, but Koume notices that Kotake has a halo above her head and Kotake noticed that her sister has one, too. Koume exclaims that she's only 400, but Kotake says she's 380, comedically sparking an argument between the two when Koume yells that they're twins and they can't be older or younger. They continue to squabble until they depart for the afterlife, telling Link that they will come back to haunt him.
Decline Timeline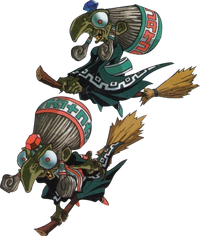 This is the timeline where Ganondorf killed Link in his final battle with him, leading to the Imprisoning War described in the backstory of A Link to the Past.
Oracle of Ages/Seasons
Twinrova appears in Oracle of Ages and Oracle of Seasons as the main antagonists, seeking to revive Ganon. After Link defeats Onox and Veran, it is revealed that the villains' real goal was to light two of the three Evil flames needed to revive Ganon. Meanwhile, the sisters kidnapped Zelda in order to steal hope from the people and, in turn, light the Flame of Despair. Since the Evil King needed a vessel, they were also planning to sacrifice Zelda.
Fortunately, Link confronts the witches on time and manages to defeat them. Because of this, they chose to sacrifice their lives, but since they were not the required sacrifice, they only manage to resurrect a mindless, berserker Ganon.
The Twinrova sisters are pretty dangerous here. Koume attacks with fireballs and Kotake with ice balls, which Link must strike to send them back at the other sister. When they fuse, Twinrova can either freeze the ground to slow Link down or create lava pits all over the room. She attacks with fire and ice projectiles that divide into smaller ones. Her weakness in this stage are mystery seeds, but Link must strike her a couple of times with his sword and force her to acquire a neutral and stunned form. Then, Mystery Seeds can be fired at her with either the Seed Shooter or the Hyper Slingshot, which will damage her.
Other Appearances
Super Smash Bros.
The Twinrova sisters appear in Super Smash Bros. for 3DS and Super Smash Bros. Ultimate on the Gerudo Valley stage. After the center bridge is destroyed, the witches may show up. They fly around the stage for a while before one of them attacks a side of the stage with an elemental hazard. Koume covers the left side with flames, while Kotake covers the right side with icicle spikes.
In Super Smash Bros. Ultimate, Koume and Kotake also appear as a singular Spirit, being a primary neutral-type. They can be either be summoned using the cores of Charlotte Aulin, Freezie, and Fire Flower, or fought in a Spirit Battle against two Bayonettas, one of which starts with a Fire Flower, while the other starts with a Freezie. At level 99, they can be enhanced to form Twinrova, who boosts the fighter's magical attacks when equipped.
Relations
Allies
Enemies
Link
Seven Sages
Nabooru
Hyrule Royal family
See Also

Villains
Subspace Army
Ancient Minister | Bowser | Bullet Bills | Duon | False Bowser | False Diddy Kong | False Peach | False Samus | False Zelda | Galleom | Ganondorf | Goombas | Hammer Bros. | King Statue | Koopa Troopas | Master Hand | Petey Piranha | Primids | Rayquaza | Ridley | Porky Minch | Shadow Bugs | Tabuu | Wario
World of Light
Crazy Hand | Dharkon | Dracula | Galeem | Galleom | Ganon | Giga Bowser | Master Hand | Marx
Playable Characters
Bowser | Bowser Jr. | Dark Pit | Dark Samus | Donkey Kong | Enderman | Ganondorf | Incineroar | Kazuya Mishima | King Dedede | King K. Rool | Koopalings (Larry, Roy, Wendy, Iggy, Morton, Lemmy, Ludwig) | Mario | Meta Knight | Mewtwo | Piranha Plant | Ridley | ROB | Sephiroth | Wario | Wolf O'Donnell | Zombie
Bosses
Crazy Hand | Dark Emperor | Dharkon | Dracula | Duon | Galeem | Galleom | Ganon | Giga Bowser | Marx | Master Hand | Master Core | Metal Face | Petey Piranha | Porky Minch | Rayquaza | Ridley | Tabuu | Yellow Devil
Assists Trophies/Poké Ball Pokémon
Andross | Arceus | Black Knight | Burrowing Snagret | Chain Chomps | Chef Kawasaki | Darkrai | Deoxys | Devil | Dr. Wily | Entei | Elec Man | Ghirahim | Giratina | Ghosts | Gray Fox | Hammer Bros. | Klaptrap | Knuckle Joes | Kyurem | Lakitu | Lord Nightmare | Metroid | Meowth | Mimikyu | Mother Brain | Palkia | Phosphora | Shadow the Hedgehog | Skull Kid | Spinies | Starman | Unown | Waluigi
Trophies/Spirits/Stickers
Acro | Affinity | Air Man | Akuma | Alraune | Albert Wesker | Amalthus | Andrew Oikonny | Antasma | Aparoids | Aparoid Queen | Arlon | Ashnard | Axel | Baba | Baby Bowser | Babylon Rogues (Jet the Hawk, Wave the Swallow, Storm the Albatross) | Balrog | Banzai Bills | Bass | Big Boss | Bio Rex | Birdo | Black Shadow | Blood Falcon | Bokoblins | Blippers | Bloopers | Bombers | Bomb Man | Bonkers | Boos | Boom Boom | Boom Stompers | Box Boxer | Boxy | Broom Hatters | Bugzzy | Bumpety Bombs | Bulborbs | Burt the Bashful | Buzzy Beetles Byrne | Cackletta | Calamity Ganon | Camus | Cappys | Captain Syrup | Carmilla | Chandelure | Chaos | Chaos Kin | Chargin' Chucks | Claus | Clubberskulls | Colonel Pluck | Condor | Cragalanche | Crash Man | Creepers | Count Bleck | Count Cannoli | Cranky Kong/Donkey Kong (arcade) | Cut Man | Daphnes | Dark Man 4 | Dark Matter | Dark Mind | Darknuts | Daroach | Deadly Six (Zavok, Master Zik, Zeena, Zomom, Zazz, Zor) | Death | Deathborn | Devil Jin | Demise | Demon King Arzodius | Diggernaut | Dimentio | Dive Man | DJ Octavio | Don Bongo | Donkey Kong Jr. | Drackys | Dragaux | Dr. Ivo "Eggman" Robotnik | Drill Man | Dry Bones | Eagle | E-123 Omega | Edelgard von Hresvelg | Eggplant Wizard | EggRobos | Emerl | E.M.M.I. | Ender Dragon | Erazor Djinn | Evil Ryu | Father Balder | Fawful | Fiery Blowhog | Fire Man | Flages | Flash Man | Fortitudo | FU | Fynalle | Gangrel | Galacta Knight | Galactic Fiend Kraken | Galaxy Man | Guardians | Garon | Gengar | General Guy | Geese Howard | Gharnef | Ghasts | Ghosts | Gleeok | Goda | Gold Bone | Golems (Kirby) | Golems (Dragon Quest) | Gomorrah | Gooper Blooper | Gordos | Goro Akechi | Gravity Man | Great Reaper | Great Sabrecats | Grief | Gruntilda | Guts Man | Hades | Hard Man | Hawke | Heihachi Mishima | Helmaroc King | Hewdraw | Hooktail | Hoopa Unbound | Hot Heads | Ice Man | Igor | Infinite | Ing | Inspired | Iori Yagami | Iridescent Glint Beetle | Iron Golems | Jade Face | Jeanne | Jin | Jin Kazama | Julius | Juri Han | Kalypso | Kamek | Kammy Koopa | Kanden | Karate Kong | Kass | King Bob-omb | King Boo | King Dice | King Dodongo | King Hippo | King Knight | King Olly | King Slimes | Kip | Kludge | Knight Man | Kracko | Kraid | Kritters | Kuma II | Kyle Merkulov | Leon Powalski | Lethiniums | Liquid Snake | Loptr | Lord Fredrik | Lurchthorns | Lyon | MB | M. Bison | Magnamalo | Magolor | Mahvas | Majora | Malladus | Malos | Master Belch | Master Kohga | Mecha Ridley | Medeus | Medusa | Megontas | Meta-Knights (Axe Knight, Javelin Knight, Mace Knight, Trident Knight, Blade Knight) | Metal Man | Metal Sonic | Metroid Prime | Mimicuties | Moblins | Mockiwis | Moley | Monoeyes | Mouser | Mr. Frosty | Mr. L | Mr. Shine and Mr. Bright | Mugly | Nabbit | Napalm Man | Natah | Necrozma | Nihilego | Nightmare | Nina Williams | Ninja Kong | Nipper Plants | Noxus | Nruffs | Nutskis | O'Chunks | Octoman | Octoroks | Olaf | Ornes | Pandora | Panther Caroso | Paper Bowser | Parasite Queen | Paz Ortega Andrade | Peckish Aristocrabs | Phantom Ganon | Pico | Pidgits Piglins | Pigma Dengar | Pigmasks | Plague Knight | Plasma Wisps | Plasm Wraith | Pom Pom | Pompy | Poppy Bros Jrs. | Princess Shroob | Quaggled Mireclops | Queen Metroid | Queen Sectonia | Quick Man | Rabbid Kong | Rabbids | Raphael the Raven | Reapers | Redd | Rhea | Revolver Ocelot | Riku | Risky Boots | Rockys | Rodin, the Infinite One | Roger the Potted Ghost | Rouge the Bat | Roxas | Rufus Shinra | Ryuichi and Ryuji | Sagat | Scarfies | Scurvy Crew | Shadow Beasts | Shadow Man | Shadow Queen | Shaft | Shake King | Sheegoth | Shield Knight | Shotzos | Shroobs | Shy Guys | Sidesteppers | Sigma | Sir Kibbles | Skeletons | Skull Man | Skuttlers | Slash Man | Slimes (Dragon Quest) | Slimes (Minecraft) | Smoky Prog | Snake Man | Snowmads | Solidus Snake | Space Pirates (Kid Icarus) | Space Pirates (Metroid) | Spark Man | Specknoses | Specter Knight | Spire | Squeakers | Starmans | Stu | Sword Man | Swooping Snitchbug | Sylux | Tacs | Tatanga | Thanatos | The Devil | The Skull | Therion | The Three Mage-Sisters (Francisca, Flamberge, Zan Partizanne) | Tiki Tak Tribe (Kalimba | Gong-Oh | Maraca Gang | Wacky Pipes | Cordian | Banjo Bottom | Xylobone) | Tiki Tong | Top Man | Trace | Travis Touchdown | Turks (Elena, Reno, Rude, Tseng) | Turret Tusk | Twinbellows | Twinrova | Ultimate Chimera | Vaati | Validar | Vega | Viridi | Viruses | Vivian | Vorash | Waddle Dees | Waddle Doos | Walhart | Walkys | Wart | Weavel | Wheelies | Whispy Woods | Whomps | Wigglers | Wind Man | Wollywog | Wood Man | Xord | X-Parasites | Yaldabaoth | Yuga | Yveltal | Zangief | Zant | Zero | Zingers | Zoda | Zurees
Others
Ansem | Billy Kane | Chang Koehan | Choi Bounge | Dr. Coyle | Dragonborn | Master Xehanort | Ryuji Yamazaki | Saïx | Solon | Spiders | Springtron | Team Rocket Grunts | Vanitas | Xemnas | Yiga Foot Soldiers