The Twins were albino metahuman criminals who had the ability to create a powerful force field together in the WB TV series Smallville.
They appeared as the secondary antagonists in the Fifth Season episode "Mortal".
They were portrayed by Brad and Todd Mann, who also played the Kitchen Brothers in the television series Fargo.
Biography
The Twins were psychically linked and shared the same thoughts at all times. How they came to gain abilities and much of their past is unknown. Using their shared ability to create force fields, the Twins committed crimes that eventually landed them in the Belle Reve Sanitarium.
While Lex Luthor paid a visit to the sanitarium, he "accidentally" released criminal Tommy Lee who used his powers to release the Twins as he had a use for them. They asked where they were going and Lee replied Smallville.
Lee and the Twins arrived at the Kent Farm where they ambushed a powerless Clark Kent and Lana Lang in the barn. The Twins blast Clark with a bolt of psychic energy, pinning him to the ceiling. Lee then threatened to kill Clark and Lana if he didn't do what he asked.
After Lee explained their backgrounds, he came up with a plan for Clark to steal more of the Kryptonite serum for them. When Clark's parents came back to the house looking for him, Lee and the Twins took them and Lana hostage, threatening their lives. They forced Clark to steal the Kryptonite serum from Level Three of LuthorCorp.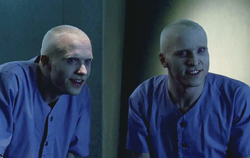 While Clark went to LuthorCorp, Sheriff Adams showed up at the Kent House to warn the Kents of the three escaped convicts. She tells Jonathan that the police discovered their escape car down the road.
Jonathan was coyly talking with Sheriff Adams and she noticed something was amiss. She left to call for backup but Lee blasted her and the Twins put up a force-field around the house.
The police waited impatiently on the other side of the Twins' force field when Clark arrives and asked the sheriff to let him handle things. Clark brought in the suitcase claiming it contained the serum but it really had a flash grenade.
In the chaos, Tommy aimed at Clark, but he dodged out of the way and accidentally blasting the Twins instead, knocking them out. They were apprehended by the police and returned to Belle Reve.

Villains
Protagonists