| | | |
| --- | --- | --- |
| " | THE LAW?! Here's the only law! The law of averages! The great equalizer! | " |
| | ~ Two-Face's most famous quote. | |
Harvey Dent, better known as Two-Face is the secondary antagonist of the television series Batman: The Animated Series and its spinoffs. He is the former head of the District Attorney's office and Bruce Wayne's best friend, but after suffering from his multiple personality disorder and an explosion that scared half of his body, Harvey's darker personality took over and turned him into Two-Face. Two-Face continues to be a major threat to Batman and Gotham City.
He was voiced by Richard Moll, who also portrayed Big Ben in House, Death in the video game Dante's Inferno, and Hugh Kane in Scary Movie 2.
History
Past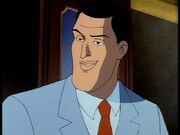 Harvey Dent suffered from deep-seated psychological trauma resulting from years of repressing anger. As a child, another personality was created inside Harvey, who would come to be called Big Bad Harv. Big Bad Harv would sometimes show himself whenever Harvey were to become incredibly angry, causing him to seek therapy.
As Harvey Dent
Prior to his disfigurement, Dent is Gotham City's newly elected District Attorney and Bruce Wayne's best friend.
Harvey once dated Pamela Isely, and even wanted to marry her. However, it turned out that Pamela actually desired to kill Harvey after his construction of Stonegate Penitentiary nearly caused a rare species of flower to go extinct. One week into their relationship, Pamela poisoned Harvey using a toxin derived from the same flowers, causing him to be hospitalized. Batman managed to defeat Isely, who now called herself Poison Ivy, and create an antidote before the poison could take full effect.
Harvey would later start a crusade to the arrest the mob boss Rupert Thorne. He also planned to marry his girlfriend Grace Lamont.
As Big Bad Harv
"
Rupert Thorne: "So what do you say, Harvey? Do we have a deal?"


Harvey Dent': "There's just one problem."
Rupert Thorne': "What's that?"
Harvey Dent, as Big Bad Harv: "You're talking to the wrong Harvey."

"
However, Dent had a secret he was desperate to hide from the public: he had a split personality, with an evil alter ego named "Big Bad Harv", borne of years of repressing his anger, that would surface and lash out during stressful situations. This would lead Thorne to getting ahold of his psychiatric file and creating plans to blackmail him. However, as Thorne was trying to blackmail Dent, Big Bad Harv surfaced and attacked the mob boss and his men. During the brawl, a freak explosion horribly disfigured the left side of Dent's body. The trauma was powerful enough to force his alternate personality to dominate, and left Harvey in a state where right and wrong no longer held any meaning.
As Two-Face
After the accident, he became a twisted vigilante known as "Two-Face" and soon began his own crusade to bring Thorne down, something the law deliberately failed to do. He feels as though this is the way he was meant to be, living in a world of chaos, without the order and justice he once upheld and believed in. Dent's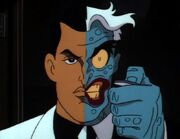 world revolves around chance, more specifically the flip of his coin which was clean on one side, and covered by scars on the other. Every decision Two-Face makes falls on the flip of his coin. It is judge, jury, and executioner. When the "Good Heads" turns up, Harvey is in control. When it's "Bad Heads", however, Two-Face shines and becomes more dominant than Harvey can ever be. Yet, there always seems to be a piece of Harvey which is strong enough to linger within the mind of Two-Face when he is committing his ungodly acts. However, Two-Face is the dominant personality. In subsequent episodes of the show, Two-Face became the supervillain he is in the comics.
Two-Face's opposing personalities are constantly at war, but as Batman learns, it is usually the bad side that wins. Two-Face moderates his inner conflict with a special coin that is scratched on one side. He uses this coin as the arbiter of his own brand of demented justice, flipping the coin to determine his decisions. Without the coin, Two-Face is lost in a world in which no clear answer exists, and Batman understood he could always use this weakness to his advantage. And despite Two-Face and Batman's constant fights with each other, Bruce Wayne never gives up on his old friend.
In order to strike back at Thorne, Two-Face robbed his various bookies and later stole Thorne's file and escaped from Batman. He then decided to meet with Grace again, however, Rupert Thorne and his gang, having been secretly tracking Grace, arrived and stole the file back, though he is eventually defeated. Just as Two-Face flipped his coin to decide the fate of Thorne, Batman threw a crate of silver dollars, mixing them in midair with Two-Face's coin and causing him to lose it. Unable to decide without it, Two-Face suffers a panic attack and collapses to the floor as Grace comforts him.
Later on, Two-Face, along with Joker and Penguin, were invited to an auction selling a tape containing Batman's secret identity organized by Dr. Hugo Strange. However, the villains turn on him when he unknowingly played a tape forged by Batman. Notably, when Strange tries to tell them Batman's identity to save himself, Two-Face stated "I know Bruce Wayne. If he is Batman, I'm the king of England!"
While on the run from Batman, Two-Face joins Joker, Penguin, Killer Croc and later Poison Ivy (who he still shares resentment towards) in a poker game in which they start to tell stories about the times they came closest to killing Batman. In his story, Two-Face and his gang strapped Batman to a giant penny placed on a catapult; If it landed face down, Batman would be squashed, if it landed face up, Batman's bones would shatter. When Two-Face's coin launched, the Dark Knight cut free from the ropes in midair using Two-Face's own coin. Much to Two-Face's irritation, Batman got to keep the giant penny as a trophy.
Another time, Two-Face used behind-the-scenes manipulation to have Gil Mason infiltrate Gotham's justice system as the Deputy Police Commissioner. Mason's high level of physical abilities earned Commissioner Gordon's trust and brought down Rupert Thorne; Mason's mysterious informant is obviously Two-Face. He has Mason arrest Gordon after framing the Commissioner as being partners with Thorne. While Barbara Gordon and Dick Grayson eventually each respectively figure out Mason's true nature, Two-Face almost executes Matches Malone [Batman]. Next, he engineers a prison break to make Gordon look guilty, as well as to execute the Commissioner so Mason can take over his job permanently and help Two-Face consolidate power over Gotham's criminal acts. After Batgirl saves Gordon, Two-Face is defeated by Batman and Robin, while Batgirl captures Mason.
Two-Face then acted as a prosecutor when Batman's rouges gallery held the Dark Knight prisoner in Arkham in a kangaroo court.
After some time, doctors agreed his therapy had been effective enough to stabilize Two-Face's mind, which then allowed the opportunity for surgery upon Harvey Dent's damaged side. Just when the surgery was about to begin, masked mobsters broke into the operating room. Stating only that their 'boss' wanted to handle Dent personally, two cars split from the scene. One took Two-Face to Stonegate, the Penguin's current whereabouts, while the other vehicle was registered to Rupert Thorne. Both criminals had had histories of conflict with both Two-Face and Dent, but neither claimed involvement with Batman and Robin. In truth, Two-Face kidnapped himself to prevent his original personality from eliminating himself completely. Staging the break in, he arranged for his thugs to break him out of the operation and staged a two-pronged getaway, both to allude suspicion and to leave a trademark hint.
Though Batman discovered the true kidnapper, he was unprepared for the ambush Two-Face had devised. Capturing Batman, Two-Face placed his life in the flip of the coin. During their earlier struggle, Batman switched the real coin with a trick one, designed to always land on its side. However, Two-Face could not handle the indecision, and chased his coin on to a support beam overhanging Gotham. When the coin fell off in a desperate gamble, he managed to grab it, but fell off in the process and was unable to pull himself back up. Batman caught hold of Two-Face at the last second, but needed Two-Face to pull himself up. The coin, however, could not decide for him; the choice was up to Two-Face alone. His original personality resurged for a moment, and he dropped the coin, but Two-Face took control once more and sabotaged the effort. He plummeted, but Batman and Robin managed to save him and themselves in time. Two-Face was once again sent to Arkham for more psychiatric treatment. Still, Dent emerged once more to thank his old friend for not giving up on him.
In the spinoff comic book series The Adventures of Batman & Robin, Two-Face is close to recovery until the Joker, as a twisted prank, convinces him that Grace is cheating on him with Bruce Wayne. Afterwards Two-Face flies into a rage, kidnaps Grace, and tries to kill Bruce Wayne. When Batman foils his plan, he and Grace finally realize that Two-Face will never be cured.
Much later, Two-Face kidnapped Tim Drake and made an attempt to kill him before Tim was rescued by Batman. The young boy found himself inspired by Bruce's desire to stand up to people like Two-Face. In combination with his own rebellious nature, Tim would unwittingly steal the Robin costume from the Batcave while Two-Face reacquired chemicals and held the entire city hostage, threatening to create a toxic gas unless he received twenty-million dollars by 2 AM. However, the city refused to pay and after a two-minute warning, Two-Face activated the chemicals. Batman and Batgirl arrived to stop them, and shortly thereafter, the new Robin. The trio stopped the machine and apprehended Two-Face once more.
As the Judge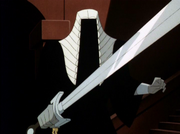 In the final episode, Two-Face's personality fragmented a second time, creating a third personality called "The Judge", a violent court-themed vigilante that attempted to eliminate all of Gotham's denizens, even brutally attacking and defeating master criminals such as Penguin, Killer Croc, and The Riddler. Two-Face, looking to eradicate this new threat to him, had no idea that he himself was The Judge. At the end of the episode, he was sent back to Arkham. However, Harvey ended up being psychologically disturbed, constantly hearing the Judge's voice inside his head. After this event, he was presumably sentenced to stay in Arkham for the rest of his life.
Justice League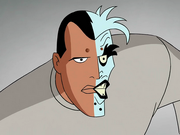 Two-Face made a cameo appearance during the Justice League episode 'A Better World' in an alternate reality. This version of Two-Face was among the many supervillains lobotomized by that reality's Superman and imprisoned in Arkham by the Justice Lords.
Batman Beyond
Additionally, an android version of Two-Face also had a cameo in the Batman Beyond episode "Terry's Friend Dates a Robot". Two-Face also made a cameo as a wax statue in the uncut version of Batman Beyond: Return of the Joker, before it was decapitated by an elderly Bruce Wayne throwing a batarang.
Abilities and equipment
| | | |
| --- | --- | --- |
| " | Don't bother to adjust the picture! For the next five minutes, I'm in control! | " |
| | ~ Two-Face, entering a bookie's club to rob in | |
Two-Face made no decision without consulting chance first. He was never without one of his special double-headed coins. The 'Good Heads' was merely a standard heads, while the 'Bad Heads' was another heads side, but with several slashes and cuts across it. This mirrored Two-Face's dual persona, an embodiment of the good and the bad. He was frequently left incapacitated if he couldn't consult his coin for a decision. Furthermore, Two-Face is obsessed with the themes of duality and opposites and incorporates them in his life and work as much as possible. For instance, his first underlings were a pair of twins and his hideout is divided in one half neat and well appointed while the other half is a messy wreck.
Aside from the coin, Two-Face frequently sported a Tommy-gun, and displayed relative proficiency in its usage. He also kept two pistols on his person, which he presumably always drew together in keeping with his motif.
He also showed above-average capabilities for physical fighting, and was shown to be very strong, holding his own against multiple foes and flipping the heavyset Rupert Thorne across a room. This was exemplified further when The Judge defeated Killer Croc with ease. However, he did not have outright meta-human powers.
Gallery
Trivia
Two-Face is the only main supervillain in Batman The Animated Series to appear in more than one two-part episode. Ironically, he appears in two.
Two-Face was one of the few characters to not receive a revamp in The New Batman Adventures. His lines became slicker and his head became smaller, but otherwise he remained virtually the same.
Richard Moll also voiced Two-Face in one episode of Batman; The Brave and the Bold.
As the Judge, he was voiced by Malachi Throne.
Batman's method of defeating Two-Face in Two-Face Part II [using a case of coins] was later used in the climax of Batman Forever where the Two face of that movie was beaten.
Al Pacino was offered the role of Two-Face but he turned it down.
Villains
Comics
Abraham Langstrom | Alfred Protocol | Alfred Stryker | Alice | Amanda Waller | Amygdala | Anarky | An Innocent Guy | Arkham Knight | Arnold John Flass | Azrael | Baby Doll | Bane | Barbatos | Bat-Mite | The Batman Who Laughs | Black Glove | Black Mask | Blockbuster I | Blockbuster II | Brain | Broker | Brother EYE | Calculator | Calendar Man | Castle Bat | Captain Fear | Captain Boomerang | Carmine Falcone | Catman | Catwoman | Cheshire | Circus of Strange | Clayface | Clayface (Matt Hagen) | Claything | Clock King | Clownface | Club of Villains | Cluemaster | Composite Superman | Condiment King | Copperhead | Cornelius Stirk | Court of Owls | Crazy Quilt | Crime Doctor | Curtis Base | Dark Archer | David Cain | David Li | Dark Knights | Deacon Blackfire | Deadshot | Dealer | Deathstroke | Dick Grayson (Frank Miller) | The Dawnbreaker | The Devastator | Dr. Crane | Doctor Death | Doctor Double X | Doctor Phosphorus | Doctor Randolph Porter | Donna Troy | Dr. Silversmith | The Drowned | Electrocutioner | Emperor Penguin | Enigma | Ernie Chubb | Faceless | Falcone Crime Family | Film Freak | Firebug | Firefly | Flamingo | Floronic Man | Gearhead | General Ulysses Armstrong | Gilda Dent | Gorilla Boss | Gotham City Police Department | Gillian B. Loeb | Great White Shark | The Grim Knight | Harley Quinn | Holiday | Holly Robinson | Humpty Dumpty | Hugo Strange | Hush | Instigator | Jack the Ripper | James Gordon, Jr. | Jason Todd | Jeremiah Arkham | Joe Chill | Joker | Judge of Owls | Joker's Daughter | Key | KGBeast | King of Cats | King Snake | King Tut | Killer Croc | Killer Moth | Kite Man | Lady Shiva | League of Assassins | Leviathan | Lex Luthor | Lock-Up | Lord Death Man | Mad Hatter | Mad Monk | Magpie | Malochia | Man-Bat | Mary Keeny | Maxie Zeus | Maxwell Lord | The Merciless | Merrymaker | Micheal Atkins | Monk | Mr. Bloom | Mr. Freeze | Mrs. Freeze | Mayor Oswald Cobblepot | Mr. Toad | Mr. Whisper | Mutants | Neo Joker | Neron | Nightslayer | Nocturna | Omega | Onomatopoeia | Orca | Outsider | Owlman | Phantasm | Penguin | Penny Plunderer | Phosphorus Rex | Planet Master | Poison Ivy | Polka Dot Man | Professor Arnold Hugo | Professor Pyg | Prometheus | Punchline | Ra's al Ghul | Ragdoll | Ratcatcher | Reaper | Red Death | Reverse-Flash | Riddler | Robin King | Roland Daggett | Roxy Rocket | Royal Flush Gang | Rupert Thorne | Saint Batman | Sal Maroni | Scarecrow | Sensei | Sewer King | Signalman | Simon Hurt | Sinestro | Snowman | Solomon Grundy | Spellbinder | Squid | Steeljacket | Suicide Squad | Talia al Ghul | Talon | Tally Man | Ten Eyed Man | Terrible Trio | Thomas Wayne | Tiger Shark | Timecode | Tony Zucco | Tweedledum and Tweedledee | Two-Face | Ubu | Vandal Savage | Ventriloquist | Ventriloquist II | Ventriloquist III | Vertigo | Victor Zsasz | Whisper A'Daire | White Rabbit | Wrath | The Wonderland Gang | Zebra-Man
Theatrical Movies
Batman (1966): Joker | Catwoman | Penguin | Riddler
Batman (1989): Joker | Joker Goons (Bob Hawkins) | Alicia Hunt | Carl Grissom | Max Eckhardt | Vinnie Ricorso | Joe Chill
Batman Returns: Penguin | Red Triangle Circus Gang (Organ Grinder, Poodle Lady, Tattooed Strongman, Stungun Clown, Thin Clown, Fat Clown, Sword Swallower, Knifethrower Dame & Fire Breather) | Max Shreck | Catwoman
Batman: Mask of the Phantasm: Phantasm | Joker | Salvatore Valestra | Arthur Reeves | Chuckie Sol | Buzz Bronski
Batman Forever: Riddler | Two-Face | Sugar | Spice | NygmaTech (Frogmen) | Neon Gang (Neon Gang Leader) | Salvatore Maroni
Batman & Robin: Poison Ivy | Mr. Freeze | Bane | Snowy Cones Thugs | Golums | Jason Woodrue
Batman Begins: Ra's al Ghul | League of Shadows (Ra's Decoy) | Scarecrow | Falcone Crime Family (Carmine Falcone, Victor Zsasz, & Arnold Flass) | Joe Chill
The Dark Knight: Joker | Joker's Thugs (Thomas Schiff, Chuckles, Kilson, Happy, Dopey, Grumpy & Bus Driver) | Two-Face | Sal Maroni | The Chechen | Gambol | Lau | Bank Manager | Michael Wuertz | Burmese Bandit
The Dark Knight Rises: League of Shadows (Bane, Talia al Ghul & Barsad) | Catwoman | John Daggett | Ra's al Ghul | Scarecrow
Batman v Superman: Dawn of Justice: Lex Luthor | Doomsday | Anatoli Knyazev | Mercy Graves | Cesar Santos | Amajagh | Joe Chill | Zod | Joker | Steppenwolf
Suicide Squad: Eyes of the Adversary (Enchantress & Incubus) | Suicide Squad (Deadshot, Harley Quinn, Captain Boomerang, El Diablo, Killer Croc, Slipknot & Amanda Waller) | Joker's Gang (Joker, Jonny Frost, Panda Man & Monster T) | Griggs
The Lego Batman Movie: Joker | Harley Quinn | Phantom Zone Criminals (Zod, Sauron, Kraken, Lord Voldemort, Agent Smith, Jaws, Gremlins, Medusa, Lord Vampyre, Wicked Witch of the West, & Daleks) | Catwoman | Poison Ivy | Two-Face | Bane | Riddler
Joker: Clowns (Joker, Clown & Ambulance Clown) | Penny Fleck | Wall Street Three | Penny Fleck's Boyfriend
The Batman (2022): Riddler | Falcone Crime Syndicate (Carmine Falcone, Penguin, William Kenzie, Vinnie, & The Twins) | Catwoman | Salvatore Maroni | Riddler's Cult | Pete Savage | Gil Colson | Don Mitchell Jr. | Train Gang | Joker
Direct-to-video Movies
Batman & Mr. Freeze: SubZero: Mr. Freeze | Dr. Gregory Belson
Batman Beyond: Return of the Joker: Joker | The Jokerz (Chucko, Dee-Dee, Ghoul, Bonk, & Woof) | Harley Quinn
Batman: Mystery of the Batwoman: Penguin | Bane | Rupert Thorne | Carlton Duquesne
The Batman vs. Dracula: Dracula | Penguin | Joker
Superman/Batman: Public Enemies: Lex Luthor | Major Force | Metallo | Amanda Waller | Toyman | Solomon Grundy | Gorilla Grodd | Killer Frost | Lady Shiva | Giganta | Mongul | Captain Cold
Batman: Under the Red Hood: Jason Todd | Joker | Black Mask | Ra's al Ghul | Riddler | Ms. Li
Superman/Batman: Apocalypse: Darkseid | Female Furies (Granny Goodness, Gilotina, Mad Harriet, Lashina & Stompa) | Doomsday
Batman: Year One: Batman | Gotham City Police Department (Commissioner Loeb, Arnold John Flass, & Howard Branden) | Falcone Crime Family (Carmine Falcone & Johnny Viti) | Catwoman | Joker
Batman: The Dark Knight Returns: Batman | Joker | Mutant Leader | Ellen Yindel | Harvey Dent | Selina Kyle
Son of Batman: Deathstroke | League of Assassins (Ra's al Ghul & Talia al Ghul) | Ubu | Killer Croc | Man-Bats
Batman: Assault on Arkham: Suicide Squad (Amanda Waller, Deadshot, Harley Quinn, Captain Boomerang, Killer Frost, King Shark, Black Spider, KGBeast) | Joker | Riddler | Penguin | Scarecrow | Victor Zsasz | Bane | Two-Face | Poison Ivy
Lego DC Comics: Batman Be-Leaguered: Bat-Mite | Lex Luthor | Joker | Penguin | Man-Bat | Captain Cold | Black Manta
Batman vs. Robin: Court of Owls (Samantha Vanaver, Talon, Owls Lieutenant, & Talon Warriors) | Dollmaker
Batman Unlimited: Animal Instincts: Animalitia (Penguin, Killer Croc, Man-Bat, Cheetah & Silverback)
Batman Unlimited: Monster Mayhem: Joker | Scarecrow | Clayface | Silver Banshee | Solomon Grundy
Batman: Bad Blood: League of Assassins (Talia al Ghul, The Heretic, Onyx, Firefly, Tusk, Mad Hatter, Electrocutioner, Hellhound, Calculator, & Killer Moth) | Black Mask
Batman: The Killing Joke: Joker | Vinnie & Joe | Paris Franz
Batman Unlimited: Mechs vs. Mutants: Penguin | Mr. Freeze | Cheetah | Hush | Mad Hatter | Two-Face | Bane | Chemo | Killer Croc | Clayface | Joker | Dr. Kirk Langstrom
Batman: Return of the Caped Crusaders: Joker | Penguin | Riddler | Catwoman | Archer | Black Widow | Bookworm | Clock King | Egghead | False Face | King Tut | Louie the Lilac | Mad Hatter | Minstrel | Mr. Freeze | Sandman | Shame | Siren
Batman and Harley Quinn: Harley Quinn | Poison Ivy | Floronic Man
Batman vs. Two-Face: Two-Face | Hugo Strange | Catwoman | King Tut | Bookworm | Joker | Penguin | Riddler | Clock King | Egghead | Mr. Freeze | Shame | Harley Quinn
Scooby-Doo! & Batman: The Brave and the Bold: Riddler | Clayface | Joker | Mr. Freeze | Catwoman | Penguin | Harley Quinn | Poison Ivy
Batman: Gotham by Gaslight: Jack the Ripper | Barbara-Eileen Gordon | Selina Kyle | Harvey Dent | Hugo Strange
Batman Ninja: Joker | Harley Quinn | Catwoman | Gorilla Grodd | Bane | Penguin | Poison Ivy | Deathstroke | Two-Face
Batman vs. Teenage Mutant Ninja Turtles: Foot Clan (Shredder & Baxter Stockman) | League of Assassins (Ra's al Ghul & Ubu) | Joker | Penguin | Harley Quinn | Mr. Freeze | Scarecrow | Two-Face | Poison Ivy | Bane
Batman: Hush: Riddler/Hush | Catwoman | Poison Ivy | Bane | Joker | Harley Quinn | Clayface | Scarecrow | Lex Luthor | Lady Shiva | Two-Face | Penguin | Mr. Freeze | Thomas Elliot
Batman: Death in the Family: Jason Todd | Joker | Black Mask | Ra's al Ghul | Riddler | Talia al Ghul | Cheetah | Two-Face
Batman: Soul of the Dragon: Nāga | Kobra (Jeffery Burr, Schlangenfaust, Lady Eve, King Snake & Rip Jagger) | Ben Turner | Shiva | Richard Dragon | Jade
Batman: The Long Halloween: Holiday | Falcone Crime Family (Carmine Falcone, Milos Grapa, Alberto Falcone, Johnny Viti, & Sofia Falcone) | Two-Face | Joker | Solomon Grundy | Salvatore Maroni | Poison Ivy | Penguin | Scarecrow | Mad Hatter | San Ho Hui (Mickey Chen) | Calendar Man | Catwoman

Television
Batman 60s show
Joker | Penguin | Catwoman | Riddler | Mr. Freeze | The Archer | Black Widow | Bookworm | Egghead | Clock King | Queenie Goldstein | Sandman | Dr. Cassandra Spellcraft | Cabala | Minstrel | Shame | False Face | The Siren | Undine | Chandell & Harry | King Tut | Louie the Lilac | Mad Hatter | Cornelia | Baby Jane Towser | Lydia Limpet | Zelda the Great | The Puzzler | Olga, Queen of Cossacks | Marsha, Queen of Diamonds | Lord Marmaduke Ffogg | Lady Penelope Peasoup | Ma Parker | Freddy the Fence | Lola Lasagne | Nora Clavicle | Colonel Gumm | Minerva | Killer Moth | Calamity Jan
1970s Filmation series
Joker | Catwoman | Penguin | Riddler | Clayface | Mr Freese | Sweet Tooth
Batman: The Animated Series
Joker | Two-Face | Harley Quinn | Penguin | Catwoman | Rupert Thorne | Riddler | Poison Ivy | Scarecrow | Mad Hatter | Killer Croc | Clayface | Ra's al Ghul | Mr. Freeze | Man-Bat | Ventriloquist and Scarface | Roland Daggett | Clock King | Bane | Hugo Strange | Lloyd Ventrix | Kyodai Ken | Baby Doll | Emile Dorian | Red Claw | Boss Biggis | Sewer King | Talia al Ghul | Maxie Zeus | Lock-Up | Professor Milo | Count Vertigo | Daniel Mockridge | Grant Walker | Gil Mason | Arkady Duvall | Ferris Boyle | Arnold Stromwell | Tony Zucco | H.A.R.D.A.C. | Randa Duane | Batman Clone | Calendar Girl
The Batman (2004)
Joker | Penguin | Bane | Catwoman | Mr. Freeze | Ethan Bennett | Killer Croc | Man-Bat | Firefly | Riddler | Punch & Judy | Kabuki Twins | Hugo Strange | Cluemaster | Ragdoll | Temblor | Poison Ivy | Tony Zucco | Count Vertigo | Harley Quinn | Maxie Zeus | Clayface | Gearhead | Francis Grey | Killer Moth | D.A.V.E. | Dracula | Rumor | Toyman | Mirror Master | Lex Luthor | Black Mask | Sinestro | Joker 2.0 | Prank | Killgore Steed | Team Penguin | Julie | Spellbinder | Blaze | The Joining | Cosmo Krank | Marty Slacker | Scorn | Wrath | Metallo | Shadow-Thief
Batman: The Brave and The Bold
Joker | Music Meister | Catwoman | Penguin | Mr. Freeze | Clayface | Riddler | Poison Ivy | Lex Luthor | Flower Children | Harley Quinn | Morgaine Le Fey | Sweet Tooth | Queenie Goldstein | Bane | Kite Man | Black Manta | Gentleman Ghost | Major Force | Mirror Master | Metallo | Brainiac | Flamingo | Mxyzptlk | Toyman | Thinker | Doctor Sivana | Mister Mind | Black Adam
Beware the Batman
Anarky | Ra's al Ghul | Deathstroke | Harvey Dent | Killer Croc | Simon Stagg | Professor Pyg and Mr. Toad | Man-Bat | Cypher | Magpie | Lady Shiva | Tobias Whale | Phosphorus Rex | Lunkhead | Humpty Dumpty | Silver Monkey | Key | Bethany Ravencroft | Daedalus Boch | Junkyard Dog | Sapphire Stagg | Matatoa | Anatol Mykros
Harley Quinn
Harley Quinn | Poison Ivy | Joker | Scarecrow | Queen of Fables | Darkseid | Parademons | Penguin | Mr. Freeze | Bane | Lex Luthor | Killer Croc | Man-Bat | Riddler | Deadshot | Calendar Man | Condiment King | Solomon Grundy | Kite Man | Doctor Psycho | Clayface | King Shark | Nora Fries | Sy Borgman | Doctor Trap | Frank the Plant | Felix Faust | Toyman | Metallo | Livewire | Parasite | Black Adam | Captain Cold | Gorilla Grodd | Black Manta | Cheetah | Giganta | Sinestro | Maxie Zeus | Eris | KGBeast | Two-Face | Catwoman | Nick Quinzel | Sharon Quinzel
Video Games
LEGO Batman
Joker | Penguin | Riddler | Harley Quinn | Catwoman | Two-Face | Bane | Clayface | Killer Croc | Killer Moth | Mad Hatter | Man-Bat | Mr. Freeze | Poison Ivy | Scarecrow | Ra's al Ghul | Hush
Lego Batman 2: DC Super Heroes
Joker | Lex Luthor | Harley Quinn | Riddler | Two-Face | Catwoman | Bane | Penguin | Poison Ivy | Scarecrow | Captain Boomerang | Clayface | Mad Hatter | Ra's al Ghul | Killer Croc | Bane | Killer Moth | Mr. Freeze | Man-Bat | Hush | Zod | Sinestro | Brainiac | Gorilla Grodd | Captain Cold | Black Manta | Black Adam | Bizarro
Lego Batman 3: Beyond Gotham
Brainiac | Joker | Lex Luthor | Cheetah | Solomon Grundy | Firefly | Killer Croc | Sinestro | Atrocitus | Larfleeze | Star Sapphire | Composite Superman | Bane | Arkillo | Condiment King | Music Meister | Captain Cold | Black Adam | Black Manta | Black Hand | Bronze Tiger Cyborg Superman | Deadshot | Deathstroke | Lobo | Dex-Starr | Doomsday | Gorilla Grodd | Harley Quinn | Hush | Kalibak | Killer Moth | Man-Bat | Mad Hatter | Manchester Black | Metallo | Mr. Freeze | Mr. Mxyzptlk | Parasite | Penguin | Poison Ivy | Polka Dot Man | Red Hood | Riddler | Toyman | The Trickster | Ultra-Humanite | Catwoman | Bizarro | Amanda Waller | Captain Boomerang | El Diablo | King Shark | Killer Frost | Plastique | Terra | Zod | Faora | Joker | Two-Face | Ra's al Ghul | Bane | Catwoman | Scarecrow | Blight | Joker | Mr. Freeze | Arrow Deathstroke | Malcolm Merlyn | Darkseid
Injustice
Superman | Wonder Woman | Yellow Lantern | The Flash | Aquaman | Nightwing | Cyborg | Raven | Solomon Grundy | Catwoman | Bane | Black Adam | Deadshot | Poison Ivy | Scarecrow | Joker | Deathstroke
See Also
Arkhamverse Villains | Batgirl Villains | Batman Beyond Villains | Batwoman Villains | Birds of Prey Villains | Catwoman Villains | Gotham Villains | Harley Quinn Villains | Nightwing Villains | Outsiders Villains | Red Hood Villains | Robin Villains | Telltalle Batman Villains