NOTE: This page was for the incarnation of Two-Face from Christopher Nolan's movie. The mainstream version can be found here: Two-Face (DC) or if you want the incarnation of Two-Face from Joel Schumacher's Batman Forever, it's right here: Two-Face (Batman Forever).
| | | |
| --- | --- | --- |
| " | You either die a hero, or you live long enough to see yourself become the villain. | " |
| | ~ Harvey Dent's most famous quote. | |
| | | |
| --- | --- | --- |
| " | The world is cruel. And the only morality in a cruel world is chance. Unbiased... unprejudiced... fair. | " |
| | ~ Dent regarding about his own vigilantism as "Two Face". | |
Harvey Dent, later dubbed as Two-Face, is the secondary antagonist of The Dark Knight Trilogy, appearing as the secondary antagonist of the second installment, The Dark Knight; and as a posthumous antagonist in the third and final installment, The Dark Knight Rises.
Upon being elected as Gotham City's district attorney, the idealistic Dent dedicated himself to ridding the city of organized crime. However, he was horribly disfigured in an explosion rigged by the Joker that also killed his fiancee Rachel Dawes. Driven insane with grief, he became a vigilante and swore revenge on everyone he held responsible for Rachel's death, including his former allies Batman and Commissioner Jim Gordon.
He was portrayed by Aaron Eckhart, who also played James Rethrick in Paycheck.
History
Before Two-Face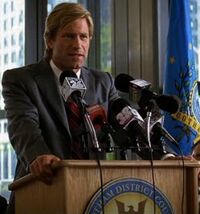 Two-Face started out as Harvey Dent, Gotham City's newly-elected District Attorney and "White Knight," and friend of Bruce Wayne (Batman).
The Joker, knew Batman's connection to Dent and Rachel Dawes, his fiancée; kidnapped them both and strapped them to two time bombs. Joker told Batman their locations, but gave him only enough time to save only one.
Batman chose Rachel, but when he got there, he found Dent instead.
Transformation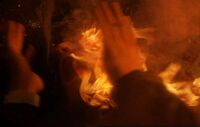 When the Joker's bombs went off, Rachel was killed, and the left side of Dent's face caught fire, leaving him hideously disfigured. In the hospital, a grief-stricken Dent refused all medical help, and embraced the police's disparaging nickname for him - "Harvey Two-Face".
The Joker visited Dent disguised as a nurse and convinced him to take revenge on the people he held responsible for Rachel's death: the mob, Gordon and Batman. Now convinced that life was nothing but chance, he made decisions based on a flip of his lucky silver dollar, one side of which had been burned in the explosion.
Two-Face learned that one of the cops in Gordon's unit, Wuertz, was corrupt and had given him over to the mob. He found Wuertz in a bar and flipped the coin for the detective's life; when it landed scarred side up, Two-Face shot and killed him.
Two-Face took out a bodyguard (and possibly killed him) and entered a car where he then confronted mobster Sal Maroni, who told him that another corrupt officer, Ramirez, had kidnapped Rachel. Two-Face then flipped the coin which landed good heads for Maroni, but bad heads for his driver, whom Two-Face then shot and killed. The car flipped over, possibly killing Maroni.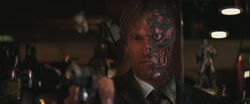 Finally, Two-Face confronted Ramirez, who begged forgiveness and said she had only done the mob's dirty work to pay her mother's hospital bills. Unmoved, Two-Face flipped the coin, which came up good heads; Two-Face spared her life, knocking her unconscious instead of shooting her. Two-Face then kidnapped Gordon's wife, daughter and son, and called Gordon to have him meet him "where his (Two-Face) family died" (the building where Rachel died).
Death
Two-Face planned to take revenge on Gordon by killing the person he loved most: his son. As Gordon pleaded for the boy's life, Batman showed up and told him to "judge the people responsible". Two-Face decided to flip for Batman, himself, and Gordon. Two-Face shot Batman through the stomach when the coin landed on bad heads. He then flipped for himself, he spares himself when the coin came up on good heads. After he decided to continue judging Gordon's son, Two-Face flipped the coin.
Before he could decide the fate of Gordon's son, Batman, who was wearing body armor, tackled Dent off the ledge of the roof, to his death.
Legacy
Batman decided to take the blame for Dent's crimes in order to preserve Dent's image as a hero and give the people of Gotham something to believe in. Dent's death was used to create a new law dubbed the "Dent Act," which gave law enforcement enhanced powers to prosecute criminals. The Dent Act all but eradicated crime in Gotham City, leading to eight years of prosperity and peace. When Bane found out about the truth about Dent, however, he used it in his crusade against Gotham. The fact that Gordon covered up resulted in many citizens and criminals alike inciting a riot. This event also resulted in several consequences for Gordon. His wife divorced him; likely because she was disgusted that he would honor the person who tried to kill their son. Furthermore, John Blake, one of Gordon's greatest supporters, lost faith after hearing the truth.
Quotes
"RACHEL!"
"No. No you're not. Not yet."
"Your men. Your plan."
[showing the clean side of the coin] "You live." [showing the burned side of the coin] "You die."
"Going to join your wife? You love her? You ever imagine what it would be like to listen to her die?"
"The Joker's just a mad dog. I want whoever let him off the leash. I took care of Wuertz, but who is the other man inside Gordon's Unit? Who picked up Rachel? Must have been someone she trusted."
"Can't hurt your chances."
"I said it couldn't hurt your chances." [flips the coin; it lands clean side up] "You're a lucky man." [flips again; it lands bad side up] "But he's not." (Maroni: Who?) [buckles himself in] "Your driver..."
"You wouldn't dare try to justify yourself if you knew what I lost. Have you had to talk to the person you love most? Tell them it's gonna be alright. When you know it's not. Well...you're about to know what it feels like, Gordon. Then, you can look me in the eye and tell me you're sorry."
"So, is it your wife?"
"We have a winner."
"You brought the cops?"
"You think I wanna escape from this? There IS no escape from this."
"It's not about what I want. It's about what's FAIR! You thought we could be decent men in an indecent time! But you were wrong. The world is cruel and the only morality in a cruel world is CHANCE. Unbiased, unprejudiced, fair. His son's got the same chance she had. 50/50."
"Then why is it ME who was the only one who LOST EVERYTHING?"
"The Joker chose ME!"
"And he was right."
"Fair enough. You first."
"My turn."
"I'm about to. Tell you're boy he's gonna be alright. Lie. Like I lied." (last words before meeting his demise)
"Remember that name you all had for me when I was at Internal Affairs? What was it, Gordon?" (Gordon: Harvey, I...), "Say it, SAY IT!", "(Gordon: Two-Face. Harvey Two-Face).".
Gallery
Trivia
Two-Face had a slogan called "I believe in Harvey Dent.".
Matt Damon, Josh Lucas, Liev Schreiber, Ryan Phillippe, Hugh Jackman and Mark Ruffalo were all considered for the role before Eckhart was cast.
To prepare for the role, Aaron Eckhart studied what happens psychologically to burn victims.
Aaron Eckhart said he felt that law enforcement officials like Harvey Dent "love the law, but they're constrained by the law."
His alias "Harvey Two-Face" was never adopted by himself, it was only mentioned by Gordon.
It's unclear as to what Gordon meant at the end of film when he mentioned two of the people Harvey killed were cops. It's possible that he meant the two cops guarding his family before Harvey kidnapped them. He most likely didn't count Michael Wuertz because either a) he was corrupted so Gordon didn't care enough to do so, or b) Wuertz most likely retired from the force after receiving his money from the mob, so therefore he was no longer a cop.
However, it's also possible Gordon meant the black cop whom Joker killed in Harvey's room in the hospital and Wuertz. Then Gordon included the bodyguard who Harvey grabs while entering Sal Maroni's car, the driver of the car and Harvey himself as the 3 other dead.
Two-Face has only 2 confirmed victims in this movie.
Dent and Talia al Ghul were the most personal villains for Bruce Wayne in The Dark Knight Trilogy. Dent represented the idealistic version of Batman, which doesn't need a cape and gadgets to cleanse the city from the criminals. At the same time, Talia was an anti-Batman. Basically she in The Dark Knight Rises is Bruce Wayne in Batman Begins if he drowned down in his desire to avenge his parents' deaths and agreed to lead the League of Shadows' crusade against Gotham. Ultimately, both Talia and Dent are the only villains which were killed by Batman himself.
External links

Villains
Animated Features
Meowrice | Meowrice's Henchmen | Mouse King | Mouse Queen | Joker | Phantasm | Salvatore Valestra | Arthur Reeves | Chuckie Sol | Buzz Bronski | Grundel Toad | Berkeley Beetle | Mr. Mole | Mrs. Toad | Ms. Fieldmouse | Queen Gnorga | King Llort | Darla Dimple | Max | Mrs. Prysselius | Thunder Karlsson and Bloom | Ruber | Griffin | Ruber's Minions | Bladebeak | Kent Mansley | Kralahome | Master Little | The Jokerz (Dee Dee Twins, Chucko & Woof) | Count Grisham | Cheswick | Mojo Jojo | Gangreen Gang | Anubis | Seto Kaiba | Dark Yugi | Pegasus J. Crawford | Mokuba Kaiba | Ebenezer Scrooge Puppet | Barkis Bittern | Maudeline Everglot | Stan Beals | Noah the Elder | Leopard Seal | Aguila | Stone Generals (Gato & Mono) | Karai | Foot Clan | Eddy's Brother | Kanker Sisters | Kevin | Surtr | Nyra | Kludd | Pure Ones | Lord Business | Super Secret Police (Bad Cop & Sheriff Not-A-Robot) | Duplo Aliens | Mr. Ross | Future Mordecai | Mordecai | Rigby | Benson Dunwoody | Muscle Man | Hunter | Pigeon Toady | Wolf Pack | Penguins | Joker (Lego) | Harley Quinn (Lego) | Phantom Zone Criminals | Catwoman (Lego) | Poison Ivy (Lego) | Two-Face (Lego) | Lord Garmadon | Slade (Teen Titans Go!) | Balloon Man (Teen Titans Go!) | Lex Luthor (Teen Titans Go!) | Stonekeeper | Rex Dangervest | Velociraptors (Lego) | Foot Clan (Shredder & Baxter Stockman) | League of Assassins (Ra's al Ghul (Batman vs. TMNT), Ubu (Batman vs. TMNT) & Talia al Ghul (Batman vs. TMNT)) | Joker (Batman vs. TMNT) | Harley Quinn (Batman vs. TMNT) | Scarecrow (Batman vs. TMNT) | Mr. Freeze (Batman vs. TMNT) | Poison Ivy (Batman vs. TMNT) | Bane (Batman vs. TMNT) | Two-Face (Batman vs. TMNT) | Penguin (Batman vs. TMNT) | Hexagon (Trigon (TTG) & Trigon (Original)) | Spinel | Pink Diamond | Dick Dastardly (2020) | Muttley (2020) | Rotten Robots | Dusty | Cerberus
Live Action Films
Jack Torrance | Hotel Caretaker | Lorraine Massey | Socs (Bob Sheldon, Randy Adderson, Paul Hoden & David) | Mrs. Cade | Scut Farkus | Grover Dill | Gremlins (Stripe) | Ruby Deagle | Mama Fratelli | Audrey II | Orin Scrivello | Mr. Igoe | Max | David | Beetlejuice | Sandworms | Joker (Batman 1989) | Bob the Goon | Alicia Hunt | Carl Grissom | Max Eckhardt | Vinnie Ricorso | Joe Chill | Witches (Grand High Witch, Susan Irvine, Nicola Cuttle, Pamela, Lois Leffour, Mildred, Elizabeth, Henrietta, Jacqueline & Beatrice) | Brain Gremlin | Daffy | George | Lenny | Bat Gremlin | Electric Gremlin | Cushing Catheter | Penguin | Max Shreck | Catwoman | Red Triangle Circus Gang | Charles "Chip" Shreck | Lawrence Van Dough | Ferguson | Lestat | Clarice Kensington | Miss Minchin | Riddler | Two-Face | Sugar | Spice | NygmaTech | Neon Gang | Salvatore Maroni | Jonas Miller | Mr. Swackhammer | Monstars | Martians (Martian Leader, Martian Ambassador & Martian Girl) | John Wesley | Poison Ivy | Mr. Freeze | Bane | Susan McAlester | Jim Whitlock | Mako Sharks | Mr. Tinkles | Thrax | Mayor Phlegmming | Bruiser | Joe Cramp | Thrax's Henchmen | Scrappy-Doo | N' Goo Tuana | Zarkos | Demons | Luna Ghost | Akasha | Spiders (Consuela & Tank) | Mr. Chairman | Bob Smith | Ra's al Ghul | Scarecrow | Carmine Falcone | League of Shadows (Decoy of Ra's al Ghul) | Victor Zsasz Joe Chill | Jonathan Jacobo | Arthur Slugworth | V | Adam Sutler | Lewis Prothero | Norsefire | Peter Creedy | Colonel Coetzee | Captain Poison | Zodiac Killer | Arthur Leigh Allen | Xerxes | Agent 23 | Siegfried | Dalip | Joker | Two-Face | Sal Maroni | Gambol | Joker's Thugs | Principal Deedle | Ezekial Gallows Prudence Prufrock | Lord Henry Blackwood | Lord Coward | Esther Coleman | Decoy Queen | Kitty Galore | Paws | Mayor Brown | Wanda Grubwort | Lake Monster | Mal Cobb | Blue Jones | Angelique Bouchard | Dr. Julia Hoffman | Bane | Talia al Ghul | Barsad | Catwoman | John Daggett | Tom Buchanan | Jay Gatsby | Myrtle Wilson | George Wilson | Daisy Buchanan | Precursors | Kaiju (Trespasser, Knifehead, Mutavore, Otachi, Leatherback, Raiju, Scunner & Slattern) | Artemisia | M.U.T.O. | Dr. Mann | Victoria Vinciguerra | Léon Rom | Skullcrawlers (Skull Devil) | Preston Packard | IT | Bowers Gang (Henry Bowers, Patrick Hockstetter, Belch Huggins & Vic Criss) | Alvin Marsh | Butch Bowers | Mathias Vogel | Ana Miller | Nolan Sorrento | Innovative Online Industries (I-R0k, F'Nale Zandor & Sixers) | Claire Wyden | Brett Wyden | George, Ralph and Lizzie | The Meg | Jack Morris | Shere Khan | Tabaqui | Howard Clifford | Ditto | Sebastian | Ann Laurent | King Ghidorah | Rodan | Alan Jonah | Asher Jonah | Emma Russell | The Banana Splits (Fleegle, Drooper, Snorky & Bingo) | Poppy | Karl | Leo | Cry Baby | Kelly | The Principal | The Biology Teacher | Arthur Fleck | Penny Fleck | Randall | Clowns (Joker) (Clown, Ambulance Clown | Wall Street Three | Penny Fleck's Boyfriend | Rose the Hat | The True Knot |
Shorts
Daffy Duck | Sylvester | Tasmanian Devil | Wile E. Coyote | Elmer Fudd | Yosemite Sam | Marvin the Martian | Instant Martians | Gossamer | Tom | Jerry | Spike
Television
The Grinch | Cousin Mel | Snow Miser | Heat Miser | North Wind

Villains
Community content is available under
CC-BY-SA
unless otherwise noted.