She-Hulk Trailer Dropped - The Loop
Play Sound
NOTE: This page is for the incarnation of Two-Face from Christopher Nolan's movie. The mainstream version can be found here: Two-Face (DC) or if you want the incarnation of Two-Face from Joel Schumacher's Batman Forever, it's right here: Two-Face (Batman Forever).
| | | |
| --- | --- | --- |
| " | You either die a hero, or you live long enough to see yourself become the villain. | " |
| | ~ Harvey Dent's most famous quote, also foreshadowing his transformation into Two-Face. | |
| | | |
| --- | --- | --- |
| " | The world is cruel. And the only morality in a cruel world is chance. Unbiased... unprejudiced... fair. | " |
| | ~ Harvey Dent as he rants about his own vigilantism as "Two Face". | |
Harvey Dent, later known as Two-Face, is the secondary antagonist of Christopher Nolan's The Dark Knight Trilogy, He appears as the secondary antagonist of The Dark Knight and a posthumous antagonist in The Dark Knight Rises.
He was portrayed by Aaron Eckhart, who also played James Rethrick in Paycheck.
Biography
Before Two-Face
Upon being elected as Gotham City's district attorney, Harvey Dent dedicated himself to ridding the city of organized crime, being revered by the public as their "White Knight". His crusade against crime ultimately led him to crossing paths with The Joker, an anarchistic criminal mastermind who plunged Gotham into chaos. The Joker knew Batman's connection to Dent and Rachel Dawes, his fiancée, so he kidnapped them both and strapped them to two time bombs, telling Batman their locations, but only giving him a shorten amount of time to save one. Batman chose to save Rachel, while the cops went to secure Dent. However, the Joker is not really honest. A plot twist reveals that the Joker had switched the locations and when Batman arrived, he found Dent.
Transformation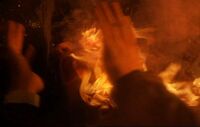 When the Joker's bombs went off, Rachel was killed, and the left side of Dent's face caught fire (due to being saturated in gasoline in his attempt to escape), leaving him hideously disfigured. In the hospital, a grief-stricken Dent refused all medical help, and embraced the police's disparaging nickname for him, "Harvey Two-Face".
The Joker visited Dent disguised as a nurse and convinced him to take revenge on the people he held responsible for Rachel's death, including his former allies Police Commissioner Jim Gordon and the masked vigilante known as "The Batman".
Now convinced that life was nothing but chance, he made decisions based on a flip of his lucky double headed silver dollar, one side of which had been burned in the explosion.
Two-Face learned that one of the cops in Gordon's unit, Wuertz, was corrupt and had given him over to the mob. He found Wuertz in a bar and spun the coin for the detective's life; when it landed scarred side up, Two-Face shot and killed him.
Two-Face then confronted Gotham's reigning mob kingpin Sal Maroni, who told him that another corrupt officer, Anna Ramirez, had kidnapped Rachel. Two-Face then flipped the coin which landed good heads for Maroni, but bad heads for his driver, whom Two-Face then shot and killed. The car flipped over, presumably killing Maroni.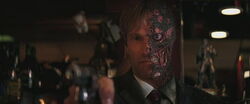 Finally, Two-Face confronted Ramirez, who begged forgiveness and said she had only done the mob's dirty work to pay her mother's hospital bills. Unmoved, Two-Face flipped the coin, which came up good heads; Two-Face spared her life, knocking her unconscious instead of shooting her. Two-Face then kidnapped Gordon's wife, daughter and son, and called Gordon to have him meet him at the building where Rachel died.
Death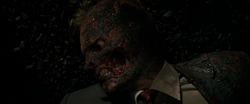 Two-Face planned to take revenge on Gordon by killing the person he loved most: his son. As Gordon pleaded for the boy's life, Batman showed up and told him to "judge the people responsible". Two-Face decided to flip for Batman, himself, and Gordon. Two-Face shot Batman through the stomach when the coin landed on bad heads. He then flipped for himself, he spares himself when the coin came up on good heads. After he decided to continue judging Gordon's son, Two-Face flipped the coin. Before he could decide the fate of Gordon's son, Batman, who was wearing body Armor, tackled Dent off the ledge of the roof, to his death.
Legacy
"
Gordon: The Joker won. All of Harvey's prosecutions, everything he fought for: undone. Whatever chance you gave us of fixing our city dies with Harvey's reputation. We bet it all on him. The Joker took the best of us and tore him down. People will lose hope.
Batman: They won't. They must never know what he did.
Gordon: Five dead, two of them cops—you can't sweep that up.
Batman: But the Joker cannot win. Gotham needs its true hero.
"
~ Batman and Gordon during the aftermath
Batman decided to take the blame for Dent's crimes in order to preserve Dent's image as a hero and give the people of Gotham something to believe in. Dent's death was used to create a new law dubbed the "Dent Act", which gave law enforcement enhanced powers to prosecute criminals. The Dent Act all but eradicated crime in Gotham City, leading to eight years of prosperity and peace. However, Gotham was soon under the threat of a revolutionary terrorist leader known as Bane and his army called the League of Shadows - whose late founder Ra's al Ghul had sought to destroy Gotham upon believing the city to be corrupt and illegitimate beyond any restoration. When Bane found out about Dent's murderous activities, he used it to take advantage of the League of Shadows' crusade against Gotham. The fact that Gordon covered up resulted in many citizens and criminals alike inciting a riot. This event also resulted in several consequences for Gordon. His wife left him; likely because she wanted to keep their children safe. Furthermore, John Blake - one of Gordon's greatest supporters- lost faith after hearing the truth.
But then Batman resurfaced and, after defeating both Ra's vengeful daughter Talia along with Bane himself went on to foil the League of Shadows' plan by apparently sacrifices his life to save Gotham City from a nuclear explosion; in reality, Wayne had actually faked his death and was presumably living under a new identity. Batman had thereafter went on to become remembered as the savior of Gotham City, while the Dent act was eliminated and Dent's legacy had thus been tarnished due to the extent of his murderous crimes.
Quotes
| | | |
| --- | --- | --- |
| " | RACHEL! | " |
| | ~ Harvey Dent before having his face accidentally burned after Rachel's death. | |
| | | |
| --- | --- | --- |
| " | No. No you're not. Not yet. | " |
| | ~ Harvey Dent to Gordon. | |
| | | |
| --- | --- | --- |
| " | Your Men..Your plan. | " |
| | ~ Harvey Dent to Joker. | |
| | | |
| --- | --- | --- |
| " | You live...You die. | " |
| | ~ Harvey Dent Showing his coin before passing judgement. | |
| | | |
| --- | --- | --- |
| " | Going to join your wife? You love her? You ever imagine what it would be like to listen to her die? | " |
| | ~ Harvey Dent planning to kill Gordon's family. | |
| | | |
| --- | --- | --- |
| " | The Joker's just a mad dog. I want whoever let him off the leash. I took care of Wuertz, but who is the other man inside Gordon's Unit? Who picked up Rachel? Must have been someone she trusted. | " |
| | ~ Harvey Dent to Gordon after failing to convince him. | |
| | | |
| --- | --- | --- |
| " | Can't hurt your chances | " |
| | ~ Harvey Dent to Gordon. | |
"
Harvey: I said it couldn't hurt your chances. [flips the coin; it lands clean side up] "You're a lucky man." [flips again; it lands bad side up] But he's not.
Maroni: Who?
Harvey: [buckles himself in] Your driver...
"
~ Harvey Dent to Maroni before killing his driver, flipping the car.
| | | |
| --- | --- | --- |
| " | You wouldn't dare try to justify yourself if you knew what I lost. Have you had to talk to the person you love most? Tell them it's gonna be alright. When you know it's not. Well...you're about to know what it feels like, Gordon. Then, you can look me in the eye and tell me you're sorry. | " |
| | ~ Harvey Dent to Gordon about Rachel's death. | |
| | | |
| --- | --- | --- |
| " | So, is it your wife? | " |
| | ~ Harvey Dent to Gordon. | |
| | | |
| --- | --- | --- |
| " | We have a winner. | " |
| | ~ Harvey Dent. | |
| | | |
| --- | --- | --- |
| " | You brought the cops? | " |
| | ~ Harvey Dent angered upon Gordon sending his squad. | |
| | | |
| --- | --- | --- |
| " | You think I wanna escape from this? There IS no escape from this. | " |
| | ~ Harvey Dent to Gordon. | |
| | | |
| --- | --- | --- |
| " | It's not about what I want. It's about what's FAIR! You thought we could be decent men in an indecent time! But you were wrong. The world is cruel and the only morality in a cruel world is CHANCE. Unbiased, unprejudiced, fair. His son's got the same chance she had. 50/50. | " |
| | ~ Harvey explaining the changes that he will commit towards Gordon and his view on the world's judgement. | |
| | | |
| --- | --- | --- |
| " | You think I wanna escape from this? There IS no escape from this. | " |
| | ~ Harvey Dent being the state he has become. | |
| | | |
| --- | --- | --- |
| " | Then why is it ME who was the only one who LOST EVERYTHING? | " |
| | ~ Harvey Dent to Gordon upon becoming Two Face. | |
| | | |
| --- | --- | --- |
| " | The Joker chose ME! | " |
| | ~ Harvey Dent upon explaining how Joker made him. | |
| | | |
| --- | --- | --- |
| " | And he was right. | " |
| | ~ Harvey Dent agreeing with the Joker's statement. | |
| | | |
| --- | --- | --- |
| " | Fair enough. You first.. My Turn! | " |
| | ~ Harvey Dent Judging himself during his conflict. | |
| | | |
| --- | --- | --- |
| " | I'm about to. Tell you're boy he's gonna be alright. Lie. Like I lied. | " |
| | ~ Harvey Dent's last words before being tacked by Batman and falling to his demise. | |
"
Harvey: Remember that name you all had for me when I was at Internal Affairs? What was it, Gordon?...Say it...SAY IT!
Gordon: Two-Face. Harvey Two-Face.
"
~ Harvey Dent to Gordon prior to his disfigurement.
Trivia
Two-Face had a slogan called "I believe in Harvey Dent".
Matt Damon, Josh Lucas, Liev Schreiber, Ryan Phillippe, Hugh Jackman and Mark Ruffalo were all considered for the role before Aaron Eckhart was cast.
To prepare for the role, Aaron Eckhart studied what happens psychologically with victims of burns.
Aaron Eckhart said he felt that law enforcement officials like Harvey Dent "love the law, but they're constrained by the law".
His alias "Harvey Two-Face" was never adopted by himself, it was only mentioned by Gordon. On the other hand, Aaron Eckhart always called Harvey Dent's alter-ego Harvey Two-Face as he feels a bit of Harvey Dent still remains in Two-Face.
It's unclear as to what Gordon meant at the end of film when he mentioned two of the people Harvey killed were cops. It's possible that he meant the two cops guarding his family before Harvey kidnapped them. He most likely didn't count Michael Wuertz because either a) he was corrupted so Gordon didn't care enough to do so or b) Wuertz most likely retired from the force after receiving his money from the mob, so therefore he was no longer a cop.

However, it's also possible Gordon meant the black cop whom Joker killed in Harvey's room in the hospital and Wuertz. Then Gordon included the bodyguard who Harvey grabs while entering Sal Maroni's car, the driver of the car and Harvey himself as the 3 other dead. Overall, Two-Face has only 2 confirmed victims in this movie - Wuertz and Maroni's driver.

Despite being the secondary antagonist, Two-Face became the final antagonist of the film for Batman to face after Joker's arrest.
Dent and Talia al Ghul were the most personal villains for Bruce Wayne in The Dark Knight Trilogy. Dent represented the idealistic version of Batman, which doesn't need a cape and gadgets to cleanse the city from the criminals. At the same time, Talia was an anti-Batman. Basically she in The Dark Knight Rises is Bruce Wayne in Batman Begins if he drowned down in his desire to avenge his parents' deaths and agreed to lead the League of Shadows' crusade against Gotham. Ultimately, both Talia and Dent are the only villains which were killed by Batman himself.
Aaron Eckhart believes that had he survived the events of The Dark Knight, Harvey Dent would have spoken to the citizens of Gotham City about his transformation on Two-Face rather than keeping the truth like Batman and Gordon did through the Dent Act.
External links
Villains

Villains
Animated Features
Stan Beals | Wasps
Live-Action Films
Ra's al Ghul | League of Shadows (Ra's Decoy) | Scarecrow | Carmine Falcone | Victor Zsasz | Arnold Flass | Joe Chill | Lex Luthor | Scrunt | German Drinking Team | Cherry | Xerxes | Theron | Ephialtes | The Immortals | Joker | Joker's Thugs (Thomas Schiff, Chuckles, Kilson, Happy, Dopey, Grumpy & Bus Driver) | Two-Face | Sal Maroni | The Chechen | Gambol | Lau | Bank Manager | Michael Wuertz | Burmese Bandit | Rorschach | Ozymandias | The Comedian | Doctor Manhattan | Moloch | The Flasher | Leslie Chow | Officer Franklin and Officer Garden | Melissa | Sam | Steven Wilkins | Mr. Kreeg | Laurie | Macy | Lord Ozunu | Takeshi | Hades | Acrisius | Medusa | Charon | Prokopion | Dioskilos | Kraken | Quentin Turnbull | Burke | Mal Cobb | Blue Jones | Kingsley | Russian mobsters | Kronos | Ares | Cyclopes | Makhai | Minotaur | Bane | Talia al Ghul | Barsad | Catwoman | John Daggett | General Fallon | The Giants | Lord Roderick | Wickie | Marshall | Black Doug | Precursors | Kaiju (Trespasser, Knifehead, Mutavore, Otachi, Leatherback, Raiju, Scunner & Slattern) | Artemisia | Artaphernes | M.U.T.O. | Satan | Mehmed II | Master Vampire | Dr. Mann | Mother Malkin | Mutsushiro Watanabe | Elias Kassar | General Lyons | Indominus rex | Vic Hoskins | Henry Wu | Lady Lucille Sharpe | Krampus | Krampus' Elves | Krampus' Toys | Krampus' Gingerbread Men | Gul'dan | The Horde (Blackhand the Destroyer & Orgrim Doomhammer) | Dean Redding | Tao Tei (Tao Tei Queen) | Skullcrawlers (Skull Devil) | Preston Packard | Eli Mills | Ken Wheatley | Gunnar Eversol | Kores Botha | Xia | Ku Klux Klan (David Duke, Felix Kendrickson, Walter Breachway, Ivanhoe & Nelson Walker) | Andy Landers | Connie Kendrickson | Kennebrew Beauregard | Howard Clifford | Ditto | Sebastian | Ann Laurent | King Ghidorah | Alan Jonah | Rodan | Asher Jonah | Emma Russell | Mechagodzilla | Apex Cybernetics (Walter Simmons, Ren Serizawa & Maia Simmons) | Baron Vladimir Harkonnen | Count Glossu Rabban | John Hartley | Nolan Booth | Sarah Black | Sotto Voce | Leatherface
See Also
Amblin Entertainment Villains | Batman Villains | Blumhouse Productions Villains | Christopher Nolan Villains | DC Extended Universe Villains | Dead Rising Villains | Dracula Villains | Dune Villains | Godzilla Villains | Jurassic Park Villains | King Kong Villains | MonsterVerse Villains | Netflix Villains | New Line Cinema Villains | Paramount Villains | Pokémon Villains | Superman Villains | Texas Chainsaw Massacre Villains | The Hangover Villains | The Toxic Avengers Villains | Universal Studios Villains | Warcraft Villains | Warner Bros. Villains | Watchmen Villains
Villains
Comics
2-Face-2 | Abraham Langstrom | Alfred Protocol | Alfred Stryker | Alice | Amanda Waller | Amygdala | Anarky | An Innocent Guy | Ares | Arkham Knight | Arnold John Flass | Azrael | Baby Doll | Bane | Barbatos | Bat-Mite | The Batman Who Laughs | Black Glove | Black Mask | Blockbuster I | Blockbuster II | Brain | Broker | Brother EYE | Calculator | Calendar Man | Castle Bat | Captain Fear | Captain Boomerang | Carmine Falcone | Catman | Catwoman | Cheetah | Cheshire | Circus of Strange | Clayface | Clayface (Matt Hagen) | Claything | Clock King | Clownface | Club of Villains | Cluemaster | Composite Superman | Condiment King | Copperhead | Cornelius Stirk | Court of Owls | Crazy Quilt | Crime Doctor | Curtis Base | Dark Archer | David Cain | David Li | Dark Knights | Deacon Blackfire | Deadshot | Dealer | Deathstroke | Dick Grayson (Frank Miller) | The Dawnbreaker | The Devastator | Dr. Crane | Doctor Death | Doctor Double X | Doctor Phosphorus | Doctor Randolph Porter | Donna Troy | Dr. Silversmith | The Drowned | Electrocutioner | Emperor Penguin | Enigma | Ernie Chubb | Faceless | Falcone Crime Family | Film Freak | Firebug | Firefly | Flamingo | Floronic Man | Gearhead | General Ulysses Armstrong | Gilda Dent | Gorilla Boss | Gotham City Police Department | Gillian B. Loeb | Great White Shark | The Grim Knight | Harley Quinn | Holiday | Holly Robinson | Humpty Dumpty | Hugo Strange | Hush | Instigator | Jack the Ripper | James Gordon, Jr. | Jason Todd | Jeremiah Arkham | Joe Chill | Joker | Judge of Owls | Joker's Daughter | Key | KGBeast | King of Cats | King Snake | King Tut | Killer Croc | Killer Moth | Kite Man | Lady Shiva | League of Assassins | Leviathan | Lex Luthor | Lock-Up | Lord Death Man | Mad Hatter | Mad Monk | Magpie | Malochia | Man-Bat | Mary Keeny | Maxie Zeus | Maxwell Lord | The Merciless | Merrymaker | Micheal Atkins | Monk | Mr. Bloom | Mr. Freeze | Mrs. Freeze | Mayor Oswald Cobblepot | Mr. Toad | Mr. Whisper | Mutants | Neo Joker | Neron | Nightslayer | Nocturna | Omega | Onomatopoeia | Orca | Outsider | Owlman | Phantasm | Penguin | Penny Plunderer | Phosphorus Rex | Planet Master | Poison Ivy | Polka Dot Man | Professor Arnold Hugo | Professor Pyg | Prometheus | Punchline | Ra's al Ghul | Ragdoll | Ratcatcher | Reaper | Red Death | Reverse-Flash | Riddler | Robin King | Roland Daggett | Roxy Rocket | Royal Flush Gang | Rupert Thorne | Saint Batman | Sal Maroni | Scarecrow | Sensei | Sewer King | Signalman | Simon Hurt | Sinestro | Snowman | Solomon Grundy | Spellbinder | Squid | Steeljacket | Suicide Squad | Talia al Ghul | Talon | Tally Man | Ten Eyed Man | Terrible Trio | Thomas Wayne | Tiger Shark | Timecode | Tony Zucco | Tweedledum and Tweedledee | Two-Face | Ubu | Vandal Savage | Ventriloquist | Ventriloquist II | Ventriloquist III | Vertigo | Victor Zsasz | Whisper A'Daire | White Rabbit | Wrath | The Wonderland Gang | Zebra-Man
Theatrical Movies
Batman (1966): Joker | Catwoman | Penguin | Riddler
Batman (1989): Joker | Joker Goons (Bob Hawkins) | Alicia Hunt | Carl Grissom | Max Eckhardt | Vinnie Ricorso | Joe Chill
Batman Returns: Penguin | Red Triangle Circus Gang (Organ Grinder, Poodle Lady, Tattooed Strongman, Stungun Clown, Thin Clown, Fat Clown, Sword Swallower, Knifethrower Dame & Fire Breather) | Max Shreck | Catwoman
Batman: Mask of the Phantasm: Phantasm | Joker | Salvatore Valestra | Arthur Reeves | Chuckie Sol | Buzz Bronski
Batman Forever: Riddler | Two-Face | Sugar | Spice | NygmaTech (Frogmen) | Neon Gang (Neon Gang Leader) | Salvatore Maroni
Batman & Robin: Poison Ivy | Mr. Freeze | Bane | Snowy Cones Thugs | Golums | Jason Woodrue
Batman Begins: Ra's al Ghul | League of Shadows (Ra's Decoy) | Scarecrow | Falcone Crime Family (Carmine Falcone, Victor Zsasz, & Arnold Flass) | Joe Chill
The Dark Knight: Joker | Joker's Thugs (Thomas Schiff, Chuckles, Kilson, Happy, Dopey, Grumpy & Bus Driver) | Two-Face | Sal Maroni | The Chechen | Gambol | Lau | Bank Manager | Michael Wuertz | Burmese Bandit
The Dark Knight Rises: League of Shadows (Bane, Talia al Ghul & Barsad) | Catwoman | John Daggett | Ra's al Ghul | Scarecrow
Batman v Superman: Dawn of Justice: Lex Luthor | Doomsday | Anatoli Knyazev | Mercy Graves | Cesar Santos | Amajagh | Joe Chill | Zod | Joker | Steppenwolf
Suicide Squad: Eyes of the Adversary (Enchantress & Incubus) | Suicide Squad (Deadshot, Harley Quinn, Captain Boomerang, El Diablo, Killer Croc, Slipknot & Amanda Waller) | Joker's Gang (Joker, Jonny Frost, Panda Man & Monster T) | Griggs
The Lego Batman Movie: Joker | Harley Quinn | Phantom Zone Criminals (Zod, Sauron, Kraken, Lord Voldemort, Agent Smith, Jaws, Gremlins, Medusa, Lord Vampyre, Wicked Witch of the West, & Daleks) | Catwoman | Poison Ivy | Two-Face | Bane | Riddler
Joker: Clowns (Joker, Clown & Ambulance Clown) | Penny Fleck | Wall Street Three | Penny Fleck's Boyfriend
The Batman (2022): Riddler | Falcone Crime Syndicate (Carmine Falcone, Penguin, William Kenzie, Vinnie, & The Twins) | Catwoman | Salvatore Maroni | Riddler's Cult | Pete Savage | Gil Colson | Don Mitchell Jr. | Train Gang | Joker
Direct-to-video Movies
Batman & Mr. Freeze: SubZero: Mr. Freeze | Dr. Gregory Belson
Batman Beyond: Return of the Joker: Joker | The Jokerz (Chucko, Dee-Dee, Ghoul, Bonk, & Woof) | Harley Quinn
Batman: Mystery of the Batwoman: Penguin | Bane | Rupert Thorne | Carlton Duquesne
The Batman vs. Dracula: Dracula | Penguin | Joker
Superman/Batman: Public Enemies: Lex Luthor | Major Force | Metallo | Amanda Waller | Toyman | Solomon Grundy | Gorilla Grodd | Killer Frost | Lady Shiva | Giganta | Mongul | Captain Cold
Batman: Under the Red Hood: Jason Todd | Joker | Black Mask | Ra's al Ghul | Riddler | Ms. Li
Superman/Batman: Apocalypse: Darkseid | Female Furies (Granny Goodness, Gilotina, Mad Harriet, Lashina & Stompa) | Doomsday
Batman: Year One: Batman | Gotham City Police Department (Commissioner Loeb, Arnold John Flass, & Howard Branden) | Falcone Crime Family (Carmine Falcone & Johnny Viti) | Catwoman | Joker
Batman: The Dark Knight Returns: Batman | Joker | Mutant Leader | Ellen Yindel | Harvey Dent | Selina Kyle
Son of Batman: Deathstroke | League of Assassins (Ra's al Ghul & Talia al Ghul) | Ubu | Killer Croc | Man-Bats
Batman: Assault on Arkham: Suicide Squad (Amanda Waller, Deadshot, Harley Quinn, Captain Boomerang, Killer Frost, King Shark, Black Spider, KGBeast) | Joker | Riddler | Penguin | Scarecrow | Victor Zsasz | Bane | Two-Face | Poison Ivy
Lego DC Comics: Batman Be-Leaguered: Bat-Mite | Lex Luthor | Joker | Penguin | Man-Bat | Captain Cold | Black Manta
Batman vs. Robin: Court of Owls (Samantha Vanaver, Talon, Owls Lieutenant, & Talon Warriors) | Dollmaker
Batman Unlimited: Animal Instincts: Animalitia (Penguin, Killer Croc, Man-Bat, Cheetah & Silverback)
Batman Unlimited: Monster Mayhem: Joker | Scarecrow | Clayface | Silver Banshee | Solomon Grundy
Batman: Bad Blood: League of Assassins (Talia al Ghul, The Heretic, Onyx, Firefly, Tusk, Mad Hatter, Electrocutioner, Hellhound, Calculator, & Killer Moth) | Black Mask
Batman: The Killing Joke: Joker | Vinnie & Joe | Paris Franz
Batman Unlimited: Mechs vs. Mutants: Penguin | Mr. Freeze | Cheetah | Hush | Mad Hatter | Two-Face | Bane | Chemo | Killer Croc | Clayface | Joker | Dr. Kirk Langstrom
Batman: Return of the Caped Crusaders: Joker | Penguin | Riddler | Catwoman | Archer | Black Widow | Bookworm | Clock King | Egghead | False Face | King Tut | Louie the Lilac | Mad Hatter | Minstrel | Mr. Freeze | Sandman | Shame | Siren
Batman and Harley Quinn: Harley Quinn | Poison Ivy | Floronic Man
Batman vs. Two-Face: Two-Face | Hugo Strange | Catwoman | King Tut | Bookworm | Joker | Penguin | Riddler | Clock King | Egghead | Mr. Freeze | Shame | Harley Quinn
Scooby-Doo! & Batman: The Brave and the Bold: Riddler | Clayface | Joker | Mr. Freeze | Catwoman | Penguin | Harley Quinn | Poison Ivy
Batman: Gotham by Gaslight: Jack the Ripper | Barbara-Eileen Gordon | Selina Kyle | Harvey Dent | Hugo Strange
Batman Ninja: Joker | Harley Quinn | Catwoman | Gorilla Grodd | Bane | Penguin | Poison Ivy | Deathstroke | Two-Face
Batman vs. Teenage Mutant Ninja Turtles: Foot Clan (Shredder & Baxter Stockman) | League of Assassins (Ra's al Ghul & Ubu) | Joker | Penguin | Harley Quinn | Mr. Freeze | Scarecrow | Two-Face | Poison Ivy | Bane
Batman: Hush: Riddler/Hush | Catwoman | Poison Ivy | Bane | Joker | Harley Quinn | Clayface | Scarecrow | Lex Luthor | Lady Shiva | Two-Face | Penguin | Mr. Freeze | Thomas Elliot
Batman: Death in the Family: Jason Todd | Joker | Black Mask | Ra's al Ghul | Riddler | Talia al Ghul | Cheetah | Two-Face
Batman: Soul of the Dragon: Nāga | Kobra (Jeffery Burr, Schlangenfaust, Lady Eve, King Snake & Rip Jagger) | Ben Turner | Shiva | Richard Dragon | Jade
Batman: The Long Halloween: Holiday | Falcone Crime Family (Carmine Falcone, Milos Grapa, Alberto Falcone, Johnny Viti, & Sofia Falcone) | Two-Face | Joker | Solomon Grundy | Salvatore Maroni | Poison Ivy | Penguin | Scarecrow | Mad Hatter | San Ho Hui (Mickey Chen) | Calendar Man | Catwoman

Television
Batman 60s show
Joker | Penguin | Catwoman | Riddler | Mr. Freeze | The Archer | Black Widow | Bookworm | Egghead | Clock King | Queenie Goldstein | Sandman | Dr. Cassandra Spellcraft | Cabala | Minstrel | Shame | False Face | The Siren | Undine | Chandell & Harry | King Tut | Louie the Lilac | Mad Hatter | Cornelia | Baby Jane Towser | Lydia Limpet | Zelda the Great | The Puzzler | Olga, Queen of Cossacks | Marsha, Queen of Diamonds | Lord Marmaduke Ffogg | Lady Penelope Peasoup | Ma Parker | Freddy the Fence | Lola Lasagne | Nora Clavicle | Colonel Gumm | Minerva | Killer Moth | Calamity Jan
1970s Filmation series
Joker | Catwoman | Penguin | Riddler | Clayface | Mr Freese | Sweet Tooth
Batman: The Animated Series
Joker | Two-Face | Harley Quinn | Penguin | Catwoman | Rupert Thorne | Riddler | Poison Ivy | Scarecrow | Mad Hatter | Killer Croc | Clayface | Ra's al Ghul | Mr. Freeze | Man-Bat | Ventriloquist and Scarface | Roland Daggett | Clock King | Bane | Hugo Strange | Lloyd Ventrix | Kyodai Ken | Baby Doll | Emile Dorian | Red Claw | Boss Biggis | Sewer King | Talia al Ghul | Maxie Zeus | Lock-Up | Professor Milo | Count Vertigo | Daniel Mockridge | Grant Walker | Gil Mason | Arkady Duvall | Ferris Boyle | Arnold Stromwell | Tony Zucco | H.A.R.D.A.C. | Randa Duane | Batman Clone | Calendar Girl
The Batman (2004)
Joker | Penguin | Bane | Catwoman | Mr. Freeze | Ethan Bennett | Killer Croc | Man-Bat | Firefly | Riddler | Punch & Judy | Kabuki Twins | Hugo Strange | Cluemaster | Ragdoll | Temblor | Poison Ivy | Tony Zucco | Count Vertigo | Harley Quinn | Maxie Zeus | Clayface | Gearhead | Francis Grey | Killer Moth | D.A.V.E. | Dracula | Rumor | Toyman | Mirror Master | Lex Luthor | Black Mask | Sinestro | Joker 2.0 | Prank | Killgore Steed | Team Penguin | Julie | Spellbinder | Blaze | The Joining | Cosmo Krank | Marty Slacker | Scorn | Wrath | Metallo | Shadow-Thief
Batman: The Brave and The Bold
Joker | Music Meister | Catwoman | Penguin | Mr. Freeze | Clayface | Riddler | Poison Ivy | Lex Luthor | Flower Children | Harley Quinn | Morgaine Le Fey | Sweet Tooth | Queenie Goldstein | Bane | Kite Man | Black Manta | Gentleman Ghost | Major Force | Mirror Master | Metallo | Brainiac | Flamingo | Mxyzptlk | Toyman | Thinker | Doctor Sivana | Mister Mind | Black Adam
Beware the Batman
Anarky | Ra's al Ghul | Deathstroke | Harvey Dent | Killer Croc | Simon Stagg | Professor Pyg and Mr. Toad | Man-Bat | Cypher | Magpie | Lady Shiva | Tobias Whale | Phosphorus Rex | Lunkhead | Humpty Dumpty | Silver Monkey | Key | Bethany Ravencroft | Daedalus Boch | Junkyard Dog | Sapphire Stagg | Matatoa | Anatol Mykros
Harley Quinn
Harley Quinn | Poison Ivy | Joker | Scarecrow | Queen of Fables | Darkseid | Parademons | Penguin | Mr. Freeze | Bane | Lex Luthor | Killer Croc | Man-Bat | Riddler | Deadshot | Calendar Man | Condiment King | Solomon Grundy | Kite Man | Doctor Psycho | Clayface | King Shark | Nora Fries | Sy Borgman | Doctor Trap | Frank the Plant | Felix Faust | Toyman | Metallo | Livewire | Parasite | Black Adam | Captain Cold | Gorilla Grodd | Black Manta | Cheetah | Giganta | Sinestro | Maxie Zeus | Eris | KGBeast | Two-Face | Catwoman | Nick Quinzel | Sharon Quinzel
Video Games
LEGO Batman
Joker | Penguin | Riddler | Harley Quinn | Catwoman | Two-Face | Bane | Clayface | Killer Croc | Killer Moth | Mad Hatter | Man-Bat | Mr. Freeze | Poison Ivy | Scarecrow | Ra's al Ghul | Hush
Lego Batman 2: DC Super Heroes
Joker | Lex Luthor | Harley Quinn | Riddler | Two-Face | Catwoman | Bane | Penguin | Poison Ivy | Scarecrow | Captain Boomerang | Clayface | Mad Hatter | Ra's al Ghul | Killer Croc | Bane | Killer Moth | Mr. Freeze | Man-Bat | Hush | Zod | Sinestro | Brainiac | Gorilla Grodd | Captain Cold | Black Manta | Black Adam | Bizarro
Lego Batman 3: Beyond Gotham
Brainiac | Joker | Lex Luthor | Cheetah | Solomon Grundy | Firefly | Killer Croc | Sinestro | Atrocitus | Larfleeze | Star Sapphire | Composite Superman | Bane | Arkillo | Condiment King | Music Meister | Captain Cold | Black Adam | Black Manta | Black Hand | Bronze Tiger Cyborg Superman | Deadshot | Deathstroke | Lobo | Dex-Starr | Doomsday | Gorilla Grodd | Harley Quinn | Hush | Kalibak | Killer Moth | Man-Bat | Mad Hatter | Manchester Black | Metallo | Mr. Freeze | Mr. Mxyzptlk | Parasite | Penguin | Poison Ivy | Polka Dot Man | Red Hood | Riddler | Toyman | The Trickster | Ultra-Humanite | Catwoman | Bizarro | Amanda Waller | Captain Boomerang | El Diablo | King Shark | Killer Frost | Plastique | Terra | Zod | Faora | Joker | Two-Face | Ra's al Ghul | Bane | Catwoman | Scarecrow | Blight | Joker | Mr. Freeze | Arrow Deathstroke | Malcolm Merlyn | Darkseid
Injustice
Superman | Wonder Woman | Yellow Lantern | The Flash | Aquaman | Nightwing | Cyborg | Raven | Solomon Grundy | Catwoman | Bane | Black Adam | Deadshot | Poison Ivy | Scarecrow | Joker | Deathstroke
See Also
Arkhamverse Villains | Batgirl Villains | Batman Beyond Villains | Batwoman Villains | Birds of Prey Villains | Catwoman Villains | Gotham Villains | Harley Quinn Villains | Nightwing Villains | Outsiders Villains | Red Hood Villains | Robin Villains | Telltalle Batman Villains