Tyler Crenshaw was the leader of the Weather Girls in the WB/CW TV series Smallville. She appeared as the main antagonist in the Season Seven episode "Fierce".
She was portrayed by Eva Marcille.
Biography
Past
Tyler Crenshaw was childhood friends with Tempest Drake and Carly Meadows and the three were close growing up. While traveling through the country, Tyler and her friends were caught in the second meteor shower that struck Smallville and the surrounding areas. The meteor rocks mutated Tyler, Tempest and Carly gaining elemental abilities after a thunderstorm. Tyler gained the ability to create ice and manipulate it. As a result of their newly acquired powers, Tyler and the Weather Girls went across the country on a crime spree while entering competitions to steal money and valuables.
Season Seven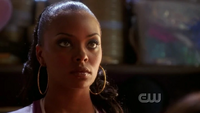 Tyler and the Weather Girls came to Smallville to enter the Miss Sweet Corn beauty contest. Secretly, Tyler plotted to steal a map inside a time capsule after hearing the legend of the treasure which was said to be millions of dollars in gold bars. Tyler caught on to Carly's plan to steal the treasure of Smallville for herself and used her powers to freeze her to death in a flower shop. While rehearsing at the Talon, Tyler told Tempest that she "took care" of Carly. In an attempt to fit in, Kara Kent entered the pageant and asked the pair for beauty tips but Tyler ignored her. Upset by their hostility, Kara left and walked past the flower shop where she spots the frozen corpse of Carly. After a rehearsal, Tyler and Tempest went to a back room and talked about Carly and sticking to the plan of using the pageant as a distraction. Jimmy Olsen snapped a photo of them and Tyler went after him.
As Jimmy got into his car, cold air and ice started filling it up through the vents; everything including Jimmy starts to freeze. He was unable to get out, but he saw Tyler in his rear view mirror. Just as Jimmy passed out, Kara ripped the door of the car off its hinges, saving him and Tyler witnessed this act. Kara went back to the Talon backstage to pack her things when Tyler and Tempest came in and tell her that they know she has powers. They ask her for help in getting the time capsule, showing her a photo of the time capsule. Kara spotted a picture of a Kryptonian medallion in the photo and agrees to help. Thinking she had to get to the map before anyone else, Kara broke into the time capsule, betraying Tyler and Tempest.

Villains
Protagonists