She-Hulk Trailer Dropped - The Loop
Play Sound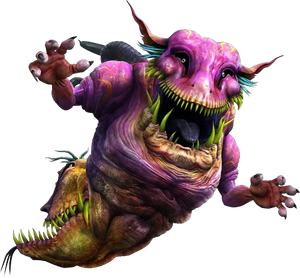 | | | |
| --- | --- | --- |
| " | I was drowsing the other day when Mr. Chupon gnawed on my head! He needed something to polish his teeth on! | " |
| | ~ Ultros, on Typhon. | |
Typhon (originally known as Chupon) is a minor villain from Final Fantasy VI. The best friend of Ultros, this weird monster has a constant cold. His signature attack, Snort, blows away a party member for the rest of the battle. Though originally from Final Fantasy VI, he has made other appearances in the series.
Biography
Final Fantasy I
Typhon appears in the Dawn of Souls and all following releases as a boss on the 10th floor of the Whisperwind Cove. Instead of removing a party member from the battle, Typhon's Snort instead kills them. Since it is non-elemental, it cannot be guarded or avoided. Upon defeat, he drops a Genji Helm.
Final Fantasy VI
Typhon makes his first appearance as a boss. When the Returners approach the Floating Continent on the Blackjack, Typhon attacks them with Ultros on his back. Once the two are defeated, Typhon sneezes, blowing everyone off the airship.
After the end of the world, Typhon can be fought in the Dragon's Neck Colosseum, where he appears whenever a useless item is betted. He is difficult to defeat due to him using Snort whenever he gets a turn, but if defeated, he drops an Elixer.
Final Fantasy VII
Typhon is an optional summon, with his Summon Materia being found in the Ancient Forest. He costs 160 MP to summon and uses Disintegration to inflict fire, ice, lightning, and earth damage on all enemies.
Final Fantasy XIII-2
Typhon can be fought in the Coliseum in the DLC, appearing in the "Uninvited Invertibtate" mission, where Ultros will summon him after Serah and Noel defeat him once. Upon defeat, Typhon can be recruited in the Paradigm Pack as a Commando unit.
Final Fantasy XIV
In the Hildibrand Manderville sidequests for patch 2.4, Typhon appears in Master Fygreis' Coliseum. Due to his allergies for uncooked truffles, Ultros uses Typhon to make it look like Avia could use Tempest Blade. Once the trick was exposed, Ultros convinces Doue Meadow to let him and Typhon fight their frustrations on the player in the Dragon's Neck arena. After defeating them, Typhon can be seen attending the award ceremony before sneezing, blowing Ultros and Gilgamesh away.
Theathythm: Final Fantasy Curtain Call
Typhon also appears as an enemy during Battle Music Sequences.
Gallery
Trivia
Typhon yells "Fungah!" before using Snort.