✓



Click To Help Dr. Wily!

Dr. Wily has declared that this article is still under construction.
Please don't delete or edit this article yet, it may contrast with the original author's edits.
After I finish this article, the world will be mine! MWAHAHAHAHA!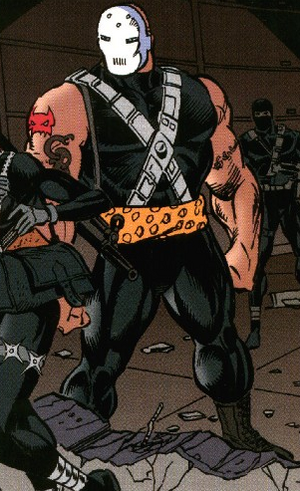 Ubu is a loyal servant and second in command of Ra's Al Ghul and a minor villain in the Batman comics. He acts as the Supreme Brother of the Brotherhood of Demons.
History
When Ra's Al Ghul decided to retire, Ubu and his master searched for a worthy replacement as the head of the League of Assassins around the world. After determining Batman as a possible successor, Ubu participated in a staged kidnapping of Ghul's daughter Talia in order to enroll Batman's services. Ubu and Ghul took Batman across the planet to find the "missing" Talia. However, Batman caught on to the plan and decisively beat him in combat.
TV History
Batman: The Animated Series
Like the comic books, Ubu is a loyal henchman of Ra's al Ghul.
Gallery
Trivia
Bane once took the mantle as Ubu.
Ubu is black in the cartoon show Batman:The Brave and The Bold.

Villains
Community content is available under
CC-BY-SA
unless otherwise noted.