Jurassic World: Dominion Dominates Fandom Wikis - The Loop
Play Sound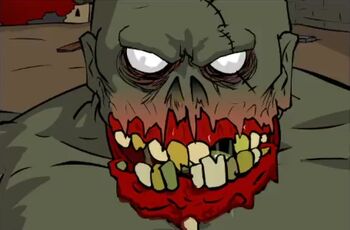 The nameless Undead Giant is an antagonist in the Paladin series. Unlike most of his contemporaries, the Giant proved to be a challenge for the Paladin and he would have won if not for Fendhar. the god of strength, intervening.
Biography
As Auron ascended into the world from his sanctuary for the first time, he found a world consumed by darkness. Skies red and an army of undead, Auron put all his training into good use, hacking and slashing all undead who came in his way. These minions would prove to be no challenge until a different one among them emerged.
A tall and buff giant with a mask appeared before him, ready to face against the hero. Their battle began when Auron charged the giant and the giant responded by slamming his fist towards him. Seeing the blow, Auron jumped out of the way and ended behind the giant, slashing his left shoulder. The angered giant turned around and attempted to charge him, but Auron jumped behind him. Auron then proceeded to jump on his back, but a quick reaction from the giant grabbed him by the chest and shoved him aside, injuring the Paladin in the process. The giant then proceeded to grab a nearby boulder and threw it at Auron, but the Paladin managed to dodge it. An injured Auron held his sword with one hand, trying to tuck his injured gut with the other. Seeing the weakening holy warrior, the giant charged towards him and with quick thinking, Auron avoided the behemoth and cut his mask in half, revealing his grotesque features. An even angrier giant now charged at the paladin and before he had time to react, the giant grabbed him by his hair and lifted him in the air. Before being able to give a final blow, Auron cut his hair with his sword and landed on the ground. Feeling tired and exhausted, the Paladin fell unconscious to the ground.
Following a conversation he had with Fendhar, Auron reawakened with new blessed armor and a will to fight back. A now injured and distracted giant now found himself impaled by the Sword of Ancients, the Paladin's weapon.