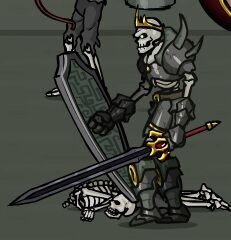 The nameless Undead King is an antagonist in the Paladin Series. Being found in the catacombs, the king had died long before the arrival of Kognor.
Biography
As Auron traveled around searching for Radiel the Necromancer, he stumbled upon a talking crow named Melahn. The bird informed the Paladin that he used to be a man before being turned into a crow and that the man-creature in the stone tower did this to him. Seeing that the Paladin planned to go after him, Melahn insisted on going through the catacombs instead of the front gate in order to avoid the hordes of undead at the entrance.
When entering the catacombs, Auron and Melahn found themselves surrounded by walking skeletons. After defeating and making their way to the end of the tomb, the two are confronted by the Undead King, a skeletal warrior with the powers of necromancy.
Using his swordsmanship and necromantic powers, he raised his fallen soldiers to his side while also pushing the hero back with his skills. Unfortunately for him, it was not enough to beat the Paladin and he fell before the mighty holy warrior.