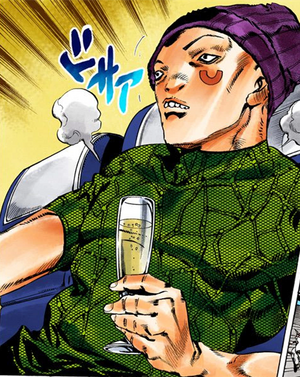 Ungalo is an antagonist in JoJo's Bizarre Adventure: Stone Ocean. He is one of Dio Brando's illegitimate sons, conceived with Jonathan Joestar's stolen body, along with Rikiel, Donatello Versus, and Giorno Giovanna. This also makes him Jonathan's son, and thus Jolyne Cujoh's great great great uncle.
His Stand, Bohemian Rhapsody, allows him to bring out fictional characters into reality.
Personality
Ungalo inherited some of his father's worst traits, including general sadism and a desire for revenge against the world. He is also a drug addict and is angered quite easily.
History
Prior to going to Florida (drawn by Enrico Pucci's "gravitational force"), Ungalo was a drug addict who lived a life of despair, not yet aware of his Stand ability Bohemian Rhapsody. Ungalo is first introduced holding a pair of scissors to Pucci's neck. Pucci, however, calmly explains that there is a certain "gravitational force" that attracts certain people together. In response to this, Ungalo impales Pucci through the throat, but Pucci somehow stays alive, going on to explain that Ungalo missed a vital nerve by a millimeter. Pucci then suggests that Ungalo use his energy for wiser things than drugs. At this moment the police officers shoot at him and he is miraculously dragged away by the stick figure in a nearby "Do Not Walk" sign.
For the remainder of the fight Ungalo was unseen, as he activated Bohemian Rhapsody to bring fictional characters to life, where they run amok in the world. He travels in a plane, drinking wine and enjoying hearing of the chaos his newfound power causes, claiming it as revenge against the whole world for the miserable life he had.. However, he is distracted by a cheerful girl reading from a Peter Pan book, and realizes that his Stand was already defeated. Ungalo subsequently loses his will to live upon realizing that he will be reverting back to his hopeless life.
Ungalo is seen again among his other half-brothers Donatello Versus and Rikiel. His stable mental state implies this discussion had happened before he had boarded the plane and allowed Bohemian Rhapsody to run amok.
Community content is available under
CC-BY-SA
unless otherwise noted.