Doctor Strange in The Multiverse o Madness - The Loop
Play Sound

✓
| | |
| --- | --- |
| | This Article Contains Spoilers - WARNING: This article contains major spoilers. If you do not wish to know vital information on plot / character elements in a story, you may not wish to read beyond this warning: We hold no responsibility for any negative effects these facts may have on your enjoyment of said media should you continue. That is all. |
This article's content is marked as Mature
The page Mature contains mature content that may include coarse language, sexual references, and/or graphic violent images which may be disturbing to some. Mature pages are recommended for those who are 18 years of age and older.


If you are 18 years or older or are comfortable with graphic material, you are free to view this page. Otherwise, you should close this page and view another page.
| | | |
| --- | --- | --- |
| " | This is satisfaction... I've finally found something that drives me! All I've done up 'till now is wander around aimlessly, just sinking lower and lower without knowing why... But now, I get it! I existed for this ability. I don't need drugs anymore! I'll protect the priest with my life! And my Stand... Bohemian Rhapsody! It's so awesome! It's so f***in' satisfying to see a world that treated me like shit fall into chaos and despair!! | " |
| | ~ Ungalo | |
Ungalo is a minor antagonist in JoJo's Bizarre Adventure: Stone Ocean. He is one of Dio Brando's illegitimate sons, conceived with Jonathan Joestar's stolen body, along with Rikiel, Donatello Versus, and Giorno Giovanna. He serves as one of Enrico Pucci's minions, wielding the Stand Bohemian Rhapsody.
Personality
Ungalo inherited some of his father's worst traits, including general sadism and a desire for revenge against the world. He is also a drug addict and is angered quite easily.
Biography
Prior to going to Florida (drawn by Enrico Pucci's "gravitational force"), Ungalo was a drug addict who lived a life of despair, not yet aware of his Stand ability Bohemian Rhapsody. Ungalo is first introduced holding a pair of scissors to Pucci's neck. Pucci, however, calmly explains that there is a certain "gravitational force" that attracts certain people together. In response to this, Ungalo impales Pucci through the throat, but Pucci somehow stays alive, going on to explain that Ungalo missed a vital nerve by a millimeter. Pucci then suggests that Ungalo use his energy for wiser things than drugs. At this moment the police officers shoot at him and he is miraculously dragged away by the stick figure in a nearby "Do Not Walk" sign.
For the remainder of the fight, Ungalo was unseen, as he activated Bohemian Rhapsody to bring fictional characters to life, where they run amok in the world. He travels in a plane, drinking wine and enjoying hearing of the chaos his newfound power causes, claiming it as revenge against the whole world for the miserable life he had. However, he is distracted by a cheerful girl reading from a Peter Pan book, and realizes that his Stand was already defeated. Ungalo subsequently loses his will to live upon realizing that he will be reverting back to his hopeless life.
Ungalo is seen again among his other half-brothers Donatello Versus and Rikiel. His stable mental state implies this discussion had happened before he had boarded the plane and allowed Bohemian Rhapsody to run amok.
Powers and Abilities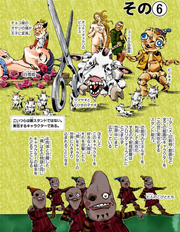 | | | |
| --- | --- | --- |
| " | Bohemian Rhapsody is the song of freedom... | " |
| | ~ Pinocchio, one of the members of Bohemian Rhapsody. | |
With Bohemian Rhapsody, Ungalo is able to cause fictional characters from any drawn media to be suddenly brought to life, free to roam the Earth and cause chaos. If a person meets a character they personally like, said person's soul becomes the character in question, as they desire to live out their days as said character in question. This power of it can be a serious threat, especially if said character the soul is trapped in dies in their media. On top of this ability, every character is made of the same material their work is made from (thus making them hard to destroy), the works they come from can not be altered to saved the trapped souls, the characters are able to teleport by folding objects into portals or walkways, have a range that can stretch across the entire world, and can drag even those unknown to or having a different opinion on a character into the role. Despite its extreme power, there are several drawbacks. These include souls being able to use Stands, the destruction of the character removing their image from the work they come from, some people possibly being immune to the effects if they have little or no knowledge on a character, and the Stand itself can be defeated if someone makes a character able to return the various entities Bohemian Rhapsody made to their works (as Weather did when he created Put Back.).