Jurassic World: Dominion Dominates Fandom Wikis - The Loop
Play Sound

✓
This Villain was proposed and approved by Villains Wiki's Pure Evil Proposals Thread. Any act of removing this villain from the category without a Removal Proposal shall be considered vandalism (or a futile "heroic" attempt of redemption) and the user will have high chances of being terminated blocked. You cannot make said Removal Proposal without permission from an admin first.
Additional Notice: This template is meant for admin maintenance only. Users who misuse the template will be blocked for a week minimum.

| | | |
| --- | --- | --- |
| " | You cannot save yourself from me. I am as inevitable as destiny. | " |
| | ~ Unicron to Galvatron in War for Cybertron: Kingdom. | |
Unicron is the overarching antagonist of the Transformers franchise. He is a giant cosmic Cybertronian god who serves as a multiversal singularity desiring to find peace by consuming and destroying all reality around him, as well as the twin brother and arch-nemesis of Primus, the creator of the Transformers.
Throughout animation, Unicron was voiced by the late Orson Welles in 1986's Transformers: The Movie and Roger C. Carmel in The Transformers Season 3, Mark Acheson in Transformers: Armada, David Kaye (while possessing Megatron) in Transformers: Energon, and John Noble in Transformers: Prime.
Appearance
In his original, divine form, Unicron is depicted as an armored warrior, including a horned helmet, and wielding a spiked mace. This is exclusive to the G1 Marvel comics.
Unicron has a robotic version of pretty much the same shape - humanoid, but made of metal, with horns and spikes and massive skeletal wings. In robot mode, Unicron is more than half as tall as Cybertron's diameter; even in the smallest version, therefore, he is about a thousand miles in height, while taken as the largest version he would stand over forty thousand miles tall.
His planet mode looks like a giant, mechanical world with a metal ring and a circular mouth with immense, horn-like crushing mandibles, capable of tearing a planet's crust open. His size as a living planet is a matter of contention, but he is typically about a quarter of the diameter of Cybertron which, depending on the version, is the size of Saturn or smaller than Earth's moon.
Characteristics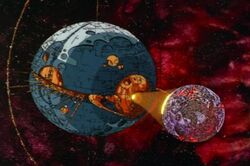 Unicron is the eternal archenemy of his twin brother Primus. He is known as the Dark God, the Chaos Bringer, and the Planet Eater, and he is dedicated to consuming the multiverse. His goal is to bring an end to the annoying creation boasting independence around him and find peace by becoming the living center of a swirling, infinite torrent of nothingness at the end of all things. To undertake this seemingly overwhelming task, Unicron is able to travel across realities at will, a meandering plague upon existence itself. Integrated into his systems are incomprehensible quantum computers which calculate probabilities forward and backwards in time, in perpetuity, giving his processors an ever-changing, evolving map of the multiverse.
The only thing that he fears is Primus' essence, contained inside the Matrix.
Frequently, Unicron will make deals with lesser beings, giving them vast new powers in exchange for their servitude. These minions are sometimes stripped entirely of their free will, but others follow him willingly. However, Service to Unicron is a double-edged sword, for it causes insanity and loss of self. And in the end, no matter their intent, Unicron's plans ultimately call for their consumption as well.
Unicron fulfills his mission one world at a time, by physically traveling through space - at speeds greater than light speed - and consuming planets, preferably life-bearing ones, and breaking them down to energy so that there is not even debris left. Sometimes, he transforms former denizens of planets and gives them immense additional powers; but they are Unicron's slaves, constantly under his control. Once Unicron has emptied a universe of life and matter - it is intimated he can even feed on stars - he moves on to the next, and he will continue to do this until all that is not part of him has become a part of the void - has become nothing.
But what he fears that the only way for him to be destroyed is the Autobot Matrix of Leadership which is the only weapon and key to kill him once and for all.
Powers and Abilities
Master Manipulation: Unicron is able to manipulate other beings by making unfair deals with them, and giving them powers. However, he also desires to consume them.
Transforming: Unicron is able to transform himself. He is a deity but can turn into a giant mechanical robot which can transform into a world which consumes other worlds.
Consumption: Unicron, in his planetary form, can consume entire worlds and all the life living on them. In The Transformers: The Movie, he was also able to consume Galvatron in his robotic form, simply by picking him up and dropping him into his mouth.
Immortality: Due to him being a deity like Primus, Unicron is immortal, and cannot die of old age nor cannot be destroy or eradicated from existence.
Dark Energon: Dark Energon is Unicron's life blood. His blood has the ability to reanimate the deceased Cybertronians into Terricons. For a living Cybertronian who possessed his blood who temporarily died, Unicron blinded them into his anti-spark and used their blood as a vessel.
Weakness
The Autobot Matrix of Leadership The Autobot Matrix of Leadership's power is the only key and weapon to destroy Unicron and end him for life. Unfortunately Unicron can only be delay by the Matrix of Leadership nor he cannot die he will simply regenerate in another universe.
Quotes
The Transformers: The Movie
"
Unicron: Megatron… Megatron… welcome, Megatron!
Megatron: Who… who said that?
Unicron: I… am Unicron.
Megatron: Show yourself!
Unicron: I have summoned you here for a purpose.
Megatron: No one summons Megatron!
Unicron:Then it pleases me to be the first.
"
~ Unicron meeting a badly wounded Megatron.
"
Unicron: This is my command: you are to destroy the Autobot Matrix of Leadership. It is the one thing, the only thing that can stand in my way.
Megatron: You have nothing to fear. I've already crushed Optimus Prime with my bare hands!
Unicron: You exaggerate.
Megatron: The point is he's dead, and the Matrix died with him!
Unicron: No, the point is you're a fool! The Matrix has been passed on to their leader… Ultra Magnus. Destroy it for me.
"
~ Unicron giving Megatron a new assignment.
"
Unicron: Your bargaining posture is highly dubious… but very well, I will provide you with a new body and new troops to command.
Megatron: And?
Unicron: And NOTHING! You belong to me now.
Megatron: I belong to NOBODY!!
Unicron: Perhaps I have misjudged you. Proceed… on your way to oblivion.
Megatron: AAAAAH!!! NO, NO!! I ACCEPT YOUR TERMS!!! I ACCEPT!!!
Unicron: Excellent!
"
~ Unicron forcing Megatron to swore an allegiance to him.
"
Unicron: Behold… Galvatron! And these shall be your minions… Scourge the tracker, and his henchmen, the Sweeps. Cyclonus the warrior, and his armada. And this… shall be your ship. Now go… destroy the Autobot Matrix.
Galvatron: I will rip up Ultra Magnus and every other Autobot until the Matrix has been destroyed! To Cybertron!
Unicron: Destroy the Matrix!
"
~ Unicron transforming Megatron into Galvatron before sending him and his forces off.
"
Galvatron: Unicron! Why did you torture me?!
Unicron: You have failed!
Galvatron: No, Unicron! Ultra Magnus is dead, and the Matrix destroyed!
Unicron: The Matrix has not been destroyed, and Ultra Magnus lives on the planet of Junk, stalk him, tear him apart, and destroy the Matrix!
"
~ Galvatron Has Failed Unicron.
"
Galvatron: Unicron! UNICRON! See this? The Matrix! I now have that which you most fear! You will do my bidding, or TASTE MY WRATH!
Unicron: You underestimate me, Galvatron.
"
~ Unicron berating Galvatron for his attempted betrayal.
| | | |
| --- | --- | --- |
| " | For a time… I considered sparing your wretched little planet Cybertron… but now, you shall witness… ITS DISMEMBERMENT!! | " |
| | ~ Unicron to Galvatron before attempting to destroy Cybertron. | |
| | | |
| --- | --- | --- |
| " | Destroy him, Galvatron. NOW!! OR YOU YOURSELF SHALL BE OBLITERATED!! | " |
| | ~ Unicron mentally torturing Galvatron to kill Hot Rod. | |
| | | |
| --- | --- | --- |
| " | Destiny… you cannot destroy… MY DESTINY!!! | " |
| | ~ Unicron's last words. | |
War for Cybertron Trilogy
| | | |
| --- | --- | --- |
| " | You will suffer for this moment of treachery. | " |
| | ~ Unicron chastising Galvatron in War for Cybertron: Earthrise. | |
| | | |
| --- | --- | --- |
| " | Using the Dead Universe to move through time was a foolish risk. Nevertheless, it has given me ideas. So... I shall begin... again. | " |
| | ~ Unicron speaking to Galvatron and Nemesis Prime in the final scene of "War for Cybertron: Kingdom". | |
Unicron (G1 Cartoon)
Main article:

Unicron (G1 Cartoon)
Unicron Trilogy Universe
Main article:

Unicron (Unicron Trilogy)
Bayverse
Main article:

Unicron (Bayverse)
Aligned Universe
Main article: Unicron (Transformers: Prime)
IDW Comics
Main article: Unicron (IDW Comics)
Prime Wars Trilogy
Main article: Unicron (Prime Wars Trilogy)
Trivia
Although Megatron/Galvatron is responsible for driving the entire plot of the Transformers series, Unicron is shown to be the most dangerous villain, because he would choose to destroy Cybertron (and all reality) rather than taking it over.
Unicron's name is a play of the word "unicorn".
In 2004, Unicron was said to be a "Multiversal singularity", meaning that in all universes, Unicron was the same dimension hopping entity, despite their different origins. However, due to how complicated the concept was, it was eventually written out in 2015 as a result of an in-story multiversal event known as the Shrouding.
Unicron is Satan/The Devil/Anti-God of the Transformers Multiverse.
External links

Villains
Animated Features
Holli Would | The Goons | Beavis and Butt-head | Dallas Grimes | Muddy Grimes | Principal McVicker | Angelica Pickles | Eric Cartman | Saddam Hussein | Sheila Broflovski | Satan | Mr. Garrison | Chef | Randy Marsh | Shelly Marsh | Gerald Broflovski | Coco LaBouche | Jean-Claude | Robosnail | King Goobot | Ooblar | Poultra | Alphonse Perrier du von Scheck | Nick Vermicelli | Big Bob Pataki | Sloan Blackburn | Bree Blackburn | Poachers | Siri | Sheldon Plankton | Karen Plankton | Mr. Krabs | Dennis | Cyclops | Victor | Boat Jacker | The Thug Tug Gang | Kim Jong-il | Film Actor's Guild (Alec Baldwin) | Vincent | Gladys Sharp | Dwayne LaFontant | Dag | Nora Beady | Coyotes | The Toad | Le Frog | Spike & Whitey | Thimblenose Ted | Fat Barry | Ladykiller | Henchfrogs | Prince Charming | Rapunzel | Pirates (Captain Hook) | Evil Queen | Cyclops | Headless Horseman | Stromboli | Steve and Ed | Mabel | Black Knights | Witches | Gnomes | Layton T. Montgomery | Ken | Grendel | Grendel's Mother | Dragon | Tai Lung | Criminals | Makunga | Teetsi | Nana | Tour Guide | Poachers | Gallaxhar | Robot Probes | Red Death | Rumpelstiltskin | Griselda | Baba | Pied Piper | Megamind | Minion | Tighten | Tortoise John | Rattlesnake Jake | Bad Bill | Hawk | Balthazar Douglas Peterson | Lord Shen | Lord Shen's Wolf Army (Boss Wolf) | Jack and Jill | Humpty Alexander Dumpty | Maybelle | Ivan Ivanovitch Sakharine | Allan | Tom | Pedro | Falcon | Aristides Silk | Red Rackham | Chantel DuBois | DuBois' Men | Max Mordon | Kopponen | Odysseus Inc. | Pitch Black | Nightmares | Burger-Beard | Jack Rackham | Moriarty | Reggie and Ronnie | Chimpanzombies | King Poseidon | El Diablo | Mayor Humdinger | Kitten Catastrophe Crew | Ruben and Butch | Tentacular | Jimothy Brett-Chadley III | Lady Mayhem
Live-Action Films
Frank | Pod People | Arthur Slugworth | Emilio Barzini | Emilio Barzini Jr. | Fabrizio | Jack Woltz | Luca Brasi | Francesco Ciccio | Carmine Cuneo | Michael Corleone | Vito Corleone | Sonny Corleone | Fredo Corleone | Connie Corleone | Vincent Corleone | Peter Clemenza | Carmine Cuneo | Don Fanucci | Paulie Gatto | Archbishop Gilday | Moe Greene | Tom Hagen | Rocco Lampone | Licio Lucchesi | Mark McCluskey | Al Neri | Frank Pentangeli | Carlo Rizzi | Hyman Roth | Virgil Sollozzo | Victor Stracci | Philip Tattaglia | Bruno Tattaglia | Salvatore Tessio | Joey Zasa | Petrox Corporation (Fred Wilson) | Orca | Captain Nolan | Leo Balmudo | Mr. Firat | Assassins (Moras) | Katahdin | Pamela Voorhees | Bluto | The Miner (Axel Palmer) | Jason Voorhees | Vermithrax Pejorative | Tyrian | Adolf Hitler | René Belloq | Major Arnold Ernst Toht | Herman Dietrich | Gobler | German Mechanic | Otto | Satipo | Barranca | Mola Ram | Chief Guard | Chattar Lal | Lao Che | Eh Tar | Mrs. Dribb | Victor Maitland | Curly Shepard | Tim Shepard | Texan Thugs | Maxwell Dent | Karla Fry | Walter Donovan | Elsa Schneider | Ernst Vogel | Panama Hat | Garth | Koji Sato | Carl Bruner | Willy Lopez | Don Altobello | Abigail Craven | Tully Alford | Benjamin Oliver | Holli Would | The Goons | Bobby Cahn | Debbie Jellinsky | Gary and Becky Granger | Amanda Buckman | Mr. Curran | Ellis DeWald | Orrin Sanderson | Steve Fulbright | Paul Barish | Beverly Barish Burns | King Edward I | Prince Edward | Robert de Brus | Craig | Mornay | Marion Hawthorne | Agatha K. Plummer | Governor Tracy | Aaron Stampler | John Shaughnessy | Archbishop Richard Rushman | Jim Phelps | Franz Krieger | Max Mitsopolis | Claire Phelps | Matthias | Sala | Sky Bandits | Xander Drax | Charlie Zephro | Skulls of Touganda | Quill | Singh Brotherhood (The Great Kabai Sengh, The Evil Kabai Sengh & Kabai Sengh) | Ray Zephro | Styles | Jack Farley | Morgan | Breen | Castor Troy | Pollux Troy | Kurt Bozwell | Troy and Griffin | Roxanne | Dr. William Weir | Cal Hockley | Spicer Lovejoy | Ruth DeWitt Bukater | Christof | Steamboat Willie | Kevin Dunne | Lady Van Tassel | Headless Horseman | Reverend Steenwyck | Sean Ambrose | Hugh Stamp | John C. McCloy | Wallis | Ulrich | Michael | Simon | Jacobim Mugatu | Henry Gates | Richard and Jay | James Rethrick | Madame Vandersexxx | Claire Wellington | Vincent | Paco | Felix Reyes-Torrena | Jed Parry | Plankton | Karen Plankton | Mr. Krabs | Dennis | Cyclops | Victor | Boat Jacker | The Thug Tug Gang | Count Olaf | Hook-Handed Man | Henchperson of Indeterminate Gender | Bald Man | White-Faced Women | Zateb Kazim | Yves Massarde | Zakara | Martians | Owen Davian | John Musgrave | Brownway | Kimbrough | Ramses | Brooks & Elwyn | Curtis Taylor, Jr. | Jean-Baptiste Grenouille | Norbit's Parents | Rasputia Latimore | Big Black Jack Latimore | Blue Latimore | Earl Latimore | Deion Hughes | Buster Perkin | Stranz Van Waldenberg | Fairchild Van Waldenberg | Katie Van Waldenberg | Robert Turner | Megatron | Decepticons (Starscream, Barricade, Frenzy, Blackout, Scorponok, Bonecrusher, Brawl, & Dispensor) | Charles Meachum | Issac Johnson | Mikhaylo Sczerbiak | Officer Timmons | Lila Cantrow | Assef | Sweeney Todd | Mrs. Lovett | Judge Turpin | Beadle Bamford | Jonas Fogg | Adolfo Pirelli | Clover | Parasites | Mulgarath | Red Cap | Goblins | Mole Troll | Lindsay Marlings | Predatory Vines | Irina Spalko | Antonin Dovchenko | George McHale | Tran | Les Grossman | ARIIA | Jake | Max | Anna Ivers | Jason Voorhees | Ozymandias (Watchmen) Romulans (Nero, Ayel) | The Fallen | Decepticons (Soundwave, Sideways, Grindor, Ravage, Alice, & Scalpel) | Constructicons/Devastator (Demolishor, Rampage, Long Haul, Mixmaster, Scrapper, & Scavenger) | Theodore Galloway | Cobra Commander | COBRA/M.A.R.S. Industries (Destro, Storm Shadow, Baroness, Zartan, Dr. Mindbender & Cobra Troopers) | George Harvey | Fire Nation (General Zhao, Ozai & Zuko) | Therman Murch | Darla | Sentinel Prime | Decepticons (Dylan Gould, Laserbeak, Shockwave, Driller, Igor, Watch-Out, Crankcase, Crowbar & Devcon) | Kurt Hendricks | Marius Wistrom | Sabine Moreau | Brij Nath | Bogdan Anasenko | The Zec | Charlie | Emerson | Muriel | Firefly | Zandar | Jordan Belfort | Donnie Azoff | Gordon Gekko | Colonel Nelec | Cooper | Khan Noonien Singh | Alexander Marcus | Zombies | Harold Attinger | Cemetery Wind (Lockdown, James Savoy, Steeljaw, & Shadow Raiders) | Kinetic Solutions Incorporated (Joshua Joyce, Stinger & KSI Drones) | The Creators | Noah | Tubal-Cain | Shredder | Foot Clan (Eric Sacks & Karai) | Dr. Mann | Burger-Beard | The Syndicate (Solomon Lane, Janik Vinter, Kagan, Saif, Richter, & Atlee) | T-3000 | T-5000 | T-1000 | T-800 | Skynet | Howard Stambler | Krang | Baxter Stockman | Bebop and Rocksteady | Krall | Manas | General James Harkness | The Hunter | Reece Tenneson | Burke | Quintessa | Infernocons | Decepticons (Nitro Zeus, Mohawk, Berserker, Onslaught & Dreadbot) | Transformers Reaction Force (Commander Santos) | Unicron | Death Angels | August Walker | White Widow | Zola Mitsopolis | Nils Debruuk | Rev-9 | Legion | Shatter | Dropkick | Blitzwing | Agent Jack Burns | Dr. Powell | Alejandro Gutierrez | Swiper | Powell | Viper | Christina X | Clayton Verris | Dr. Robotnik | Agent Stone | Echidna Tribe (Pachacamac) | Lyfegro (Zac Tieran & Colette) | Ghostface | Richie Kirsche | Amber Freeman | Abigail Fairfax
See Also
Amblin Entertainment Villains | Avatar Villains | Avengers Villains | Beavis and Butt-Head Villains | Beverly Hills Cop Villains | Captain America Villains | Chinatown Villains | Clone High Villains | CSI Villains | Danny Phantom Villains | Dimension Films Villains | DreamWorks Villains | Farrelly Brothers Villains | Friday the 13th Villains | G.I. Joe Villains | Henry Danger Villains | Indiana Jones Villains | Invader Zim Villains | Iron Man Villains | Jack Ryan Villains | Jerry Bruckheimer Villains | Jimmy Neurton Villains | King Kong Villains | Kung Fu Panda Villains | Legendary Entertainment Villains | Lemony Snicket Villains | Lucasfilm Villains | Madagascar Villains | Marvel Cinematic Universe Villains | Miramax Villains | Mission Impossible Villains | N.C.I.S. Villains | Nickelodeon Villains | Nickelodeon Movies Villains | Norbit Villains | Rango Villains | Ridley Scott Villains | Rugrats Villains | Scream Villains | Sherlock Holmes Villains | Shrek Villains | Sleepy Hollow Villains | Sonic the Hedgehog Villains | South Park Villains | SpongeBob SquarePants Villains | Star Trek Villains | Syfy Villains | Sweeney Todd Villains | Terminator Villains | The Addams Family Villains | The Cloverfield Universe Villains | The Fairly OddParents Villains | The Godfather Villains | The Loud House and The Casagrandes Villains | Thor Villains | Tim Burton Villains | TMNT Villains | Transformers Villains | Transformers Cinematic Universe Villains | Village Roadshow Pictures Villains | XXX Villains

Cinematic Universe Villains
Original Continuity

Movies
Transformers: Decepticons (Megatron, Starscream, Barricade, Frenzy, Blackout, Scorponok, Bonecrusher, Brawl & Dispensor)
Transformers: Revenge of the Fallen: Decepticons (The Fallen, Megatron, Starscream, Soundwave, Scorponok, Sideways, Grindor, Ravage, Alice & Scalpel) | Constructicons/Devastator (Demolishor, Rampage, Long Haul, Mixmaster, Scrapper, Hightower, Scavenger & Overload) | Theodore Galloway
Transformers: Dark of the Moon: Sentinel Prime | Decepticons (Megatron, Starscream, Soundwave, Laserbeak, Shockwave, Driller, Watch-Out, Igor, Crankcase, Crowbar, Hatchet & Devcon) | Dylan Gould
Transformers: Age of Extinction: Cemetery Wind (Harold Attinger, James Savoy), Lockdown, Steeljaws & Shadow Raiders | Kinetic Solutions Incorporated (Joshua Joyce, Galvatron, Stinger, & KSI Drones) | The Creators
Transformers: The Last Knight: Quintessa | Infernocons | Decepticons (Megatron, Barricade, Nitro Zeus, Mohawk, Berserker, Onslaught & Dreadbot) | Transformers Reaction Force (Commander Santos) | Unicron
Comics
Transformers: Movie Prequel: Swindle | Dreadwing | Payload | Wreckage
Transformers: The Reign of Starscream: Thundercracker | Ramjet | Stockade | Hardtop | Crankcase
Transformers: Alliance: Fracture | Reverb | Overcast | Jetstorm
Transformers: Defiance: Skywarp | Divebomb
Transformers: Tales of the Fallen: Flatline
Transformers: Nefarious: Rumble | Ratbat | Buzzsaw | Beastbox | Breakdown | Dirt Boss | Ransack | Fortress | Thrust | Skystalker | Tankor | Sonar
Transformers: Foundation: Astrotrain
Transformers: Rising Storm: Fearswoop | Ruination | Deadlift | Bludgeon | Mindwipe | Space Case
Video Games
Transformers: The Game: Megatron (Console, Nintendo DS)
Reboot Continuity
Bumblebee: Decepticons (Shatter, Dropkick, Blitzwing, Soundwave, Ravage, Shockwave, Starscream, Thundercracker, Skywarp & Thrust) | Jack Burns | Dr. Powell