Jurassic World: Dominion Dominates Fandom Wikis - The Loop
Play Sound
The unidentified witch is the unseen overarching antagonist of the Shrek film series.
She was the enchantress who cursed Princess Fiona into a human princess by day and an ogre by night. She has only been referenced and never physically seen, but she is known to have recited a poetic spell when turning Fiona into an ogre at night.
Biography
Background
It is not known exactly why, but when Fiona was little, an unknown witch cursed her to turn into an ogre every day from dusk to dawn.
At some point, Fiona was locked in the tallest tower of a decrepit castle guarded by a dragon, where she waited for a true love's kiss, the only thing that could break the curse placed on her.
Legacy
The witch is never seen in the films but she does play a massive role in them, since Fiona's curse is their driving force. While she is never seen, Fiona mentions her a few times when recounting how she got her ogre form to begin with.
The Poem
Along with the curse, the unknown witch also left a poem for the curse that goes like this;
By night one way
By day another
This shall be the norm
Until you find true love's first kiss
And take love's true form.
Trivia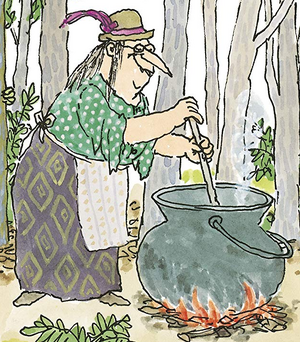 In the original William Steig's 1990 book Shrek!, which inspired the original Shrek film, a witch that brews potions in the forest foretells Shrek's future in exchange for his rare lice, but does not curse anyone. Also, the princess Shrek marries in the end is never named and, although described as uglier than Shrek, is never said to be an ogre nor resembles one.
Even though the witch is never identified or seen, she has the most influence in all four Shrek films.
There have been multiple theories that the witch might have been the Fairy Godmother, but it is all up for speculation.

One theory is that Fairy Godmother claims only 'true love's kiss' can break the curse, which is stated in the spell, but she insists Harold and Lillian must lock Fiona in a tower, and secretly plots with Harold for Prince Charming to save her, as Harold refers to him as 'the man we picked out for her' to his wife. However, Charming is not her true love, but Godmother could easily 'undo' the curse as they kiss or could have slipped Fiona the 'True Love' potion she tried to have Harold give her. She is a potion maker and could very well make one powerful enough for Fiona to be human permanently.
Another theory is that King Harold was in debt to Godmother after she helped him with his "Happily Ever After" by turning him from a frog to a human, sealing his form after Queen Lillian and him shared their first kiss (similar to Shrek and Fiona). She may have set up the entire thing with Harold as payback.

However, Harold and Lillian were willing to go to Rumpelstiltskin to help Fiona from her curse, so Harold may not have known Fairy Godmother was behind it. However, he seems to insist Fairy Godmother's word is true, as only true love's kiss can break her curse rather than signing away his whole kingdom for Fiona.

Fiona says she was cursed when she was a little girl and is able to recite it, so it is possible she may remember being cursed. However, in her diary she wrote as a child, she seems confused by it, as she mentions being disappointed by not being able to go to her friend's slumber party as her father "never lets her outside after sunset" and how she believes that going to the tower of Dragon's Keep will be a "finishing school".

It is also possible she was too young to remember it, but her parents told her when she was old enough.

It was never explained why Fiona was cursed; this may just be another fairy tale trope. A possibility could be that she wanted to get back at Harold and Lillian for some reason much like the evil fairy toward the royal family from Sleeping Beauty for disrespecting her.
The unidentified witch was intended to appear in the first Shrek, likely as the main antagonist, but she was scrapped for unknown reasons, and thus she is only mentioned. In the early drafts, she went by the name "Dama Fortuna".

Villains
Animated Features
General Mandible | Colonel Cutter | Pharaoh Rameses | Hotep and Huy | Baka | Pharaoh Seti I | Tzekel-Kan | Hernán Cortés | Mrs. Tweedy | Mr. Tweedy | Lord Farquaad | Thelonious | Captain of the Duloc Guards | Merry Men (Monsieur Hood) | Unidentified Witch | George Armstrong Custer | The Colonel's Cavalry | Roy, Bill, Jake, Pete and Joe | Eris | Cetus | Roc | Fairy Godmother | Prince Charming | Arm Guards | Elves (Jerome) | Pirates (Captain Hook) | Cyclops | Headless Horseman | Steve and Ed | Witches | Gnomes | Lola | Sharks (Don Lino & Frankie) | Luca | Fossas | Nana | Victor Quartermaine | Philip | Vincent | Gladys Sharp | Dwayne LaFontant | The Toad | Le Frog | Spike & Whitey | Thimblenose Ted | Fat Barry | Ladykiller | Henchfrogs | Rapunzel | Evil Queen | Stromboli | Mabel | Black Knights | Layton T. Montgomery | Ken | Tai Lung | Criminals | Makunga | Teetsi | Tour Guide | Poachers | Gallaxhar | Robot Probes | Red Death | Rumpelstiltskin | Griselda | Baba | Pied Piper | Megamind | Minion | Tighten | Lord Shen | Lord Shen's Wolf Army (Boss Wolf) | Jack and Jill | Humpty Alexander Dumpty | Chantel DuBois | DuBois' Men | Pitch Black | Nightmares | Chunky | Guy Gagné | Ms. Grunion | Maximilien de Robespierre | Ay | Northern Alliance (Drago Bludvist, Drago's Bewilderbeast & Eret) | Octopi (Dave) | The Boov (Captain Smek & Officer Kyle) | Kai the Collector | Chef | Creek | King Gristle Sr. | Francis E. Francis | Eugene Francis | Professor Poopypants | Benjamin Krupp | Melvin Sneedly | Turbo Toilet 2000 | Tara Ribble | Talking Toilets | Bank Robbers | Grimmel the Grisly | Deathgrippers | Warlords | Dr. Zara | Burnish | Goon Leader | Queen Barb | Rock Trolls | The K-Pop Gang | Reggaeton Trolls | Spiny Mandrilla | Punch Monkeys | Hendricks | Dr. Erwin Armstrong | Bellroc | Skrael | Zong-Shi | Mr. Wolf | Mr. Snake | Mr. Shark | Mr. Piranha | Ms. Tarantula | Professor Marmalade | Cuddles
Live-Action Films
The Mouse | Sadako Yamamura | Ocean Entity | Dr. Reingold | Benny | Ruby | Commando Elite (Major Chip Hazard, Butch Meathook, Nick Nitro, Brick Bazooka, Link Static, Kip Killigan, & Gwendy Dolls) | Gil Mars | Steamboat Willie | Vivian Thompson | Frank Fitts | General Roth'h'ar Sarris | Commodus | Jacob | Norman Spencer | Genus | General Granger | General Russell Woodman | Voltan | Morlocks (Über-Morlock) | Lamar Burgess | Connor Rooney | Harlen Maguire | Dietrich Banning | Samara Morgan | Anna Morgan | Galem Burke | Frank Abagnale Jr. | Dean Gordon Pritchard | Larry Quinn | James Rethrick | Madame Vandersexxx | Claire Wellington | Vincent | Paco | Felix Reyes-Torrena | Count Olaf | Hook-Handed Man | Henchperson of Indeterminate Gender | Bald Man | White-Faced Women | Officer LeFlore | Jack Byrnes | Chris Wilton | Martians | Dr. Bernard Merrick | Tom Lincoln | Jackson Rippner | Hatsumomo | Curtis Taylor, Jr. | Jean-Baptiste Grenouille | Norbit's Parents | Rasputia Latimore | Big Black Jack Latimore | Blue Latimore | Earl Latimore | Deion Hughes | Buster Perkin | Stranz Van Waldenberg | Fairchild Van Waldenberg | Katie Van Waldenberg | Robert Turner | Decepticons (Megatron, Starscream, Barricade, Frenzy, Blackout, Scorponok, Bonecrusher, Brawl, Dispensor, The Fallen, Soundwave, Sideways, Grindor, Ravage, Alice & Scalpel) | Constructicons/Devastator (Demolishor, Rampage, Long Haul, Mixmaster, Scrapper & Scavenger) | Lila Cantrow | Assef | Sweeney Todd | Nellie Lovett | Judge Turpin | Beadle Bamford | Jonas Fogg | Adolfo Pirelli | Predatory Vines | Tran | Les Grossman | ARIIA | Jake | Max | Anna Ivers | Theodore Galloway | George Harvey | Hilly Holbrook | Setrakus Ra | Jerry Dandridge | Evil Ed | Tak Mashido | Farra Lemkova | Ricky | Zeus | Julian Assange | Dino Brewster | Deja Thoris | Louis | Carl, Rudy, Stevie and Vern
Animated Television
Fearless Leader | Boris Badenov | Natasha Fatale | Snidely Whiplash | Dr. Blowhole | Coverton | Sta'abi | Johann | Dragon Flyers (Krogan, Mr. Murderous Pile of Yak Dung & Flyer Leader) | Dragon Hunters (Viggo Grimborn, Ryker Grimborn, Cleve, Ingar Ingerman, Dragon Hunter Commander & Fight Master) | Dagur the Deranged | Amos | Gruffnut Thorston | Slitherwings | Firecomb Crasher | Hookfang's Nemesis | D-Structs | Skrap-It | Splitter | Blayde | Pounder | D-Stroy | Goldtrux | Galra Empire (Emperor Zarkon, Prince Lotor, Haggar, Sendak & Lotor's Generals) | Morgana | Gunmar | Angor Rot | Bular | Stricklander | Nomura | NotEnrique | Queen Usurna | Dictatious Maximus Galadrigal | Zoe | Stu | Maria | Patty Pupé | Bloodwolf | The Splotch | Socktopus | Theodore Murdsly | Smartsy Fartsy | Melvinborg | Teachertrons | Croco-bats | Butt-erflies | Dr. Disgruntled | Bootsy Calico | Wendi McCraken | Frederic Estes | Turtleneck Superstar | Happy Sedengry | Odlulu | The Horde (Hordak, Catra, Shadow Weaver, Scorpia, Double Trouble & Entrapta) | Horde Prime | Galactic Horde | Light Hope | First Ones | General Morando | Zeron Alpha | Colonel Kubritz | Gaylen | Cleve Kelso | SH1FT3R (Shashi Dhar & Layla Gray) | Rafaela Moreno | Mitsuo Mori | Moray | General Dudley | DANN | Dominic Toretto | Scarlemagne | Mod Frogs (Jamack & Mrs. Satori) | Newton Wolves (Bad Billions and Good Billions) | Scooter Skunks | Humming Bombers | Tad Mulholand | Fun Gus | Human Resistance (Dr. Emilia, Greta & Zane) | King Arthur | Mantah Corp (Daniel Kon & Kash D. Langford) | Henry Wu | Indominus rex | Eddie | Mitch & Tiff | Hawkes | Reed | Eli Mills | OCB | Pyg And Tam | Maria Maria | M-M-R-T-B | Bug The Pug
Video Games
King Fossa | Arachne | Doom Syndicate (Psycho Delic)
Shorts
Mr. Chew | Tour Guide | Boneknapper | Wu Sisters | Le Chuchoteur
See Also
20th Century Studios Villains | Aardman Villains | Amblin Entertainment Villains | Buena Vista International Villains | Farrelly Brothers Villains | Fast and the Furious Villains | Fright Night Villains | How to Train Your Dragon Villains | ImageMovers Villains | Jurassic Park Villains | Kung Fu Panda Villains | Madagascar Villains | Netflix Villains | Nickelodeon Movies Villains | Norbit Villains | Paramount Villains | Ridley Scott Villains | She-Ra 2018 Villains | Shrek Villains | Small Soldiers Villains | Sony Pictures Villains | Steven Spielberg Villains | Sweeney Todd Villains | Tales of Arcadia Villains | The Boss Baby Villains | Tim Burton Villains | Turbo Villains | Transformers Cinematic Universe Villains | Universal Studios Villains | VeggieTales Villains | Wallace and Gromit Villains | Warner Bros. Villains