We're Getting Mutants in the MCU - The Loop
Play Sound



Click To Help Darkseid!

Darkseid has declared that this article requires immediate Cleanup in order to meet a higher standard.
Help improve this article by improving formatting, spelling and general layout - least it fall victim to an Omega Effect


✓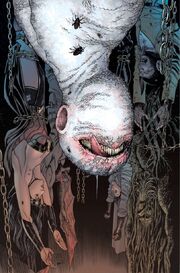 The Upside Down Man is a major villain in the DC comics universe. He was a major foe for the Justice League and later becomes a servant of the Great Darkness.
Biography
The Upside Down Man was one of the oldest magical beings in the universe that resides in the dark multiverse and Hecate was his counterpart. He was born from when creation first began magic The magic it's raw form gave birth to the light known as Hecate who was the first magical being in the DC multiverse while the darkness gave birth to the Upside Down Man as a counterforce for Light in the Other place. Horrifyed by it's presence Hecate banished him into the Dark Multiverse where he remined prison in hopes of not letting him taint the multiverse.
After the Death of Hecate and the great Darkness rising Upside Down man was freed and became the great darkness servant and later encounters the Justice League Dark under Wonder Woman's leadership and said that hecate causing humans and gods to learn magic from her with some dark magic allowed upside down man to be freed. Upside down man against the justice league dark being a powerful foe but the justice league dark barely manages to escape. In the Dark Crisis event The Great Darkness enslaves the Upside Down man alongside the others Empty Hand, Darkseid, Eclipso, Ares, Doomsday, Neron, and Nekron with Pariah serving as the Great Darkness's herald. He was also the one who corrupted Circe into becoming Hecate's replacement and was causing multiverse to die and was the reason that the magic tree was dying.
Sometime later Upside Down Man appears alongside the Dark Army where they began to attack the Justice League seemingly killing them with the younger heroes taking in charge of stopping the dark armies for good. He cares for the Otherkind and wants them survive leading them to conquer the multiverse.
Powers and Abilities
The Upside Down Man is one of the most powerful entities of Dc universe and one of the oldest magic users capable of waring reality in his own domain. Also poisoning the magic tree

Villains
Comics
Abra Kadabra | Amanda Waller | Amos Fortune | Amazo | Anarky | Angle Man | Anti-Justice League | Anti-Monitor | Appellaxians | Aquarius | Asmodel | Atomic Skull | Axis America | Bane | Barbatos | The Batman Who Laughs | Black Adam | Black Hand | Black Lantern Corps | Black Manta | Black Mask | Black Spider | Blockbuster | Blue Beetle (Dark Multiverse) | Brainiac | Bronze Tiger | Brother Eye | Brotherhood of Evil | Cadre | Calculator | Calendar Man | Captain Boomerang | Captain Cold | Castle Bat | Catalyst | Catman | Catwoman | Cheetah | Chemo | Cheshire | Circe | Clayface | Clock King | Cluemaster | Copperhead | Construct | Cosmic King | Crazy Quilt | Crime Syndicate of America | Crucifer | Cyborgirl | Darkseid | Dark Supergirl | Deadline | Deadshot | Deathstroke | Demolition Team | Demons Three | Despero | Doctor Alchemy | Doctor Destiny | Doctor Double X | Doctor Impossible | Doctor Light | Doctor Manhattan | Doctor Phosphorus | Doctor Polaris | Doctor Poison | Doctor Psycho | Doctor Regulus | Doctor Sivana | Dominators | Doomsday | Dragon King | Dumas | Earthworm | Eclipso | Electrocutioner | Elite | Empty Hand | Enchantress | Epoch the Lord of Time | Eradicator | Evil Star | Fatal Five | Felix Faust | Fiddler | Firefly | Floronic Man | Funky Flashman | Gamemnae | General Eiling | Genocide | Gentleman Ghost | Golden Gilder | Goldface | Gorilla Grodd | Great Darkness | Gunhawk | Harley Quinn | Hector Hammond | Hellgrammite | Human Flame | Hyena | Ibac | Icicle | Imperiex | Intergang | I.Q. | Johnny Sorrow | Joker | Key | Killer Croc | Killer Frost | Killer Moth | Kite Man | Kobra | Kobra Cult | Krona | League Buster | League of Assassins | Legion of Doom | Lex Luthor | Libra | Lobo | Mad Hatter | Mageddon | Magpie | Manchester Black | Manhunters | Matter Master | Maxwell Lord | Mekanique | Merlyn | Mirror Master | Mister Atom | Mister Mind | Mister Nebula | Mr. Freeze | Mongul | Mordru | Morgaine Le Fey | Multiplex | Nekron | Nekron (Pre-Crisis) | Neron | Neutron | Nightshade | Obsidan | Ocean Master | Overman | Pariah | Parademons | Parasite | Penguin | Perpetua | Pied Piper | Plastique | Poison Ivy | Professor Ivo | Professor Zoom | Prometheus | Psycho-Pirate | Queen Bee | Queen of Fables | Ra's al Ghul | Rainbow Raider | Rama Khan | Red Death | Red King | Red Panzer | Red Volcano | Riddler | Roulette | Royal Flush Gang | Satanus | Scarecrow | Science Squad | Secret Society of Super Villains | Shadow-Thief | Shaggy Man | Shark | Simon Stagg | Sinestro | Solomon Grundy | Star Sapphire | Starbreaker | Starro | Steppenwolf | Suicide Squad | Superboy-Prime | Tattooed Man | Terra-Man | T.O. Morrow | Two-Face | Upside Down Man | Ultra-Humanite | Vandal Savage | Volcana | Warp | Weather Wizard | White Martians | Wizard
Theatrical Movies
Justice League: Steppenwolf | Parademons (Parademon Scout) | Darkseid | Black Clad (Black Clad Alpha) | Lex Luthor | Deathstroke | Ares
Zack Snyder's Justice League: Darkseid's Elite (Darkseid, Steppenwolf, DeSaad, Granny Goodness, & Parademons) | Lex Luthor | Deathstroke | Black Clad (Black Clad Alpha) | Ares | Joker
DC League of Super-Pets: Lulu | Lex Luthor | Mercy Graves | Whiskers
Direct-to-video Movies
Justice League: The New Frontier: The Centre | Captain Cold
Justice League: Crisis on Two Earths: Crime Syndicate of America (Owlman, Ultraman, Superwoman, Johnny Quick, Power Ring, J'edd J'arkus, & Black Power) | Lex Luthor | White Martians | President Slade Wilson | Rose Wilson
Justice League: Doom: Legion of Doom (Vandal Savage, Bane, Cheetah, Ma'alefa'ak, Metallo, Mirror Master, & Star Sapphire) | Royal Flush Gang (King, Queen, Jack, Ace, & Ten)
Justice League: The Flashpoint Paradox: Professor Zoom | Wonder Woman | Aquaman | Ocean Master | Black Manta | Deathstroke | Lex Luthor | Clayface | Rogues (Captain Cold, Captain Boomerang, Top, Heat Wave, & Mirror Master) | Joker | Yo-Yo
Justice League: War: Darkseid | Desaad | Parademons | Ocean Master
Justice League: Throne of Atlantis: Ocean Master | Black Manta | The Trench | Lex Luthor
Justice League League: Gods and Monsters: Will Magnus
Justice League vs. Teen Titans: Trigon | Legion of Doom (Lex Luthor, Cheetah, Solomon Grundy, Toymaster, & Weather Wizard) | Atomic Skull | Ra's al Ghul
Justice League vs. the Fatal Five: Fatal Five (Emerald Empress, Mano, Persuader, Tharok, & Validus) | Bloodsport | Two-Face | Harley Quinn | Poison Ivy

Television
Justice League (TV Series): Brainiac | Darkseid | Lex Luthor | Cheetah | Star Sapphire | Shade | Copperhead | Ultra-Humanite | Solomon Grundy | Joker | Kanjar-Ro | Lord Orm | Deadshot | Felix Faust | Gorilla Grodd | Aresia | Morgaine Le Fey | Simon Stagg | Amazo | Volcana | Luminus | Firefly | Doctor Destiny | Despero | Giganta | Killer Frost | Sinestro | Parasite | Clayface | Metallo | Kalibak | Livewire | Weather Wizard | Toyman | Royal Flush Gang (Harley Quinn)
Justice League Unlimited: TBA

Video Games
Injustice: Gods Among Us: One Earth Regime (Superman, Wonder Woman, Yellow Lantern, The Flash, Aquaman, Cyborg, Shazam, Nightwing, Raven, Hawkgirl, Sinestro, Black Adam, Killer Frost, Solomon Grundy, Catwoman, Bane, & Doomsday) | Joker | Lex Luthor | Deathstroke | Ares
Injustice 2: Brainiac | Gorilla Grodd | Captain Cold | Reverse Flash | Cheetah | Deadshot | Poison Ivy | Bane | Scarecrow | One Earth Regime (Superman, Wonder Woman, Aquaman, Cyborg, Nightwing & Black Adam) | Dr. Fate | The Lords of Order | Grid | Atrocitus | Joker | Darkseid
See Also
Justice League Dark Villains | Justice League International Villains | Justice Society Villains | Young Justice Villains