We're Getting Mutants in the MCU - The Loop
Play Sound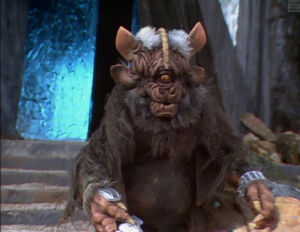 Urak is the secondary antagonist of the Doctor Who story "Time and the Rani".
He was portrayed by Richard Gauntlett. For BBV, he was voiced by Anthony Keetch.
Biography
Urak was the leader of the Tetraps and the chief henchman of the Rani during her operation on Lakertya. He accompanied her to the TARDIS after she caused it to crashland on the planet, collecting the newly-regenerated Seventh Doctor. When the Doctor came round and attempted to oppose the Rani's plan, Urak stunned him. The Rani impersonated the Doctor's companion Mel in order to enlist his help in repairing her equipment and ordered Urak to make sure the real Mel was out of sight. However, Mel had already left the TARDIS. Urak was left chasing her across the landscape, at one point mistaking the Rani for her and trapping her in a net, but eventually managed to capture the real Mel.
Urak took part in a ruse to trick the Doctor into handing over a component he had taken from the Rani, supposedly trading it for Mel but in fact using a hologram of Mel for the changeover. Urak then captured the Doctor when he tried to sneak into the Rani's base. He also fitted the native Lakertyans with exploding anklets to keep them co-operative, detonating one and killing the Lakertyan wearing it as a demonstration. He overheard the Doctor and Mel discussing the Rani's plan: To detonate an asteroid of strange matter and turn Lakertya into a giant time manipulator that would give her mastery over time, a process that would wipe out everyone on the planet.
When the Rani ordered Urak to stay behind, he realised she intended to abandon him and his people to die with the Lakertyans. Urak led the other Tetraps into the Rani's TARDIS. After the Doctor had foiled her scheme, the Rani fled the planet but was taken prisoner by the Tetraps, with Urak intending to take her back to his planet to help his people.
This plotline is continued in the BBV audio play "The Rani Reaps the Whirlwind", in which Urak has put the Rani to work finding a food source for his people. The Rani convinces them to capture people for breeding stock, but then flees the planet with the aid of Urak's captives.