Wiki Targeted (Entertainment)
Play Sound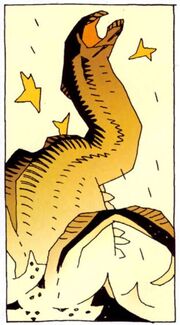 Urgo-Hem is an Ogdru Hem who served as the main antagonist in Hellboy: The Island.
Biographu
In the sixteenth century, a Spanish priest bound Urgo-Hem to his blood, after having found out about the origin of the ancient beings in the ancient city of Tenochtitlan. The priest was persecuted by the Vatican, but managed to escape to a far off island, where he lived for next centuries.
In the twenty-first century, the creature was freed from the priest and battled with Hellboy, who managed to trick the creature into impaling itself on the mast of a nearby shipwreck.
Urgo-Hem was resurrected by Grigori Rasputin during Raganrok, and it arrived in Amalfi, Italy, where it caused much damage.
Appearance
Urgo-Hem is a large aquatic, eyeless serpent-like creature, with sharp crustacean legs lining its pale underbelly. When it was resurrected by Rasputin it was much larger than before.
External Links

Villains
Comics
Adoet de Fabre | Astaroth | Baba Yaga | Baron Ernst Koing | Black Flame (Raimund Diesel, Landis Pope) | Bog Roosh | Demons (Andras, Asmodeus, Azzael, Balam, Beelzebub, Behemoth, Beleth, Bifrons, Eligos, Gamon, Gamori, Iblifika, Leviathan, Lusk, Marchosias, Shax, Sybacco, Sytry, Ualac) | Ereshigal | Frog monsters| Giants Grigori Rasputin | Gruagach | Gustav Strobl | Hammerheads | Hecate | Heinrich Himmler | Herman von Klempt | Hydra | Igor Bromhead | Inger von Klempt | Iron Shoes | Isaiah Marsten | Jeremiah Witkins | Karl Ruprecht Kroenen | Koschei the Deathless | King of Fear | Kriegaffe | Larzod | Lazar | Leopold Kurtz | Mennan Sea | Nimue | Nukekubi | Ogdru Hem (Conqueror Worm, Katha-Hem, Sadu-Hem, Salton Sea Monster, Urgo-Hem) | Ogdru-Jahad (Nunn-Jahad) | Osiris Club | Penanggalan | Pluto | Roderick Zinco | Roger's brother | Romulus Diovanni | Saint Leonard Wyrm | Satan | Sebek | Unmensch| Varvara (Yomyael) | Vampires | Vladimir Giuresu | Werewolves |
Movies
Hellboy (2004): Grigori Rasputin | Karl Ruprecht Kroenen | Ilsa Von Haupstein | Sammael | Ogdru-Jahad (Behemoth)
Hellboy: Sword of Storms: Thunder & Lightning
Hellboy: Blood and Iron: Hecate | Erzsebet Ondrushko
Hellboy: The Golden Army: Prince Nuada | Mr. Wink | Golden Army | Forest God | Tooth Fairies
Hellboy (2019): Vivienne Nimue | Gruagach | Camazotz | Baba Yaga | Demons