(Let's test for the last time.)

Line 1:
Line 1:
 
+

'''IMPORTANT NOTE: This is a temporal state that I use so admins would know how to edit the page. I will restore this back to its original state after it's done.'''

−

{{Villain_Infobox|fullname = Bill Cipher|alias = The Beast with Just One Eye

 
−

He Who Flies Behind The Walls

 
 
 
 
+

===Season 2===

−

The Omniscient Triangle|origin = The Second Dimension|hobby = Dipcifica

 
 
+

Gideon next appears in prison during the season 2 premiere, where he notices the unusual phenomena kicked off by Stan's work on the portal.

−

Bill Cipher|occupation = Dream Demon|image = Bill Cipher21.jpg|goals = Seeing Dipcifica being official

 
−

Destroy the world

 
 
 
 
+

[[File:S2e14 Gideon in the big house.jpg|thumb|right|250px|Gideon in prison.]]

−

Get rid of trolls and cyberbullies|type of villain = Omniscient Trickster|skills = Omnipotence

 
 
+

He reappears in ''The Stanchurian Candidate'', this time secretly orchestrating Bud Gleeful's election bid for the post of Mayor; despite still being imprisoned and under heavy guard, he is able to communicate with his father via a video screen, and clearly hopes to receive a full pardon in the event that Bud wins. However, when Stan begins an election campaign of his own, Bud finds himself outmatched in the debating field, though only because Dipper and Mabel are correcting Stan's approach via mind control; unwilling to see his chance for freedom slip through his fingers, Gideon is forced to make use of a spell he stole from the second Journal (hidden in his hair up until now) and possess Bud's body. He first uses this spell to give Bud an easy win at the final debate of the election, and then to capture both Dipper and Mabel, arranging to blow them up with dynamite; however, Stan is able to rescue them, and in the chaos that follows, Bud loses the election and the Journal page is destroyed. Though apparently defeated, during the end credits, Gideon reveals that he is hiding a summoning circle for Bill Cipher in his cell; completing the circle, he claims he's ready to make a deal - essentially offering his services as Cipher's minion.

−

Omniscience

 
 
+

[[File:S2e18 boss gideon.jpg|thumb|220x220px|Sheriff Gideon.]]

 
+

When Bill's plan to enter reality succeeds in ''Weirdmageddon: Part 1'', he arranges for Gideon to be broken out of prison to serve as the sheriff of Gravity Falls and the guardian of Mabel's prison bubble - granting him all of eternity to get Mabel to love him. Having befriended most of his fellow prisoners, he also has a gang of his own, complete with monster trucks. When Dipper and Wendy attempt to steal a car from Bud Gleeful's dealership, they are immediately confronted by Gideon's gang; however, Wendy is able to steal the key to the prison bubble from Gideon and lead them on a wild chase through post-apocalyptic Gravity Falls, and though they eventually succeeded in surrounding them, Dipper manages to convince Gideon that he'll never be able to force Mabel to love him. Despite knowing full well that defying Bill will mean facing his wrath, he nonetheless decides to let Dipper free Mabel, and drives off with the rest of the gang to buy him and the others some time in a battle with Bill.

 
 
 
+

In ''Weirdmageddon 2: Escape from Reality'', Bill learns of Gideon's betrayal but is largely unmoved by it, believing that the bubble will simply trap anyone attempting to rescue Mabel from it. Nonetheless, he orders the Henchmaniacs to fetch Gideon for punishment - though Gideon himself is not seen at any point in the episode.

−

Troll catching skills|crimes = Destroy the second dimension

 
−

Manipulate mortal beings to further his own schemes}}

 
−

{{Quote|Remember! Reality is an illusion, the universe is a hologram, buy gold, BYE!|Bill Cipher's famous quote.}}

 
−

I was [[User:Dimentiothetrickster|Dimentiothetrickster]] and [[User:TheBeastWithJustOneEye2|TheBeastWithJustOneEye2]] but I moved to this account as the other ones I did not used for a long time. Normally if one account was not used for three months then I will never return to it. I will not edit much here, but talk with an admin and watch the users.

 
 
 
 
+

In the series finale ''Weirdmageddon 3: Take Back the Falls'', Gideon is locked in a birdcage while his gang members are petrified and added to Bill's throne of human agony; for good measure, he then is forced to do a cute dance against his will for Bill's pleasure - until Dipper and Mabel arrive in the Shacktron to free him and the other petrified victims. Ultimately, Gideon stays behind in the Fearamid to help Dipper, Mabel and their friends to stop Bill, proving instrumental in forming the Zodiac Wheel that Ford Pines believes will be able to stop Bill once and for all; unfortunately, an argument between Stan and Ford results in Bill ambushing the group, destroying the wheel and transforming everyone except the Pines family into tapestries for his palace. Fortunately, Stan and Ford are able to defeat Bill by tricking him into entering Stan's mind while Ford uses the Memory Eraser to wipe his brain, effectively destroying Bill with all his memories.

−

I'm a teenager, not sure if I still count as one, who obsessed with drawing, cartoons, villains, and shippings. The reason I'm here is to talk, provide ideas, and catch trolls and cyberbullies. I aware that I'm mentally handicapped, so if I talk in an abnormal way, please don't reply with rude attitudes.

 
 
 
 
+

[[File:S2e20 No more evildoing.png|thumb|left|250px|A redeemed Gideon.]]

−

==My favourite heroes in no order==

 
 
+

Following Bill's death, Gideon and the others are turned back to normal and the damage done by Weirdmageddon is reversed, much to the relief of all parties concerned. Gideon and his family later attend Dipper and Mabel's 13th birthday party, and Gideon admits that he's changed for the better. However, he still maintains a notably vindictive streak: when he's shown trying to ride on a skateboard, one kid makes fun of him, and an offended Gideon sends his gang members to beat up the kid in retaliation.

−

Dipper Pines

 
 
 
 
+

==Personality==

−

Scooby Doo (mostly in the original series and ''Scooby-Doo: Mystery Incorporated'')

 
 
+

Li'l Gideon is a self-proclaimed psychic who uses his charisma and adorableness to make money and mask his true personality. His thick Southern accent and babyish appearance often lead people to underestimate him, and while he may appear trustworthy, he is anything but. However, Gideon has built up such a spotless reputation that people refuse to believe the worst of him: when he orders Dipper and Mabel arrested for trying to murder him, Officer Blubs and Durland instantly believe it without any evidence whatsoever.

 
 
 
+

[[File:Gideon appearance.png|thumb|right|250px|Gideon Gleeful.]]

−

Courage the Cowardly Dog

 
 
+

Behind the mask, Gideon is a selfish, obsessive, power-hungry, unscrupulous, and distinctly sociopathic boy. Determined to get his way, he will not take "no" for an answer: when he became romantically interested in Mabel Pines, he forced her to continue dating him through crowd pressure, and considered Dipper's attempt to break up with him on Mabel's behalf as grounds to murder him. Even after being formally dumped, his obsession with her refuses to wane, and he believes that he can make her love him - even if it means keeping her imprisoned. He is also a shameless fraud, not only presenting himself as a psychic to gullible audiences through cold readings, but he is also not above invading their privacy through hidden cameras; he shows little remorse for such behavior and even less respect for the people of Gravity Falls, at one point happily providing his catchphrase to a group of townsfolk ("It's my li'l secret,") and dismissing them with a mutter of "mouth-breathing fools" under his breath.

 
 
 
+

Gideon is extremely contemptuous and abusive, especially towards his parents - who are among the few people who see his true colors. Upon being reprimanded by Bud for trashing his room, he responds by screaming "I could buy and sell you, old man!". When Bud tries to cheer him up by tickling him, Gideon throws a temper tantrum and proceeds to verbally abuse his father at length, before storming out. While Bud remains seemingly unfazed by his son's sociopathic nature (likely due to him regularly wiping his own memories via the [[Blind Eye Society]]'s memory eraser), his mother's sanity has badly frayed after constant exposure to Gideon's tantrums, and as a result, she spends most of her time obsessively cleaning the house while muttering "just keep vacuuming".

−

Wirt

 
 
 
 
+

At his heart, Gideon wants power - power over people, over Mabel, over the town, over his enemies; most of all, he wants the power that he believes the Journals can grant him, intending to rule Gravity Falls with Mabel as his queen. When deprived of his amulet, he is content with achieving this by humiliating Stan - at least for a time. However, when the chance for ultimate power looms, he will go to any lengths to achieve it - and his megalomania can make him extremely spontaneous and reckless: though he makes extensive use of Journal 2 as a source of magical information, he proves to be exceptionally ambitious and purposeful to pay any heed to the Author's stern warning not to summon Bill.

−

Star Butterfly

 
−
 
−

Finn the Human

 
−
 
−

Jake the Dog

 
−
 
−

Kid Goku (include the 18 years old Goku in the [[Piccolo Jr.]] Saga, the Goku afterwards sucks)

 
−
 
−

Mordecai

 
−
 
−

Batman (''Batman: The Animated Series'')

 
−
 
−

HONORABLE MENTIONS:

 
−
 
−

Pacifica Northwest

 
−
 
−

Bulma

 
−
 
−

Kick Buttowski

 
−
 
−

Kendall Perkins

 
−
 
−

==My favourite villains in no order==

 
−

[[File:442.Hereismyhumanform.png|thumb|285x285px|Bill Cipher and his human self|left]][[Bill Cipher]]: A powerful demon that was given personality and a sense of humor, and some charms that make him great. Sometimes, simplistic designs can make good villains.

 
−
 
−

[[Li'l Gideon|Gideon Gleeful]]: Before The Beast with Just One Eye arrives, we need a villain to assume as a Big Bad. And Gideon has done a pretty good job on that.

 
−
 
−

[[Professor Pericles]]: Small parrot with high intellegence and mastermind behind many events of the show. But too bad he is no longer evil. Some villains need to stay evil.

 
−
 
−

[[Katz]]: An evil red cat who uses disguises to trick his victims.

 
−
 
−

[[The Beast (Over the Garden Wall)|The Beast]]: A demon who wants to absorb children souls to live forever.

 
−
 
−

[[The Lich]]: Yeah admittedly I disliked him back then but now I like him. Having rewatched AT and I say he is good. Still, he is not a perfect villain like people claim him to be.[[File:234.KingPiccolodescends.png|thumb|220x220px|King Piccolo descends]]

 
−
 
−

[[Ice King]]: Good bumbling villain. Not to mention about the depth that he got later in the show.

 
−
 
−

[[King Piccolo]]: A great villain, aka ''Dragon Balls''' [[Bill Cipher]]. Better than all the villains after him. Good design, and the series should have ended with the [[Piccolo Jr.]] Saga.

 
−
 
−

[[Emperor Pilaf]]: Great bumbling villain. [[Ludo]] shall call him master.

 
−
 
−

[[Joker (DC Animated Universe)|The Joker]]: I like this version most due to we see him from episodes to episodes (he is the main antagonist of the series after all), not appear in only one time only to be defeated. Also animation is way better.

 
−
 
−

[[Father (Fullmetal Alchemist)|Father]]: The best villain from ''Fullmetal Alchemist'' franchise, and far better than that crappy [[Dante (FMA 2003)|Dante]].

 
−
 
−

[[Bull King]]: Definitely an interesting ''Journey to the West'' villain.

 
−
 
−

[[Black Hat (Villainous)|Black Hat]]: I really like the design and he seems to be a very interesting villain.

 
−
 
−

[[Pride]]: A great ''Fullmetal Alchemist'' villain aside from Father.

 
−
 
−

[[Ludo]]: A good [[Emperor Pilaf]] homage, though nowhere near as good as the original.

 
−
 
−

[[Toffee]]: Frankly I like him, but still, he is not a perfect villain.[[File:448.Pacificaelisenorthwest.png|left|thumb|300x300px|Pacifica Elise Northwest]]

 
−
 
−

[[Nyarlathotep (Lovecraft)|Nyarlathotep]]: Doubtlessly the best ''Cthulhu Mythos'' demon that Lovecraft ever wrote.

 
−
 
−

[[Shadowy Figure]]: I don't watch much of ''OK K.O.! Let's be Heroes'' but he seems to be a very interesting villain.

 
−
 
−

[[Lord Voldemort]]: Sorry people but I still think he is the best ''Harry Potter'' villain ever.

 
−
 
−

[[Ganondorf]]: Unfortunately I never play ''The Legend of Zelda'' but he seems to be a very interesting villain.

 
−
 
−

[[Aku]]: Yeah, how can people dislike The Shapeshifting Master of Darkness? He's like one of the best cartoon villains of all time.

 
−
 
−

[[Kai the Collector]]: Yeah, laugh at me all you want, but he's such a cool villain.

 
−
 
−

[[Lord Shen]]: An example of a ''Kung Fu Panda'' villain that uses more brain than brawn. Not to mention the depth he got, such a chilling, creative villain.

 
−
 
−

[[Anti-Pops]]: A great Cartoon Network villain.

 
−
 
−

[[Gene (Regular Show)|Gene]]: A great recurring villain before Anti Pops.

 
−
 
−

[[Commander Red]]: Great lead terrorist.

 
−
 
−

[[Bendy (Bendy and the Ink Machine)|Bendy]]: A cartoon character being brought to life and terrorizes everyone ever since that happens.

 
−
 
−

[[Ryuk]]: Arguably my most favourite character in ''Death Note''.

 
−
 
−

==Most favourite shows in no order==

 
−

''Gravity Falls''

 
−
 
−

''Samurai Jack''

 
−
 
−

''Star vs the Forces of Evil''

 
−
 
−

''Over the Garden Wall''

 
−
 
−

''Scooby Doo: Mystery Incorporated''

 
−
 
−

''Courage the Cowardly Dog''

 
−
 
−

''Dragon Ball'' (original series)

 
−
 
−

''Regular Show''

 
−
 
−

''Batman: The Animated Series''

 
−
 
−

''Adventure Time''

 
−
 
−

''Journey to the West'' (1986 series)

 
−

[[File:447.Misseliseandherbestfriend.png|thumb|311x311px|Dipcifica]]''Fullmetal Alchemist: Brotherhood''

 
−
 
−

==My favourite ships in no order==

 
−

Dipper x Pacifica (Dipcifica): Cute couple that have chemistry that was hinted throughout the show. During Season 1, it was considered a crack ship and I really like the concept, the best concept of ship I see from the show. But it was not until Season 2 that I am totally an addict of the ship. Regardless, it is the first ship I care about in the show, even when it is just a concept.

 
−
 
−

Star x Marco (Starco): Good chemistry, cute.

 
−
 
−

Janna x Tom (Jantom): Similar to Dipcifica ''in Season 1'', they have interesting concept.

 
−
 
−

Wirt x Lorna (Wirtna?): An enjoyable ship to watch.

 
−
 
−

Bill Cipher x TG (Aroace): TG is an OC owned by a Deviantart user named TheGeneraless. This is the only ship which involving Bill Cipher that I truly like, as it is a healthy relationship for him, not the toxic ships that the trolls do with the main casts of the show. And it makes sense for his character (I know Bill Cipher does not care about making sense, but you know).

 
−
 
−

Wirt x Beatrice (Wirtrice?): Another great ship from OTGW.

 
−
 
−

Kick Buttowski x Kendall Perkins: A daredevil and a genius, a couple that is meant to be.

 
 

[[Category:Users]]

 

[[Category:Users]]
---
Revision as of 11:30, 13 November 2018
IMPORTANT NOTE: This is a temporal state that I use so admins would know how to edit the page. I will restore this back to its original state after it's done.
Season 2
Gideon next appears in prison during the season 2 premiere, where he notices the unusual phenomena kicked off by Stan's work on the portal.
He reappears in The Stanchurian Candidate, this time secretly orchestrating Bud Gleeful's election bid for the post of Mayor; despite still being imprisoned and under heavy guard, he is able to communicate with his father via a video screen, and clearly hopes to receive a full pardon in the event that Bud wins. However, when Stan begins an election campaign of his own, Bud finds himself outmatched in the debating field, though only because Dipper and Mabel are correcting Stan's approach via mind control; unwilling to see his chance for freedom slip through his fingers, Gideon is forced to make use of a spell he stole from the second Journal (hidden in his hair up until now) and possess Bud's body. He first uses this spell to give Bud an easy win at the final debate of the election, and then to capture both Dipper and Mabel, arranging to blow them up with dynamite; however, Stan is able to rescue them, and in the chaos that follows, Bud loses the election and the Journal page is destroyed. Though apparently defeated, during the end credits, Gideon reveals that he is hiding a summoning circle for Bill Cipher in his cell; completing the circle, he claims he's ready to make a deal - essentially offering his services as Cipher's minion.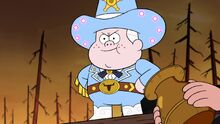 When Bill's plan to enter reality succeeds in Weirdmageddon: Part 1, he arranges for Gideon to be broken out of prison to serve as the sheriff of Gravity Falls and the guardian of Mabel's prison bubble - granting him all of eternity to get Mabel to love him. Having befriended most of his fellow prisoners, he also has a gang of his own, complete with monster trucks. When Dipper and Wendy attempt to steal a car from Bud Gleeful's dealership, they are immediately confronted by Gideon's gang; however, Wendy is able to steal the key to the prison bubble from Gideon and lead them on a wild chase through post-apocalyptic Gravity Falls, and though they eventually succeeded in surrounding them, Dipper manages to convince Gideon that he'll never be able to force Mabel to love him. Despite knowing full well that defying Bill will mean facing his wrath, he nonetheless decides to let Dipper free Mabel, and drives off with the rest of the gang to buy him and the others some time in a battle with Bill.
In Weirdmageddon 2: Escape from Reality, Bill learns of Gideon's betrayal but is largely unmoved by it, believing that the bubble will simply trap anyone attempting to rescue Mabel from it. Nonetheless, he orders the Henchmaniacs to fetch Gideon for punishment - though Gideon himself is not seen at any point in the episode.
In the series finale Weirdmageddon 3: Take Back the Falls, Gideon is locked in a birdcage while his gang members are petrified and added to Bill's throne of human agony; for good measure, he then is forced to do a cute dance against his will for Bill's pleasure - until Dipper and Mabel arrive in the Shacktron to free him and the other petrified victims. Ultimately, Gideon stays behind in the Fearamid to help Dipper, Mabel and their friends to stop Bill, proving instrumental in forming the Zodiac Wheel that Ford Pines believes will be able to stop Bill once and for all; unfortunately, an argument between Stan and Ford results in Bill ambushing the group, destroying the wheel and transforming everyone except the Pines family into tapestries for his palace. Fortunately, Stan and Ford are able to defeat Bill by tricking him into entering Stan's mind while Ford uses the Memory Eraser to wipe his brain, effectively destroying Bill with all his memories.
Following Bill's death, Gideon and the others are turned back to normal and the damage done by Weirdmageddon is reversed, much to the relief of all parties concerned. Gideon and his family later attend Dipper and Mabel's 13th birthday party, and Gideon admits that he's changed for the better. However, he still maintains a notably vindictive streak: when he's shown trying to ride on a skateboard, one kid makes fun of him, and an offended Gideon sends his gang members to beat up the kid in retaliation.
Personality
Li'l Gideon is a self-proclaimed psychic who uses his charisma and adorableness to make money and mask his true personality. His thick Southern accent and babyish appearance often lead people to underestimate him, and while he may appear trustworthy, he is anything but. However, Gideon has built up such a spotless reputation that people refuse to believe the worst of him: when he orders Dipper and Mabel arrested for trying to murder him, Officer Blubs and Durland instantly believe it without any evidence whatsoever.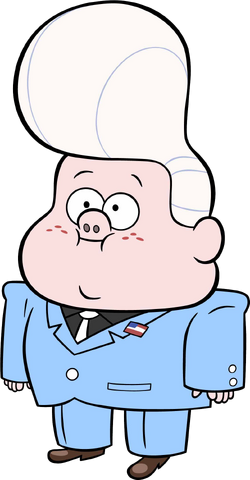 Behind the mask, Gideon is a selfish, obsessive, power-hungry, unscrupulous, and distinctly sociopathic boy. Determined to get his way, he will not take "no" for an answer: when he became romantically interested in Mabel Pines, he forced her to continue dating him through crowd pressure, and considered Dipper's attempt to break up with him on Mabel's behalf as grounds to murder him. Even after being formally dumped, his obsession with her refuses to wane, and he believes that he can make her love him - even if it means keeping her imprisoned. He is also a shameless fraud, not only presenting himself as a psychic to gullible audiences through cold readings, but he is also not above invading their privacy through hidden cameras; he shows little remorse for such behavior and even less respect for the people of Gravity Falls, at one point happily providing his catchphrase to a group of townsfolk ("It's my li'l secret,") and dismissing them with a mutter of "mouth-breathing fools" under his breath.
Gideon is extremely contemptuous and abusive, especially towards his parents - who are among the few people who see his true colors. Upon being reprimanded by Bud for trashing his room, he responds by screaming "I could buy and sell you, old man!". When Bud tries to cheer him up by tickling him, Gideon throws a temper tantrum and proceeds to verbally abuse his father at length, before storming out. While Bud remains seemingly unfazed by his son's sociopathic nature (likely due to him regularly wiping his own memories via the Blind Eye Society's memory eraser), his mother's sanity has badly frayed after constant exposure to Gideon's tantrums, and as a result, she spends most of her time obsessively cleaning the house while muttering "just keep vacuuming".
At his heart, Gideon wants power - power over people, over Mabel, over the town, over his enemies; most of all, he wants the power that he believes the Journals can grant him, intending to rule Gravity Falls with Mabel as his queen. When deprived of his amulet, he is content with achieving this by humiliating Stan - at least for a time. However, when the chance for ultimate power looms, he will go to any lengths to achieve it - and his megalomania can make him extremely spontaneous and reckless: though he makes extensive use of Journal 2 as a source of magical information, he proves to be exceptionally ambitious and purposeful to pay any heed to the Author's stern warning not to summon Bill.