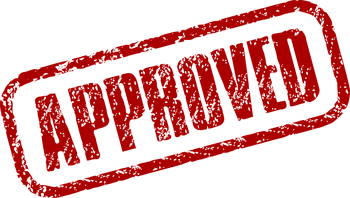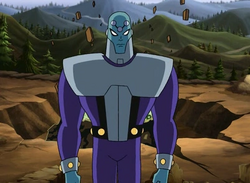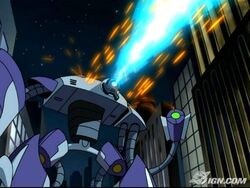 Hello guys! Today, here's my seventy-ninth PE proposal, and it's about the Superman: Brainiac Attacks version of Brainiac, one of Superman's most iconic foes and one of his archenemies like Lex Luthor and Darkseid.
Okay, following the proposal of the DCAU's Granny Goodness, just like Jester of chaos pointed out, the Heinous Standards of the DCAU can be considered tapped out (though PokemonMasterH and maybe Pixarfan1234 are working on a potential proposal for Chronos, so I mention to this to anyone wondering about them). However, I later thought: then why not trying to propose a villain from a DCAU-like production? Other than that, John Milton's removal two months ago reminded me that Lance Henriksen also voiced Brainiac in this film, which reignited my interest in seeing it (wow, the dude has so many villainous roles like Tim Curry). So here we are with a character that I once saw at Cartoon Network and the day before yesterday I finally got to see the full film at HBO Max.
On the other hand, I hope it was a Happy Father's Day for your parents, fellow Villains Wiki editors!
WHAT'S THE WORK?
Superman: Brainiac Attacks is a 2006 direct-to-video animated feature film directed by Curt Geda, written by Duane Capizzi and Christopher Simmons and starring Tim Daly, Dana Delany, Powers Boothe, Lance Henriksen and David Kaufman. It's an stand-alone film produced to cash on the mild success of the live-action Superman Returns film (whose novelization's Lex Luthor was previously proposed by me, if you remember). It should be noted that the film precedes the DC Universe Animated Original Movies line (and its kid-friendly tone definitely proves that) nor is part of the DC Animated Universe, despite that it uses the same animation design style and some voice actors of Superman: The Animated Series, apparently because Warner Bros. Animation insisted in keeping that classic look. Who can blame them? The film is about how Superman is considering if telling Lois Lane about his feelings or not, because he loves her so much but she is nearly most of the time endangered due to her association with him. However, like always, Lex Luthor is jealous of Superman's popularity so, after another fight of Superman which saves the world, Lex cooks up a new scheme to get rid of the Man of Steel once and for all, and that's when our candidate appears on scene.
WHO IS HE / WHAT HAS HE DONE?
Brainiac is a Kryptonite artificial intelligence who wants to collect all data across the universe, but his methods of doing so are, well, not friendly, given that he destroys everything he discovers so that knowledge can become valuable. He apparently came across Superman in the past. Brainiac is first seen arriving inside a meteor to the Earth, avoiding any blasts from the Lex 9000, a battle satellite created by LexCorp to stop any galactic threat. Brainiac arrives at one of Luthor's laboratories, breaks into it and starts hacking the computer to collect all Earthly data. Superman comes to save the day and fights Brainiac, who hacks the Lex 9000 to blast Superman with Kryptonite power rays and attacks him with LexCorp's weaponry, all while Luthor watches the spectacle from his car, but Superman outsmarts him and gets him destroyed efore he could use some missiles to drive humanity back to the dark ages. Then Superman saves Lois, questions Lex's activities when he comes to "congratulate" him while Jimmy Olsen takes some "unnecessary photos" of Lex's chaffeur and departs. End of the movie.
Nah, it seems, but it isn't. The thing is that Lex thinks that Brainiac and the Lex 8000 teamed up so well that he retrieves a chip from Brainiac's remains. Said chip contains Brainiac's intact mind, so Luthor reconnects it and offers him a deal: if LexCorp gives him a new body, he will go after Superman, kill him and then cause a rampage over Metropolis until the "brave" Lex Luthor comes to the rescue, defeats him to "avenge" the Man of Steel and chases him off the Earth so he can resume his data-collecting plans in other worlds. Brainiac agrees, as he thinks that giving up the Earth in exchange of getting rid of Superman is worth it. Luthor thus gives him some robotic parts and let Brainiac rebuild himself before supplying him with a piece of Kryptonite he had found a time earlier and a vial containing Superman's DNA, which was recovered from the battle.
With all this, Brainiac is able to track down Superman to a restaurant in which he, as Clark Kent, is dining with Lois Lane and is about to tell her his feelings for him and his secret identity. As such, Superman is forced to fight him, but Brainiac hurts him (and the military who tries to stop him by blowing up their jets) with his Kryptonite power rays, leading the fight to end with Brainiac blasts them at Superman and Lois. Due to Lois being a human, this radiation infects her blood and slowly starts galvanizing her cells to death. While the doctors do whatever they can to keep the comatose Lois stable, Superman goes to the Fortress of Solitude and his computer tells him that if he goes to the Phantom Zone, he can find Argonium 44, a golden substance that can cure Lois and protect him from Kryptonite, but Brainiac tracks him down there as well and tries to hack all of Krypton's data for him, but Superman instead activates the Fortress' self-destruct mechanism to ensure Brainiac can't misuse that knowledge even though it will be lost for good. Brainiac shoots at him enraged, but Superman swiftly finds his way into the Phantom Zone while Brainiac escapes from the Fortress as it crumbles. Assuming Superman died from the collapse, Brainiac leaves the Antarctic satisfied and goes back to Metropolis.
Back to Metropolis, Brainiac starts another rampage, but Luthor comes to the rescue on his exoskeleton suit. For a while, the two fight, but when Lex complains that Brainiac's method acting is hurting him, Brainiac suddenly mocks him for being so foolish, as he doesn't want to give up the Earth. Predictably, Luthor reveals that he expected that, so he put a self-destruct mechanism within his body.... but it turns out to be useless as Brainiac detected and removed it long ago. He then stomps on Luthor, but Superman returns to prevent him from harming anyone else and resume their fight, this time with Superman being protected by the Argonium 44. Brainiac distracts him with some messes and goes to another of Lex's labs to blow up Metropolis by heating up a reactor, but Superman and an unnamed scientist stop him from doing so. Brainiac then flies off the lab to cause more chaos, but Superman goes after him, makes him dizzy and destroys him. Everyone cheers, Luthor tries to take the credit and Superman leaves for the hospital.
But Brainiac isn't still finished off at all, so his head comes out from the destroyed robotic body, knocks Luthor aside and stalks Superman to the hospital without him knowing. He then does the one thing he can do with just a few tentacles: grab Lois Lane's cure, muse that Superman used it to give himself advantage in their fight and breaks it out of spite to the Last Son of Krypton for foiling his plans. Does Superman just accept his loss with grace and admits to having been bested? Oh, no way! Superman LOSES IT and breaks Brainiac's head with his own hands, then crushes his eyepiece with a car (bad luck for the owner of that vehicle) and punches Brainiac's irritating tinkling chip, destroying him once and for all. However, the True Love's Kiss cliché serves here as well and Superman resurrects Lois by kissing her corpse regretfully (okay, that sounds a bit creepy), Lois revives, Luthor is left in muddy waters when a journalist exposes his role as Brainiac's collaborator, Jimmy gets a girlfriend, everything returns to status quo and everyone (minus Brainiac and Luthor) lives happily ever after.
HEINOUS STANDARDS
Okay, I already mentioned this, but I will reaffirm this again in case anyone still has doubts: this film ISN'T CANONICAL within the DC Animated Universe, so potential problems with the Heinous Standards don't apply here, though even then, it's likely that this wouldn't any effect on that Brainiac's characterization, as that Brainiac is already Pure Evil with all the monstruous acts he did in the DCAU's installments. Yeah, this Brainiac would fail the DCAU's Heinous Standards if he were established to be a variant of the original one, but this film doesn't belong to that continuity and nothing confirms this takes place in a parallel universe to the DCAU. It was just Warner's decision to keep the same designs for, I dunno, nostalgia. So no, there isn't another Brainiac in the DCAU and there's no Joker, Darkseid, Grant Walker, Mongul or Doctor Destiny here.
So, taking this in mind, aside from Brainiac, the only villains that are in the movies are the following, but none of them stand out like Brainiac for different reasons: we have Lex Luthor, Superman's arch-nemesis as always, who makes a deal with Brainiac to kill Supermand and let him pose as a hero, which ends up endangering everyone when Brainiac unsurprisingly goes back on their deal. However, Luthor is too comedic to take seriously in this film and treats his chaffeur much better (apparently, this was because Warner asked for him to remind the classic Gene Hackman version, so if you think this is DCAU canon, then you will be left dumbfounded at why Luthor now makes jokes and treats Mercy decently). Next, we have Mercy Graves, Lex's chaffeur, but she has little to do in the whole plot (most of the time she is Jimmy "Pervert" Olsen's crush) and the worst she does is giving Jimmy a beating for photographing evidence of Lex's crime, which consists in simple standard villainy. There are also the Phantoms of the Phantom Zone, who try to goad Superman into staying with them by making an illusion of him at Metropolis with a now recovered Lois, but they don't speak and their moral agencies aren't that fleshed out. Lastly, at the end of the film Perry White mentions that Mr. Mxyzptlk is attacking the city, but as he doesn't even appear in the film, of course he can't be considered here.
Thus, as I said, the only villain who truly has any exposition in this film (not that he is complex, however, as this film isn't avant garde just like Capizzi stated), is none other than Brainiac. What he does? Well, his first action in the film is downloading Earth's data while trying to use some missiles and direct them to the Earth. He also tries to blow up Metropolis with a heated reactor later on. Destroying cities isn't something standard in a superhero setting? Maybe, but what makes this act more despicable is that Brainiac casually mentions that he "shall enjoy hurtling humankind back to the Dark Ages". Yes, instead of destroying the Earth like his DCAU counterpart would have done, this Brainiac tries to destroy so much on Earth to make humanity regress to how they were during the Dark Ages without any technology, all so the lost knowledge would be valuable and only for him, so even if he doesn't destroy worlds, the lenghts he is willing to reach so he can collect information are completely extreme to say the least.
He likely misuses the knowledge he extracts, given Superman how Superman preferred to erase all of Krypton's data, the only available information he had of his lost homeworld, before letting it fall into Brainiac's hands. As for what he tried to do with Metropolis, Metropolis is still a big city with countless citizens, so the great number of people who would have died in the explosion makes Brainiac more than a generic murderous villain. While not specifically shown onscreen, it's more than likely that Brainiac kills an unspecified number of people in the film, given how the explosion he causes at Lex Labs knocks two scientists away, how he damages some buildings, throws some cars and blows them up, etc. One can compare this rampage and its offscreen consequences to how the Omnidroid caused so much mayhem in The Incredibles (now that I think about it, you can say that Brainiac is like the Omnidroid, though a more intelligent one, and Luthor is like Syndrome, right?).
Brainiac also has such an obsession with destroying Superman that once Superman reduces his body to a single chip and Lex Luthor gives him the chance to get back, Brainiac tries to kill Superman with Kryptonite blasts. A generic "Kill the Hero" villain? Maybe at first, but what makes his constant attempts on Supes' life much worse is his lack of care to those around him: when attacking Superman in the forest, he nearly causes Lois Lane to fall off to her death (granted, Lois should not have climbed to that antenna tower, but well, reporters often do that kind of things), he later contaminates Lois with a sickness due to accidentally shooting the Kryptonite blasts at her while shooting Superman, throwing a car at Superman just as he was placing back on the streets a woman with her son or even destroying a railway so a train full of passengers would fall to certain destruction. All that matters to Brainiac is revenge. If someone gets on his way, he also kills them, such as the army pilots who try to stop his rampage over Metropolis.
While most of the pilots are seen parachuting to safety, some jets don't seem to eject their pilots, so unless it were animation errors, it can be implied that they died. Despite the generous support Luthor gave to him, Brainiac decides to go back on his deal and gives Luthor the stomping of his life even though Luthor wasn't a threat to him (well, Luthor kinda deserved it, but Luthor is in the right to be pissed off at Brainiac for his dishonesty), even using Luthor like a nunchuck against Superman, destroying some building's windows with him and even swatting him away like nothing after Superman defeats him even though there was no necessity of doing that. And yes, one of his most despicable acts is after he is defeated: even though most of his weapons were destroyed, he crawls to the hospital and breaks Superman's Argonium 44 antidote to save his beloved Lois: Why if Lois didn't do anything to Brainiac? Because Brainiac is a sore loser and wants to get bacl at Superman for using it to heal himself during their battle. It should be noted that Brainiac doesn't even defend himself when Superman lunges at him and kills him, so it can be interpreted that he was willing to die as long he made Supes suffer by killing his girlfriend, all for being sadistically spiteful.
In the end, Brainiac is a genocidal, vengeful and spiteful A.I. who destroys worlds and civilizations so the information he collects becomes valuable to satisfy his sense of importance, is willing to cause as much death and destruction he can even if those affected by it aren't opposing him and has loyalty to no one but himself, being perfectly fine with literally stombing his allies once they have outlived their usefulness.
MITIGATING FACTORS?
Like most versions of Brainiac, this Brainiac doesn't seem to have any excuse for his actions. As this movie was stand-alone and has no connections to the DCAU, we don't know anything about his backstory, minus that he is a Kryptonian artificial intelligence who has already fought Superman before. That said, one can think that maybe he could have had some honor had he not detected Lex Luthor's self-destruct mechanism within his body, as we don't know when Brainiac realized that, but that's beyond speculation. Besides, as Luthor later stated, he was going to activate that self-destruct system IF Brainiac double-crossed him, and given how Brainiac mocked Luthor for thinking he was really giving up the Earth to him in exchange of the new body to kill Superman, it's easy to come to the conclusion that Brainiac always planned to backstab Lex.
VERDICT
Taking all of this into account, I would say yes about considering Brainiac to be approved as PE.