Wiki Targeted (Entertainment)
Play Sound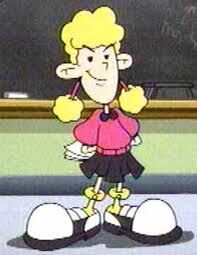 Valerie is a villain from Codename: Kids Next Door. She is a school rival of Numbuh 5 and a favorite of their teacher Mrs. Thompson.
Biography
In "Operation: H.O.U.N.D.", Numbuh 5 walks through some creepy woods on the way to school when a monstrous poodle attacks her and devoured her homework. At school, Numbuh 5 tells her teacher Mrs. Thompson that Valerie's dog ate her homework, but didn't believe her, so Mrs. Thompson angerly gives Numbuh 5 a double F minus. Valerie claims that her dog is harmless.
Refusing to believe this, Numbuh 2 and Numbuh 4 help Numbuh 5 proof that Valerie's dog did eat her homework by investigating Valerie's house. They found a cute little puppy, which was harmless as Valerie implied.
Valerie returns home and angerly tells Numbuh 2 and Numbus 4 to leave, so she can talk to Numbuh 5 alone. Valerie transform into her Werepoodle form and explains to Numbuh 5 that she was the dog who ate her homework and attacks her.
Valerie and Numbuh 5 burst out of Valerie's house while Numbuh 2 and Numbuh 4 were shocked to see Valerie in her Werepoodle form. Numbuh 5 tells Numbuh 4 to give her his homework. Numbus 4 was suspicious but Numbuh 2 takes the homework from him and throws it to Numbuh 5. She gives the homework to Valerie, who eats it and felt nauseous because Numbuh 4's homework is powerful, causing her revest back into human form and faints.
Valerie prepares to attack again but Mrs. Thompson arrives and puts a net on Valerie. At the end, it is revealed that Mrs. Thompson is a Weredog as well.
Abilities
As as cursed werebeast, she possesses superhuman strength, speed, dexterity and animalistic senses, as well as sharp teeth and claws and transform into a Werepoodle.
Gallery

Villains