Jurassic World: Dominion Dominates Fandom Wikis - The Loop
Play Sound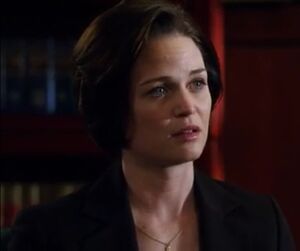 Valerie Roberts is the main villainess from "Hondo Field," the sixth episode of Law & Order: LA. She is the supervisor at Goldshore Oil; the only female working around a group of men.
She was played by Sprague Grayden, who also played serial killer Dina Katz on Rosewood.
Law & Order: LA
While being subject to pranks by her workers, Valerie encountered another of her employees, Freddy Ramirez, and learned that he was an undocumented Mexican immigrant. Valerie used this information to blackmail Freddy into being at her defense and doing menial odd jobs for her for two months, and during that time, she even demanded sex from him. She sent various texts to Freddy ordering him to do chores for her, and her last one to him was an order for him to leave his girlfriend, Stephanie Kasdan, stating that Freddy belonged to her. The villainess even sexted Freddy; sending provocative photos of her to his phone.
After two months, Valerie met Freddy at a motel room and continued her demands, which Freddy not only denied, but also threatened to report Valerie. Enraged, Valerie beat Freddy to death, and she had her boyfriend help her cover up the murder by dumping the body in a lake. After Valerie was arrested and put on trial, she made a false claim that Freddy attempted to rape her; stating that it was the latest instance of sexism that she experienced at the job. However, once Valerie's texts were made public, the villainess defended her murderous actions, stating that she had every right to be at her job and continued to use sexism as an excuse. At episode's end, the evil Valerie was convicted of murder.