Jurassic World: Dominion Dominates Fandom Wikis - The Loop
Play Sound
Validus is the most powerful member of the Fatal Five, and one of the most powerful beings in the universe. He is stronger than Superman and seemingly impervious to harm. In addition to his strength and invulnerability, Validus possesses the ability to project mental lighting bolts from his head, a combination of powers from his parents, Lightning Lad and Saturn Girl. Validus was stolen from his mother's womb by Darkseid, and mutated into the beast who would become an enemy of his parents' team, the Legion of Super-Heroes. Darkseid did this to gain revenge against the Legion, who had defeated him during the Great Darkness Saga.
In the second half of the twentieth century, an entity known as the Eater threatened to consume the Earth's sun, thus destroying the solar system. Desperate to defeat him, Superboy and the Legion of Super-Heroes recruited the help of the Fatal Five. They discovered that Validus was among them, but he had no idea of his kinship. The Fatal Five accepted reluctant to help the Legion, and the Eater Suns attempt was foiled. Validus was a valuable member of the Fatal Five, always ready to obey the prayers of Tharok. During a memorable altercation with the Legion, Validus killed Lyle Norg, the original Invisible Kid.
After the events of the Zero Hour miniseries, Legion continuity was rebooted entirely, and Validus' origin was changed considerably. He was no longer the child of Lightning Lad and Saturn Girl, Darkseid had nothing to do with his creation, and he was also significantly weaker. In the current "Threeboot" continuity, Validus is the name of a nature spirit in the folklore of the planet of Winath, known as the Lord of Lightning. Mekt Ranzz was a member of a cult that worshiped him. Since the Ranzzes gained their powers and left the planet the cult has grown considerably, seemingly granting everyone on Winath lightning powers. This was later revealed as the product of nanomachines in their blood.
Powers and abilities
The classic Validus possessed tremendous superhuman strength, enabling him to easily overpower even the Silver Age Superboy; in fact, on one occasion, it took the combined strength of Kryptonian-level heroes Superboy, Mon-El, and Ultra Boy just to knock him down, and on another, Superboy estimated that Validus possessed twelve times his strength. Validus was shown to be strong enough to tear an entire planet apart with his bare hands. In addition, Validus could fire energy bolts from his brain that were powerful enough to incapacitate a Kryptonian or Daxamite with a single hit. He was extremely resistant to all forms of harm and sometimes seemed not even to notice super-powered attacks against him by members of the Legion. He was able to fend off even the Sun-Eater in order to rescue Princess Projectra (showing that he was not innately evil). He was also capable of flight through space and was immune to telepathy. His first appearance did define some limitations to his power: He could be held in a cell with thick inertron walls, and it was believed that he could be executed with a bombardment of "anti-energy" (although that was not demonstrated). Depictions of Validus' strength and intelligence were not consistent over time.
In other media
Justice League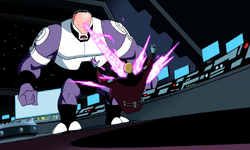 Validus appeared in Justice League: Unlimited episode "Far From Home" with the other Fatal Five members fighting against the Legion. He battles Supergirl, Green Lantern and Arrow and had a robotic boy.
Legion of Super-Heroes
Validus appears in the animated series Legion of Super-Heroes with the other Five. He is vulnerable to psychic attacks and was once mind-controlled as Saturn Girl used her telepathy to controls his mind to help take down the rest of the Fatal Five in the pilot. In the two-part Season Finale, Validus was turned into computer data by Brainiac (in Brainiac 5's body) when trying to help Imperiex. It is unknown if he was restored to normal like everyone else was.  

Villains
Comics
Abra Kadabra | Amanda Waller | Amos Fortune | Amazo | Anarky | Angle Man | Anti-Justice League | Anti-Monitor | Appellaxians | Aquarius | Asmodel | Atomic Skull | Axis America | Bane | Barbatos | The Batman Who Laughs | Black Adam | Black Hand | Black Lantern Corps | Black Manta | Black Mask | Black Spider | Blockbuster | Blue Beetle (Dark Multiverse) | Brainiac | Bronze Tiger | Brother Eye | Brotherhood of Evil | Cadre | Calculator | Calendar Man | Captain Boomerang | Captain Cold | Castle Bat | Catalyst | Catman | Catwoman | Cheetah | Chemo | Cheshire | Circe | Clayface | Clock King | Cluemaster | Copperhead | Construct | Cosmic King | Crazy Quilt | Crime Syndicate of America | Crucifer | Cyborgirl | Darkseid | Dark Supergirl | Deadline | Deadshot | Deathstroke | Demolition Team | Demons Three | Despero | Doctor Alchemy | Doctor Destiny | Doctor Double X | Doctor Impossible | Doctor Light | Doctor Manhattan | Doctor Phosphorus | Doctor Polaris | Doctor Poison | Doctor Psycho | Doctor Regulus | Doctor Sivana | Dominators | Doomsday | Dragon King | Dumas | Earthworm | Eclipso | Electrocutioner | Elite | Empty Hand | Enchantress | Epoch the Lord of Time | Eradicator | Evil Star | Fatal Five | Felix Faust | Fiddler | Floronic Man | Funky Flashman | Gamemnae | General Eiling | Genocide | Gentleman Ghost | Golden Gilder | Goldface | Gorilla Grodd | Great Darkness | Gunhawk | Harley Quinn | Hector Hammond | Hellgrammite | Human Flame | Hyena | Ibac | Icicle | Imperiex | Injustice League | Intergang | I.Q. | Johnny Sorrow | Joker | Key | Killer Croc | Killer Frost | Killer Moth | Kite Man | Kobra | Kobra Cult | Krona | League Buster | League of Assassins | Legion of Doom | Lex Luthor | Libra | Lobo | Mad Hatter | Mageddon | Magpie | Manchester Black | Manhunters | Matter Master | Maxwell Lord | Mekanique | Merlyn | Mirror Master | Mister Atom | Mister Mind | Mister Nebula | Mr. Freeze | Mongul | Mordru | Morgaine Le Fey | Multiplex | Nekron | Nekron (Pre-Crisis) | Neron | Neutron | Nightshade | Obsidan | Ocean Master | Overman | Pariah | Parademons | Parasite | Penguin | Perpetua | Pied Piper | Plastique | Poison Ivy | Professor Ivo | Professor Zoom | Prometheus | Psycho-Pirate | Queen Bee | Queen of Fables | Ra's al Ghul | Rainbow Raider | Rama Khan | Red Death | Red King | Red Panzer | Red Volcano | Riddler | Roulette | Royal Flush Gang | Satanus | Scarecrow | Science Squad | Secret Society of Super Villains | Shadow-Thief | Shaggy Man | Shark | Simon Stagg | Sinestro | Solomon Grundy | Star Sapphire | Starbreaker | Starro | Steppenwolf | Suicide Squad | Superboy-Prime | Tattooed Man | Terra-Man | T.O. Morrow | Two-Face | Upside Down Man | Ultra-Humanite | Vandal Savage | Volcana | Warp | Weather Wizard | White Martians | Wizard
Theatrical Movies
Justice League: Steppenwolf | Parademons (Parademon Scout) | Darkseid | Black Clad (Black Clad Alpha) | Lex Luthor | Deathstroke | Ares
Zack Snyder's Justice League: Darkseid's Elite (Darkseid, Steppenwolf, DeSaad, Granny Goodness, & Parademons) | Lex Luthor | Deathstroke | Black Clad (Black Clad Alpha) | Ares | Joker
Direct-to-video Movies
Justice League: The New Frontier: The Centre | Captain Cold
Justice League: Crisis on Two Earths: Crime Syndicate of America (Owlman, Ultraman, Superwoman, Johnny Quick, Power Ring, J'edd J'arkus, & Black Power) | Lex Luthor | White Martians | President Slade Wilson | Rose Wilson
Justice League: Doom: Legion of Doom (Vandal Savage, Bane, Cheetah, Ma'alefa'ak, Metallo, Mirror Master, & Star Sapphire) | Royal Flush Gang (King, Queen, Jack, Ace, & Ten)
Justice League: The Flashpoint Paradox: Professor Zoom | Wonder Woman | Aquaman | Ocean Master | Black Manta | Deathstroke | Lex Luthor | Clayface | Rogues (Captain Cold, Captain Boomerang, Top, Heat Wave, & Mirror Master) | Joker | Yo-Yo
Justice League: War: Darkseid | Desaad | Parademons | Ocean Master
Justice League: Throne of Atlantis: Ocean Master | Black Manta | The Trench | Lex Luthor
Justice League League: Gods and Monsters: Will Magnus
Justice League vs. Teen Titans: Trigon | Legion of Doom (Lex Luthor, Cheetah, Solomon Grundy, Toymaster, & Weather Wizard) | Atomic Skull | Ra's al Ghul
Justice League vs. the Fatal Five: Fatal Five (Emerald Empress, Mano, Persuader, Tharok, & Validus) | Bloodsport | Two-Face | Harley Quinn | Poison Ivy

Video Games
Injustice: Gods Among Us: One Earth Regime (Superman, Wonder Woman, Yellow Lantern, The Flash, Aquaman, Cyborg, Shazam, Nightwing, Raven, Hawkgirl, Sinestro, Black Adam, Killer Frost, Solomon Grundy, Catwoman, Bane, & Doomsday) | Joker | Lex Luthor | Deathstroke | Ares
Injustice 2: Brainiac | Gorilla Grodd | Captain Cold | Reverse Flash | Cheetah | Deadshot | Poison Ivy | Bane | Scarecrow | One Earth Regime (Superman, Wonder Woman, Aquaman, Cyborg, Nightwing & Black Adam) | Dr. Fate | The Lords of Order | Grid | Atrocitus | Joker | Darkseid
See Also
Justice League Dark Villains | Justice League International Villains | Justice Society Villains | Young Justice Villains