She-Hulk Trailer Dropped - The Loop
Play Sound
Jafar says: Read my lips and come to grips with the reality!


This article is a stub and is in need of expansion. You can help Villains Wiki by expanding it.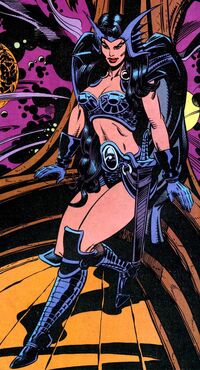 Valkyrie is an abstract supervillain from Marvel Comics born of the Asgardian thunder-god-turned-superhero Thor, during the events known as "Blood and Thunder".
During this series Thor was slowly going insane and Valkyrie would ultimately manifest as Thor's insanity made flesh (more or less) - although female she was the embodiment of Thor's madness and fought against him and many other heroes during this event.
As the embodiment of Thor's own insanity Valkyrie shared a special bond with Thor and could corrupt the thunder-god with her presence, going as far as enslaving him to her will if she gained enough control over him.
External Links
Villains
Comics
Abomination | Absorbing Man | Air-Walker | Alioth | All-Black | Amatsu-Mikaboshi | Angela | Annihilus | Apocalypse | Arcade | Ares | Arnim Zola | Asteroth | Baron Mordo | Beyonder | Bi-Beast | Blackheart | Blackout | Blastaar | Blockbuster | Bolivar Trask | Bulldozer | Celestials | Collector | Crimson Dynamo | Crusader | Dark Gods | Darkoth | Desak | Destroyer | Diablo | Dormammu | Dracula | Dweller-In-Darkness | Ego the Living Planet | Enchanters Three | Enchantress | Executioner | Fafnir | Fenris Wolf | Fin Fang Foom | Frost Giants | Galactus | Godzilla | Gorr the God Butcher | Grandmaster | Graviton | Grey Gargoyle | Gog | Grog | Growing Man | Hela | Hera | High Evolutionary | Impossible Man | Immortus | Jormungandr | Juggernaut | Justin Hammer | Kang | Karnilla | King Cobra | Kingpin | Knorda | Knull | Korath | Korvac | Kurse | Leader | Living Monolith | Loki Laufeyson | Lorelei | Maestro | Magneto | Mangog | Malekith the Accursed | Man-Beast | Masters of Evil | Megatak | Mephisto | Mercurio the 4-D Man | Mister Hyde | M.O.D.O.K. | Mongoose | Moonstone | Morgan le Fay | Moses Magnum | Namor | Nebula | Norman Osborn | Onslaught | Perrikus | Piledriver | Pluto | Punisher | Punisher (Earth-95126) | Purple Man | Quicksand | Quicksilver | Radioactive Man | Ragnarok | Rhino | Ringmaster | Rock Trolls | Roxxon | Sandu | Scarlet Witch | Set | Seth | Skaar | Skrulls | Space Phantom | The Stranger (Marvel) | Super-Adaptoid | Super-Skrull | Surtur | Terminus | Terrax | Thanos | Thunderball | Thunderbolt Ross | Thunderbolts | Titania | Titanium Man | Valkyrie | Venom | Worthy | Wrecker | Ulik | Ultimus | Ultron | Umar | Ymir | Zarrko
Movies
Hulk Vs. Thor: Loki Laufeyson | Hela | Enchantress | Skurge | Surtur | Malekith the Accursed | Valkyrie
Thor: Tales of Asgard: Algrim | Frost Giants | Loki Laufeyson | Fenris Wolf | Amora the Enchantress | Surtur
Thor: Loki Laufeyson | Frost Giants (Laufey, Grundroth, Hailstrum, Raze & Jotunheim Beast) | The Destroyer | Jasper Sitwell
Thor: The Dark World: Dark Elves (Malekith the Accursed & Kurse the Strong) | Loki Laufeyson | Marauders (Duhg & Kronan Marauder) | Jotunheim Beast | The Collector
Thor: Ragnarok: Berserker Army (Hela Odinsdottir, Skurge & Fenris Wolf) | Sakaaran Guards (The Grandmaster & Topaz) | Loki Laufeyson | Fire Demons (Surtur & Fire Dragon) | Thanos

TV Series
The Mighty Thor: Loki | Amora the Enchantress | Skurge the Executioner | Absorbing Man | Grey Gargoyle | Thunderbolt Ross | Zarrko | Pluto | Sandu | Surtur | Mr. Hyde
Loki: Loki Laufeyson's Variants (Loki Laufeyson (Variant L1130), Sylvie Laufeydottir, Boastful Loki & President Loki) | Time Variance Authority (He Who Remains, Miss Minutes, Ravonna Renslayer, Hunter D-90) | Alioth | Kang the Conqueror
What If: Infinity Ultron | Yellowjacket | Loki Laufeyson | The Destroyer | Brock Rumlow | Jack Rollins | Thunderbolt Ross | Skrulls | Nebula | Grandmaster | Skurge | Yondu Udonta | Ego | Arim Zola | Prince Killmonger | Strange Supreme | Surtur | Frost Giants

Video Games
Thor: God of Thunder: Loki Laufeyson | Frost Giants (Ymir) | Rock Trolls (Ulik) | Fire Demons (Surtur) | Hela
Thor: The Dark World: Loki Laufeyson | Dark Elves (Malekith the Accursed, Kurse the Strong) | Ymir | Mangog | Marauders | Frost Giants

See Also
Hercules (Marvel) Villains