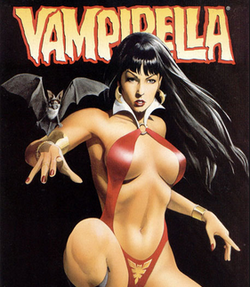 This article's content is marked as Mature
The page Mature contains mature content that may include coarse language, sexual references, and/or graphic violent images which may be disturbing to some. Mature pages are recommended for those who are 18 years of age and older.


If you are 18 years or older or are comfortable with graphic material, you are free to view this page. Otherwise, you should close this page and view another page.

Vampirella has all of the powers of a vampire but none of their weakness.She is the main character of the series of the same name.
History
Vampirella was originally presented as an inhabitant of the planet Drakulon, a world where a vampiric race lived on blood and where blood flowed in rivers. Drakulon orbits twin suns that were causing droughts across the planet, marking certain doom for Vampirella and her race. The race of which Vampirella was born, the Vampiri, were able to transform themselves into bats at will, possessed superhuman physical attributes, sprout wings when required to fly, and drink blood.
The story begins with the inhabitants of Drakulon dying slowly due to the drying up of its blood. The last few lie dying when a spaceship from Earth crashes on the planet. Vampirella, sent to investigate, is attacked; retaliating, she discovers that the astronauts have blood in their veins. In order for her race to survive, she manages to pilot the ship back to Earth where her adventures begin. Vampirella becomes a "good" vampire, and devotes her energy to ridding our world of the evil kind. Evil vampires owe their existence to Dracula, who came from Drakulon but was corrupted by Chaos.
She learned that she was, in fact, the daughter of Lilith, whom popular medieval Jewish lore depicts as the first wife of Adam and Eve. Lilith would not submit to Adam and was cast out of Garden of Eden by God.  Lilith spawned demons, but later repented and went to Eden to bear children to fight the evil she had created.  Her first attempt was Madek and Magdalene, who turned to evil; Vampirella was her second.  Her brother and sister brainwashed her into believing she was from the planet Drakulon.
Drakulon was real, but was a place in Hell. Vampirella was brought to Eden, not born there. It is later implied that Vampirella was raised in Drakulon, not in Eden. She was made to believe that Drakulon was another planet by Lilith, not by her brother and sister. Vampirella and her boyfriend restore the rivers of blood to Drakulon, which weakens Lilith. Lilith is killed by the hand of God.
Among her rogues gallery She has Chaos and Dracula as her archenemies with The Blood Red Queen Of Hearts and Von Kreist being close seconds.
Community content is available under
CC-BY-SA
unless otherwise noted.