Obi-Wan Finale - The Loop
Play Sound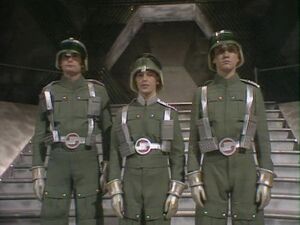 The Vardans were the secondary antagonistic faction in the Doctor Who story "The Invasion of Time". Although this was their only television appearance, they have reappeared in other media. Their normal appearance is as humanoids, while they can also appear in an insubstantial, half-materialised state.
History
In "The Invasion of Time", the Vardans formed an alliance with the Doctor to take over Gallifrey, which involved the Doctor becoming president and then lowering the transduction barrier, allowing the Vardans to invade. The first stage of their plan was a success and the Vardans took over Gallifrey, using their ability to read minds and to travel along any wavelength to appear in a half-materialised state. Assisted by the Doctor and the cowardly Castellan Kelner, they had all Time Lords who might object to their rule exiled from the capital. They materialised fully after convincing the Doctor to increase the hole in the transduction barrier. Soon after however, they learned the Doctor had betrayed them: He had been keeping them busy while K9 traced their planet and placed it in a time loop, with the Vardans on Gallifrey transported back there. However, the Vardans' sabotage of the transduction barrier allowed the Sontarans to invade Gallifrey.
The novel No Future reveals that the Vardans were freed by the Meddling Monk, who intended for the Vardans to possess everyone viewing a rock concert by travelling along the television waves. The plan was defeated by the Seventh Doctor.
The Vardans have reappeared several times in Big Finish audio plays, usually attempting to invade Earth using broadcast waves. They were variously defeated by the First, Second, Fourth and Seventh Doctors.