Jurassic World: Dominion Dominates Fandom Wikis - The Loop
Play Sound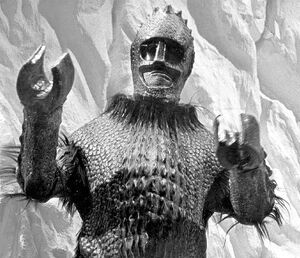 Varga is the main antagonist of the Doctor Who story "The Ice Warriors", making him the series' first Ice Warrior antagonist.
He was portrayed by the late Bernard Bresslaw.
Biography
Varga was the captain of an Ice Warrior ship that crashed on Earth during a reconnaissance mission. They were searching for a world to colonise, since their own planet Mars was dying. As a result of the crash, their ship became imbedded in a glacier, with Varga and his crew left frozen for thousands of years.
During the planet's Second Ice Age, Varga was found by the crew of Britannicus Ice Base, who mistook him for the corpse of a prehistoric human and began defrosting him. The Doctor noticed how advanced he looked, but before he could alert the crew, Varga recovered, knocking out Jamie and taking Victoria hostage. After learning the situation from her, he took the machine that had revived him and headed out into the ice. There, he unearthed his spaceship and revived his four-man crew.
When Jamie and the scientist Arden came looking for Victoria, Varga turned the ship's cannon on them, killing Arden and injuring Jamie. However, he knew Victoria was needed as a hostage, so stopped his second-in-command Zondal from killing her when she tried to escape. When Storr, a scavenger who had stayed behind during an evacuation, approached the Ice Warriors offering to help them against the scientists, Varga and Zondal casually killed him.
Varga's main priority was to refuel his ship and return home, even though doing so would disrupt the glacier and destroy the base. He took the Doctor prisoner when he came looking for him and took most of the crew with him to the base, leaving Zondal to guard the Doctor and Victoria. He took over the base, demanding fuel rods and also insisting the crew disable their ioniser, which they were using to halt the glacier's advance.
The Doctor and Victoria had overpowered Zondal and taken charge of the ship, firing its cannon at the base to force Varga and his men to withdraw. Varga returned to the ship to find the cannon disabled. He tried to take off but the base crew used the ioniser against his ship, destroying it and Varga and his crew with it.
Trivia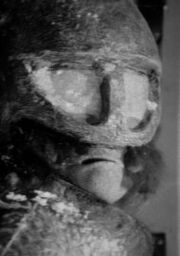 Although Bernard Bresslaw was credited as playing Varga in the first episode, in which he is unconscious until the final moments and has no dialogue, the role was actually played by Tony Harwood, who played the Ice Warrior

Rintan

in the later episodes. He wore a noticeably different costume to the one worn by Bresslaw.