Doctor Strange in The Multiverse o Madness - The Loop
Play Sound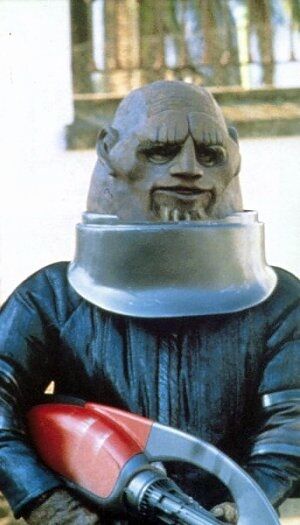 Varl is a minor antagonist in the Doctor Who story "The Two Doctors".
He was portrayed by Tim Raynham.
Biography
Major Varl was the aide of Group Marshall Stike of the Ninth Sontaran Battle Group. Together, they allied themselves with the renegade Androgum Chessene, who promised them time travel technology, since scientists at Space Station Camera were attempting to develop a working time module, the Kartz-Reimer module. The Sontarans attacked the station, massacring the scientists and capturing the Second Doctor, whose physiognomy was suspected to be the key to making the capsule work.
Varl travelled to Earth with Chessene and her associate Shockeye in order to establish a base before Stike and Chessene's scientist ally Joinson Dastari arrived with the Doctor. Varl was already making his disdain for their allies clear, refusing to help Shockeye move the body of the elderly woman whose hacienda they co-opted and considering Stike in command. Stike eventually put an end to his attempts to enforce military discipline, saying they considered their allies equals for now.
Stike and Varl captured the Sixth Doctor and Jamie when they broke into the hacienda, but the pair escaped while Varl was summoning help. Stike told Varl that the capsule was now working, meaning they could use it to rejoin their unit. He ordered Varl to set their spaceship's self-destruct and retrieve their weapons, intending to kill Chessene and the others before leaving. However, Chessene got her own double cross in first, tricking the two Sontarans into entering the cellar and then throwing two canisters of coronic acid after them, killing Varl and mortally wounding Stike.