'Venom' Character History: Venom
Play Sound

✓
This Villain was Headlined on November, 2017.
| | | |
| --- | --- | --- |
| " | We are Venom! | " |
| | ~ Venom's most recognizable catchphrase. | |
| | | |
| --- | --- | --- |
| " | From now on, we're poison to Peter Parker and Spider-Man! WE'RE VENOM! | " |
| | ~ Venom in The Spectacular Spider-Man. | |
| | | |
| --- | --- | --- |
| " | There's no more Eddie! And no more symbiote! Only... Venom! | " |
| | ~ Venom in Spider-Man: The Animated Series. | |
| | | |
| --- | --- | --- |
| " | You know nothing about us, but we know everything about you! You'll see us everywhere, even in your nightmares! | " |
| | ~ Venom in Spider-Man: The Animated Series. | |
Venom is a major character in Marvel Comics, most commonly serving as an archenemy of Spider-Man. The name has belonged to several different hosts over the years, which means that Venom is indeed the identity of this particular alien Symbiote. The Symbiote named itself Venom, as it considered itself a venom for Spider-Man.
Other Media
Venom has appeared in many other media due to his popularity.
Spider-Man films
Main article: Venom (Spider-Man Films)
Eddie Brock/Venom is the main antagonist in the film Spider-Man 3 played by Topher Grace.
Venom (2018)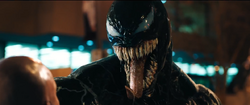 Main article: Venom (Sony's Marvel Universe)
Venom is the protagonist villain (and anti-hero) of the 2018 movie of the same name. He was portrayed by Tom Hardy, who portrayed Bane in The Dark Knight Rises.
TV Series
Venom appeared in the animated series Spider-Man: The Animated Series and The Spectacular Spider-Man Tv show as an antagonist while possessing his perfect host, Eddie Brock who holds a definite grudge against Peter Parker, also known as Spider-Man. In the Ultimate Spider-Man TV series, however, Venom was created by Doctor Octopus using Peter Parker's blood sample. Venom then possesses Peter Parker's friend Harry Osborn. Venom also appeared in the Marvel crossover of the Disney show Phineas and Ferb. Venom served as the main antagonist of the third and final season of the 2017 series Marvel's Spider-Man.
Video Games
Venom also appeared in several Marvel video games such as the 2000 video game Spider-Man where he is both a false antagonist and a reluctant ally, voiced by Daran Norris, who also voiced Knock Out. Eddie Brock contacted a Symbiote and wanted to defeat Spider-Man. As Spider-Man chased the villain, it led him to the sewers where Venom has taken Mary Jane Watson hostage. Spidey rescued Mary Jane and Venom realizes that the true enemies are Doctor Octopus and Carnage.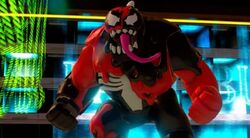 In LEGO Marvel Superheroes 2, Venom merged himself with Carnage and becomes a symbiote hybrid known as Carnom that serves as a boss and playable character. They were unleashed by Goblin 2099 at Alchemax after he created them to destroy the heroes, whom were after the Nexus Shard that was powering a generator there. During the boss battle, Carnom transformed into a bigger and even monstrous form known as Maximum Carnom. In its defeat, Carnom reverted back to its original state while Goblin 2099 appeared to take on the heroes himself. Unfortunately, the heroes quickly defeated him and took the Nexus Shard away from him. Carnom then became furious, as he called the Goblin a monster and chased him around. During the final boss battle, Kang briefly summons Carnom from a portal while it was still chasing Goblin 2099.kn
Ultimate Comics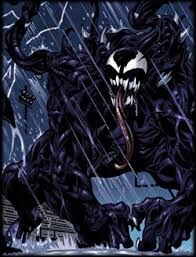 In this universe, the Symbiote was not an alien life form but a suit created to cure cancer by Eddie Brock's father and Peter Parker's father. After he was told of the suit by Eddie, Peter tried taking some of it so that he could experiment with it, and finish his father's work.
Unfortunately, the suit travelled up Peter's arm and turned his suit black. Peter swung around in the new outfit for a few hours, but soon he became delusional and developed psychosis. Peter was forced to destroy the suit and then apologized to Eddie for taking the suit. Angry at Peter, Eddie took a second sample of the suit, which controlled him, turning him into a monster that attacked anyone that standing in his way. His form was a big purple-black brute that produced tendrils and spikes throughout his body, but when he absorbed the remaining symbiote from Peter, the suit adapted the spider symbol just like the mainstream universe.
In the story arc "War of the Symbiotes", Eddie absorbed the Carnage Symbiote from The Gwen Stacy Clone, and was finally able to control the symbiote, also obtaining a new form. In the story arc "Venom Wars", the Venom Symbiote's new host was Dr Conrad Marcus, who was an ex-Osborn Employee turned Roxxon Employee. In his first appearance as Venom, he had an anorexic design, but in later appearances was more monstrous and more alien looking.
Spider-Man: Web of Shadows
Main article: Venom (Spider-Man: Web of Shadows)
Venom appeared in Spider-Man Web of Shadows, where he serves as the main antagonist.
Ultimate Spider-Man (Video Game)
Venom appears as the main antagonist and final boss of the Ultimate Spider-Man video game from 2005, based on the comics of the same name.
Quotes
| | | |
| --- | --- | --- |
| " | I lost the kid. Carnage turned him. Took him. Dragged him drowning into the black and red. The Carnage hordes grow stronger by the day. He's collected dozens of codices so far. Ripped pieces of the symbiote from the living and the dead... and we're... losing. I'm losing everything. And I don't know how to win. | " |
| | ~ Venom | |
| | | |
| --- | --- | --- |
| " | Knull! He's... awake. He is free. And he is coming, Eddie. For all of us. For everything. God... God help us all. | " |
| | ~ Venom | |
| | | |
| --- | --- | --- |
| " | They are speaking to in our ancient tongue, Eddie. Because you... you defeated the Void. You freed our kind. You are the hive-mind now... Eddie... you... are the God of the Symbiotes... You are the King in Black. | " |
| | ~ Venom | |
Trivia
Venom fought Bane of DC Comics in Rooster Teeth's DEATH BATTLE and won. Venom would later fight Crona from Soul Eater as well, although he would lose this fight.

Interestingly for the first case, Venom's 2018 actor, Tom Hardy, also portrayed Bane in The Dark Knight movie franchise.

Venom's favourite food used to be human brains. Eddie's secret love for chocolate, however, overtook it, making chocolate of all things to become Venom's favourite food. (Some comics show that Venom has a craving for Tater Tots, Hash Browns, and food from McDonald's. It is unsure whether this is canon or not.)

This later explained due to both contain an abundant amount of certain chemical (most likely phenethylamine) that symbiotes in general need to stay sane and healthy. Not surprisingly, upon finding that chocolate contains same substances, Venom chose it as the better alternative for sustenance thus terminating the need to kill people just for that purpose.

While uncommon, there are a few incarnations of Venom that lack any redeeming qualities that he would traditionally have, most egregiously Spider-Man: Reigns's iteration of the character, single-handedly transforming New York into a fascist state and creating the WEBB system to deliver a concentrated symbiote attack on the city; all while blaming Spider-Man entirely for bringing him (as a symbiote) to Earth and then abandoning him, completely failing to realize the reasons why Spider-Man had abandoned the symbiote (it had taken him on web-slinging joyrides while he slept, and parasitically kept forcing him to fuse with it).

Similarly, Sam Raimi's incarnation of the character was portrayed as malicious being from start, choosing to rather stay evil despite Peter's pleads through his host Eddie. The reason for this was because Sam Raimi is forced to integrate the character into the third installment of his Spider-Man film, resulting in his version of Venom became poorly developed and condemned by fans.

The character was ranked at #8 in Marvel's Top 10 Spider-Verse Characters.Marvel also released Marvel's Top 10 Symbiote Hosts, listings the symbiote's most notable hosts.
Despite being Spidey's third archenemy, Venom's popularity integrated him as the mascot antagonist of the Spider-Man franchise in other media, appearing far more than the likes of Doc Ock and Green Goblin.
Venom being Spider-Man's third arch-nemesis is often referenced in the majority of the media. For example, he first played a major role in Spider-Man#300, being the villain of the third movie and will serve as the main antagonist of the third season of Spider-Man (2017), with it being appropriately titled Marvel's Spider-Man: Maximum Venom. Although in the comics Venom is now an anti-hero and got his own series, supporting cast, and rogues gallery with Carnage becoming his arch-enemy now.

Villains
Comics
Abomination | Absorbing Man | Agony | A.I.M. | Alistair Smythe | Annihilus | Answer | Arcade | Arnim Zola | Awesome Android | Baron Zemo | Basilisk | Beetle | Beyonder | Black Cat | Blackie Drago | Blastaar | Blizzard | Blob | Bombshell | Boomerang | Brothers Grimm | Burglar | Bullseye | Bushwacker | Cadaverous | Calypso | Carlton Drake | Carnage | Carrion | Chameleon | Chance | Constrictor | Crime Master | Crossbones | Daemos | Dark Avengers | Deadpool | Demogoblin | Diablo | Doctor Doom | Doctor Faustus | Doctor Octopus | Doppelganger | Dormammu | Electro | Enforcers | Equinox | Fancy Dan | Firelord | Freak | Frightful Four | Ghost | Gog | Goliath | Grant Ward | Graviton | Green Goblin (Norman Osborn, Harry Osborn and Bart Hamilton) | Grey Goblin | Grizzly | Hammerhead | Hand | Hazmat | High Evolutionary | Hitman | Hobgoblin | Hood | Human Fly | Hybrid | HYDRA | Hydro-Man | Inheritors | Iguana | Jackal | Jack O' Lantern | Jigsaw | J. Jonah Jameson | Johnny Ohm | Jonas Harrow | Juggernaut | Justin Hammer | Kaine | Karn | Killer Shrike | King Cobra | Kingpin | Knull | Kraven the Hunter | Lasher | Lady Deathstrike | The Leader | Lightmaster | Living Brain | Living Laser | Lizard | Loki Laufeyson | Madame Masque | Madame Viper | Maestro | Magneto | Mandarin | Man-Spider | Man-Wolf | Mania | Masters of Evil | Menace | Mephisto | Mesmero | Mister Brownstone | Mister Fear | Mister Hyde | Mister Negative | Mojo | Molten Man | Montana | Morbius | Morlun | Moses Magnum | Mysterio | (Quentin Beck, Daniel Berkhart and Francis Klum) | Nekra | Nightmare | Niles Van Roekel | Nitro | Onslaught | Overdrive | Owl | Ox | Phil Urich | The Prowler | Psycho-Man | Puma | Punisher | Punisher (Earth-95126) | Ramrod | Raze | Red Ghost | Red Skull | Rhino | Rhino II | Richard Fisk | Ringer | Riot | The Rose | Roxxon Energy Corporation | Sabretooth | Sandman | Sauron | Scarecrow | Scorcher | Scorpion | Scorn | Scream | Sebastian Shaw | Secret Empire | Sentinels | Seth Youngblood | Shocker | Shriek | Silver Sable | Sinister Six | Skip | Skrulls | Solus | Patton Parnel | Spider-Man Revenge Squad | Spider-Slayers | Spot | Street | Super-Apes | Supercharger | Swarm | Symbiotes | Tarantula | Taskmaster | Terminus | The Thousand | Thunderball | Thunderbolts | Tinkerer | Titania | Titanium Man | Tombstone | Trapster | Tyrannus | Ultimatum | Ultron | Venom (Eddie Brock) | Vermin | Vulture | Walrus | Whiplash | White Rabbit | Whirlwind | Will-O'-The-Wisp | Wizard | Worthy | Wrecker | Zodiac | Zombie Spider-Man | Zombie Giant-Man
Movies
Spider-Man: Green Goblin | Dennis Carradine | Bank Robbers | Harry Osborn | J. Jonah Jameson
Spider-Man 2: Doctor Octopus | Harry Osborn | J. Jonah Jameson | Green Goblin
Spider-Man 3: Venom | Sandman | New Goblin | J. Jonah Jameson | Green Goblin | Dennis Carradine
The Amazing Spider-Man: Lizard | Gustav Fiers | Cash Register Thief | Norman Osborn
The Amazing Spider-Man 2: Electro | Green Goblin | Donald Menken | Rhino | Alistair Smythe | Ashley Kafka | Felicia Hardy | Gustav Fiers | Norman Osborn
Spider-Man: Homecoming: Bestman Salvage (Vulture, Tinkerer, Shocker #1, Shocker #2 & Randy Vale) | Mac Gargan | Aaron Davis
Spider-Man: Into the Spider-Verse: Kingpin | Doctor Octopus | Prowler | Tombstone | Scorpion | Green Goblin | Vanessa Fisk | Richard Fisk
Spider-Man: Far From Home: Mysterio's Crew (Mysterio, William Ginter Riva, Victoria Snow, Gutes Guterman, Janice Lincoln, & Doug) | Elementals (Molten Man, Hydro-Man, Sandman, Cyclone and Elemental Fusion) | Skrulls (Talos) | Obadiah Stane | J. Jonah Jameson
Television
Spider-Man (1967)
Vulture | Green Goblin | Electro | Rhino | Mysterio | Doctor Octopus | Scorpion | Human Fly | Kingpin | Lizard | Spider-Slayer | Sandman | Dr. Matto Magneto | Enforcers (Cowboy and Ox) | Frederick Foswell | J. Jonah Jameson
Spider-Man (1981)
Doctor Doom | Kingpin | Doctor Octopus | Lizard | Black Cat | Sandman | Magneto | Mysterio | Ringmaster | Green Goblin | Sidewinder | Kraven the Hunter | Red Skull | Chameleon | Vulture | Hammerhead | Wizard
Spider-Man and His Amazing Friends
Green Goblin | Kraven the Hunter | Doctor Doom | Swarm | Chameleon | Electro | Brotherhood of Mutants (Magneto, Blob, Toad and Mastermind) | Mysterio | Loki Laufeyson | Ymir | Mordred | Kingpin | Doctor Faustus | Red Skull | Juggernaut | Shocker | Sandman | Dracula | Scorpion | Beetle | Doctor Octopus | A.I.M.
Spider-Man: The Animated Series
Kingpin | Green Goblin (Norman Osborn and Harry Osborn) | Doctor Octopus | Hobgoblin | Venom | Vanessa Fisk | Richard Fisk | Insidious Six (Scorpion, Rhino, Mysterio, Chameleon, Shocker and Vulture) | Black Cat | Lizard | Morbius | Spider-Carnage | Spider-Slayers (Alistair Smythe) | Carnage | Baron Mordo | Dormammu | Silver Sable | Hydro-Man | Prowler | Doctor Doom | Red Skull | Electro | Hammerhead | Tombstone | Kraven the Hunter | Calypso | Herbert Landon | Jackal | Spot | J. Jonah Jameson
Spider-Man: The New Animated Series
Harry Osborn | Electro | Kraven the Hunter | Turbo Jet | Kingpin | Lizard | Shikata | Silver Sable
The Spectacular Spider-Man
Green Goblin | Tombstone | Doctor Octopus | Hammerhead | Venom | Sinister Six (Rhino, Vulture, Electro, Sandman, Mysterio and Kraven the Hunter) | Chameleon | Tinkerer | Enforcers (Shocker, Ricochet and Ox) | Molten Man | Silver Sable | Harry Osborn | Lizard | J. Jonah Jameson | Black Cat | Miles Warren | Frederick Foswell | Calypso | Roderick Kingsley | Morris Bench | Cletus Kasady
Ultimate Spider-Man
Doctor Octopus | Green Goblin | Harry Osborn | Taskmaster | HYDRA (Arnim Zola, Crossbones, Morbius and Baron Mordo) | Sinister Six (Kraven the Hunter, Rhino, Electro, Scorpion, Vulture & Hydro-Man) | Batroc the Leaper | Beetle | Lizard | Frightful Four (Wizard, Trapster & Klaw) | Juggernaut | Sandman | Venom | Loki Laufeyson | The Collector | Grandmaster | Carnage | Wolf Spider | Shocker | Shriek | Swarm | Dracula | Spider-Slayers (Kaine) | Absorbing Man | Abomination | Annihilus | Arcade | Attuma | Awesome Android | Blastaar | Blizzard | Boomerang | Chitauri | Deadpool | Destroyer | Doctor Doom | Dormammu | Skurge | Enforcers (Montana, Fancy Dan, Ox) | Frost Giants | Grizzly | Hammerhead | Jack O'Lantern | Korvac | The Leader | Living Laser | Man-Wolf | Maximus | Melter | Mesmero | M.O.D.O.K. | Molten Man | Mister Negative | Mysterio | Nightmare | Norma Osborn | Phalanx | Sabretooth | Toad | Ulik | Whirlwind | Wrecker | Piledriver | Thunderball | Ymir | Zodiac | Scorpio | Zzzax | J. Jonah Jameson
Spider-Man (2017)
Symbiotes (Venom, Scream, Scorn and Mania) | Dark Goblin | Hobgoblin | Doctor Octopus | Vulture/Goblin King | Alistair Smythe | Rhino | Jackal | Hammerhead | Electro | A.I.M. (M.O.D.O.K.) | Spider-Slayers | Lizard | Tinkerer | Swarm | Scorpion | Sinister Six | Kraven the Hunter | Man-Wolf | Silver Sable | Beetle | Spot | Prowler | Molten Man | Mister Negative | Chameleon | HYDRA (Crossbones and Arnim Zola) | Black Cat | Ghost | Blizzard | Absorbing Man | Crimson Dynamo | Overdrive | Mysterio | Jack O'Lantern | Paladin | Puma | Shocker | Living Brain | Sandman | Technovore | Baron Mordo | Knull | J. Jonah Jameson
Video Games
Spider-Man: Return of the Sinister Six: Sinister Six (Doctor Octopus, Electro, Hobgoblin, Mysterio, Sandman and Vulture)
Spider-Man and Venom: Maximum Carnage: Carnage | Shriek | Doppelganger | Demogoblin | Carrion
Spider-Man and Venom: Separation Anxiety: The Jury | Sentry | Ramshot | Screech | Bomblast | Firearm | Wysper | Life Foundation | Symbiotes (Carnage | Riot | Lasher | Agony | Scream)
Spider-Man (2000): Doctor Octopus | Symbiotes | (Carnage, Venom) | Jade Syndicate | Monster Ock | Scorpion | Rhino | Mysterio, J. Jonah Jameson, Lizard
Spider-Man 2: Enter Electro: Electro | Beetle | Hammerhead | Lizard |Sandman | Shocker
Spider-Man (2002): Green Goblin | Shocker | Vulture | Spider-Slayers | Scorpion | Kraven the Hunter | Dennis Carradine | Harry Osborn | J. Jonah Jameson
Spider-Man 2: Doctor Octopus | Harry Osborn | Rhino | Mysterio | Shocker | Puma | Black Cat | Vulture | Calypso | J. Jonah Jameson
Ultimate Spider-Man: Bolivar Trask | Venom | Vulture | Silver Sable | Shocker | R.H.I.N.O. | Electro | Beetle | Green Goblin | Sandman | Carnage
Spider-Man 3: Venom | Sandman | New Goblin | Lizard | Scorpion | Kraven the Hunter | Calypso | Kingpin | Rhino | Morbius | Shriek | H-Bombers (Mad Bomber) | J. Jonah Jameson
Spider-Man: Web of Shadows: Spider-Man | Venom | Kingpin | Black Cat | Vulture | Electro | Tinkerer | Rhino
Spider-Man: Shattered Dimensions: Mysterio | Kraven the Hunter | Hammerhead | Hobgoblin | Electro | Sandman | Vulture | Scorpion | Deadpool | Juggernaut | Silver Sable | Goblin | Serena Patel | Carnage
Spider-Man: Edge of Time: Peter Parker | Atrocity | Walker Sloan
The Amazing Spider-Man: Spider-Slayers (Alistair Smythe) | Lizard | Rhino | Vermin | Scorpion | Felicia Hardy | Iguana | Nattie
The Amazing Spider-Man 2: Carnage | Kingpin | Green Goblin | Shocker | Kraven the Hunter | Black Cat | Electro | Chameleon | Norman Osborn | Cash Register Thief
Marvel's Spider-Man: Sinister Six (Doctor Octopus, Mister Negative, Electro, Vulture, Rhino and Scorpion) | Inner Demons | Norman Osborn | Silver Sable | Kingpin | Shocker | Tombstone | Taskmaster | Black Cat | Screwball | Hammerhead | Walter Hardy | Yuriko Watanabe
Marvel's Spider-Man: Miles Morales: Roxxon Energy Corporation (Simon Krieger) | The Underground (Tinkerer) | Prowler | Rhino | Kingpin | Norman Osborn | Doctor Octopus | Vulture
Villains
Comics
Absorbing Man | Alkhema | Annihilus | Badoon | Beyonder | Blastaar | Black Order | Collector | Celestials | Chitauri | Dark Avengers | Doctor Doom | Doctor Octopus | Ego the Living Planet | Galactus | Garthan Saal | Grandmaster | J'son | Kang the Conqueror | Korath the Pursuer | Korvac | Kree | Loki Laufeyson | Maelstrom | Magus | Masters of Evil | Nebula | Ronan | Shocker | Skrulls | Space Phantom | Super-Adaptoid | Super-Skrull | Supreme Intelligence | Thanos | Titania | Ultimus | Ultron | Universal Church of Truth | Venom
Movies
Guardians of the Galaxy: Kree Empire (Ronan the Accuser, Nebula, Korath the Pursuer, Sakaaran Mercenaries & Exolon Monks) | Yondu Ravager Clan (Yondu Udonta, Kraglin Obfonteri, Horuz & Vorker) | Garthan Saal | Eson the Searcher | Chitauri (The Other) | Moloka Dar | Monstrous Inmate | The Collector | Dark Elf | Thanos
Guardians of the Galaxy Vol. 2: Ego | Sovereign (Ayesha, Sovereign Admiral, Zylak & Sovereign Chambermaid) | Yondu Ravager Clan (Yondu Udonta, Kraglin Obfonteri, Nebula, Tullk, Oblo, Taserface, Gef, Retch, Halfnut, Brahl, Vorker, Narblik & Huhtar) | Abilisk | The Grandmaster | Thanos