Click To Help DIO!

DIO has declared that this article has stopped in time, and any and all information on it may be outdated.
Help improve this article by checking and updating it's info wherever necessary
And now time resumes!

✓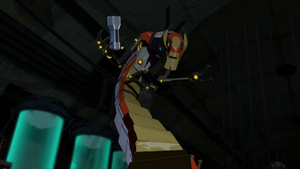 Vertebreak is a Decepticon mad scientist in Transformers: Robots in Disguise.
History
Vertebreak was a member of Crystal City's science council on Cybertron. He studied other worlds surgical knowledge and planned to perform cyber-grafting experiments using it. The council was horrified at his intentions and expelled him. He planned to get revenge, but before he could his plans into motion he was captured and was imprisoned on the Alchemor. When the ship crashed he was freed from stasis and hid in Crown City's subway network tunnel. He took the form of a train and set up a new laboratory.
Relationships
Megatronus

- Savior (never met).
Bumblebee's team - Enemies.
Gallery