We're Getting Mutants in the MCU - The Loop
Play Sound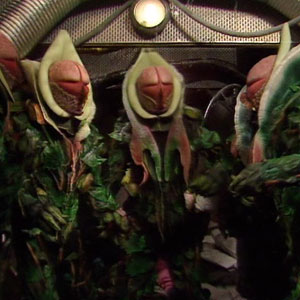 The Vervoids are the main antagonistic faction of the "Terror of the Vervoids" segment of the Doctor Who story "The Trial of a Time Lord".
History
The Vervoids were a sentient plant species genetically engineered by Professor Lasky and her assistants Bruchner and Doland. They attempted to take the Vervoids to Earth inside seed pods aboard the Hyperion III, but accidental exposure to normal lighting caused the Vervoids to be revived sooner than expected. Equipped with poisonous spikes, they immediately killed a guard and took his body, along with that of the crewmember Edwardes who had been killed by an electric shock, into the inner workings of the ship where they had made their nest, with the pair forming the start of their "compost heap". The Vervoids saw animal life as the natural enemy of plant life and planned to eradicate everyone on board the ship and then everyone on Earth.
Seemingly at random, the Vervoids killed an elderly passenger, Kimber. On learning that Bruchner, who had realised the dangers of the Vervoids, was attempting to fly the ship into a black hole to destroy them, the Vervoids flooded the bridge with poison gas, which killed Bruchner but ironically hampered the crew's attempts to redirect the ship.
With the disaster averted and more and more people aware of their existence, the Vervoids went on full-on rampage, with their victims including the failed hijacker Rudge, Doland who had tried to sell them as slave labour, and the mutated lab assistant Ruth Baxter. One of their last victims was Lasky herself when she tried to reason with them. The Doctor managed to cut short the rampage by shutting off the ship's lights, forcing them back into their nest.
There, the Doctor, Mel and the ship's crew exploded vionesium, releasing high intensity bursts of light which accelerated the Vervoids' life cycle. All the Vervoids withered and died in a matter of seconds.