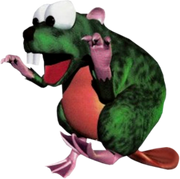 Very Gnawty is the first boss of Donkey Kong Country. A larger version of a Gnawty, it works under King K. Rool's command. 
Biography
The first boss of Donkey Kong Country, Very Gnawty is (as expected) not much of a challenge. He mainly attacks by jumping towards the player, trying to knock himself into them. He can be damaged by the player jumping on his head. As the battle goes on, Very Gnawty jumps farther and quicker than the last phase. In the GBA port of the game, he was able to jump farther and faster than in the SNES version, and became invincible after taking a hit for some time.
Appearance
As his name suggests, Very Gnawty is a larger version of a Gnawty. With an appearance nearly identical to a beaver, he has green fur (red in the GBA port), large white eyes, buck teeth, an orange belly, pink hands and webbed feet, and a brown tail.
Community content is available under
CC-BY-SA
unless otherwise noted.