Doctor Strange in The Multiverse o Madness - The Loop
Play Sound
| | | |
| --- | --- | --- |
| " | I wasn't in prison that long. I didn't forget you or your cousin. (...) You taking the law into your own hands? How ironic. Me and my compañeros, were the law. Until you and your Americano friends came and killed them all. How are we supposed to protect and serve the city? | " |
| | ~ Ramon being confronted by Yo-Yo while displaying complete denial and lack of remorse of his actions. | |
Colonel Victor Ramon is a minor antagonist in Season 3 of the TV series Marvel's Agents of S.H.I.E.L.D., and the main antagonist of the spin-off web-series Marvel's Agents of S.H.I.E.L.D.: Slingshot. He is the corrupt Colonel of the National Police of Colombia who abused his position for power and is the arch-nemesis of Yo-Yo Rodriguez.
He is portrayed by Yancey Arias.
Biography
During the Terrigen outbreak when his subordinate Lucio became an Inhuman with eyes that renders people paralyzed, Ramon promoted him as his right-hand. He then saw this as an opportunity to gain full control over Bogotá and went on to order his men to unlawfully kill any unarmed civilian who wouldn't submit. He even began having illegal weapons smuggled into the city to arm his men and enforce their power.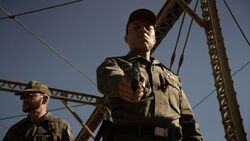 After one of his shipments was attacked and the guns stolen by an enhanced individual, Ramon contacted S.H.I.E.L.D. who had sent Daisy Johnson and Joey Gutierrez to meet with him. He falsely explains that if this individual continued to steal their guns, they could start a revolution, with the two assuring him that they would help anyway they could. In secret, Ramon followed his leads and tracked Francisco Rodriguez to a bridge where he had been dumping the guns into the river. After arriving with Lucio, he sees Francisco with the guns and being interrogated by Bobbi Morse and Lance Hunter. After revealing his true corruption to the agents, he orders Lucio to paralyze them and then bring them back to the station. In order to send a clear message to any of the other rebels, Ramon executes a paralyzed Francisco and the two leave with the agents and the guns.
Back at the police station, Ramon rearmed his men with the stolen guns and he and Lucio confronted the agents in his office. As Lucio paralyzed Hunter, Ramon threatened to execute him and order Bobbi to answer his questions. As he continued demanding to know what S.H.I.E.L.D. was doing there, he didn't believe Bobbi when she said that they were dealing with the global Inhuman outbreak. As they were speaking, the building began to shake and Ramon sends Lucio to investigate. After some time and Ramon was unable to contact his men, Bobbi advised him to escape now because he was losing. Just as he was about to though, he was confronted by Alphonso Mackenzie who knocked him out. Ramon was later arrested after his corruption was exposed.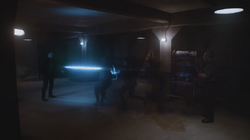 Months later, Ramon was able to escape and began blaming the Inhumans for his imprisonment, despite the fact that his right-hand was Inhuman as well. Looking for revenge, he made a deal with the Watchdogs to supply them with a weapon that can easily kill powered people. He successfully stole the Peruvian 0-8-4 and killed the guards protecting it, traveling to Baltimore to sell it to them. However, he was confronted by Yo-Yo Rodriguez, Francisco's cousin, who wanted revenge for his murder. Ramon indeed remembered her and ranted about how he and his men were abiding the law, deluded by the reality that they were actually abusing their power as Yo-Yo points out. Hearing this, Ramon notes that she was doing the same, distracting her enough to allow Ramon's men to ambush her. After the Watchdogs arrived to see what his proposed weapon would do, Ramon planned on using Yo-Yo as a demonstration. They were then attack by Daisy Johnson who broke out Yo-Yo. Ramon attempted to escape during the chaos, but was then confronted by Yo-Yo who was ready to execute him. Mocking her about how killing Francisco was justice, he tries to goad Yo-Yo into killing him and call her bluff. She puts her weapon down instead but as Ramon sees the lead Watchdog is about to fire the 0-8-4, he laughs. In a split second, Yo-Yo dodged the blast and stole the weapon, only for Ramon struck by the energy and be vaporized instantly.
Gallery