Wiki Targeted (Entertainment)
Play Sound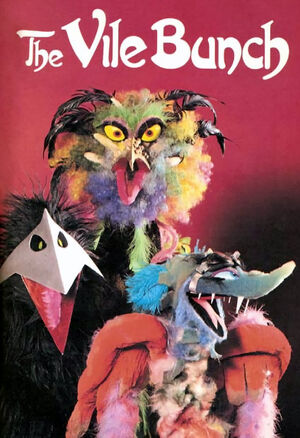 The Vile Bunch refers to the group of Muppets who appear with Alice Cooper during his stay on the TV series The Muppet Show in episode 307. Working for an unseen employer set on gathering souls, Alice has brought his own monsters—a snake, Blue Frackle, the Gorgon Heap/Heaps, and a monster backup band.
Role
The band, which performed with Alice on his hit songs "Welcome to My Nightmare" and "School's Out," was composed of Chopped Liver, Silver Beak, Flower-Eating Monster, a shark-like drummer and a guitarist.
Various members of the Vile Bunch appeared throughout the episode, not only in Alice's musical numbers, but also backstage, in the Guest Star's Dressing Room, and during the UK Spot "Once a Year Day," in which the drummer had a featured singing role.
Although Scooter mentions in the episode's Cold Open that the Monsters in Alice's dressing room "aren't ours," some members of the Vile Bunch had, in fact, previously appeared on The Muppet Show.
These include Gorgon Heap, Chopped Liver, and Flower-Eating Monster. And all but the snake, drummer, and guitarist would make future appearances on the show. The name of the group is taken from a photograph in a Muppet Show Annual in which two members of the band (Silver Beak and the drummer) appeared alongside Blue Frackle below the moniker.
Gallery